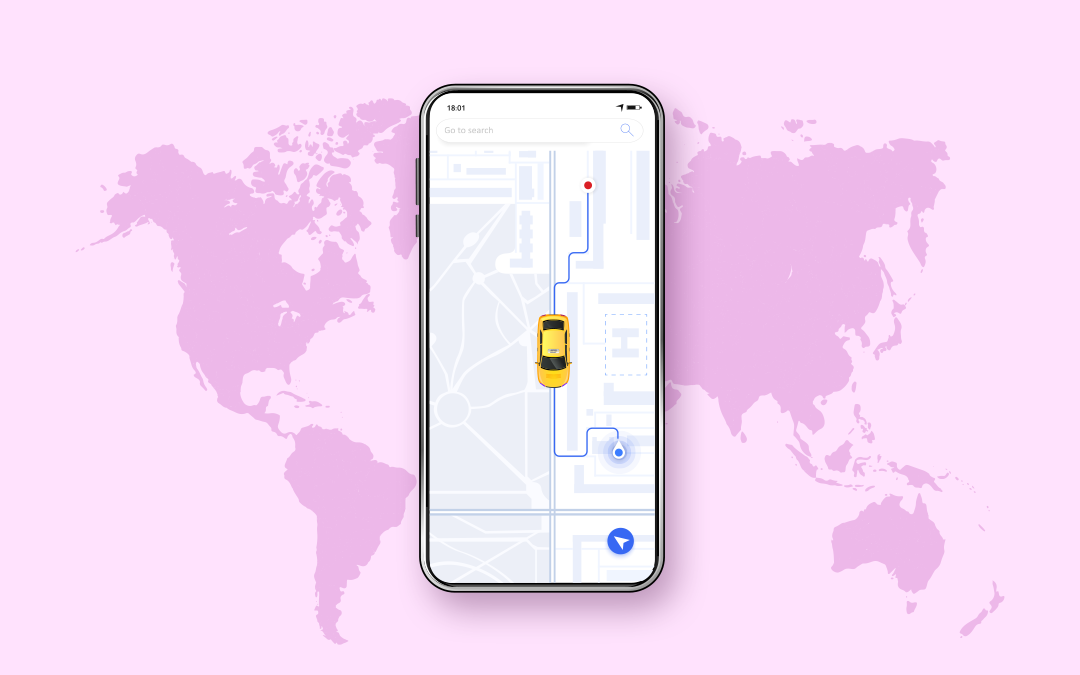 How to create an app like Uber? [Features + Tech + Cost of development]
Let's get to know this one-stop solution to create an app like Uber. Check out the blog for the process, features, and cost of developing an Uber-like app!
Hello Entrepreneurs!
If you have an idea to create your own Uber like app, then you landed on the right place.
Today, Uber has over 93 million active users globally.
Many people wondered about and coveted the business model of Uber. But only a handful had both the managerial and the technical skills to start an Uber-like business.
But the resources now are in abundance. All you have to do is take the right steps to be one of the successful Uber-like taxi business owners.
In this blog, you'll get to know how to efficiently create an app like Uber for your on-demand business, the tech stack used, and most importantly, the cost of development.
Why further delay? Just dive into the blog 👇
What is an Uber-like app? 🤔
Uber is one of the most successful business models in the world. This model interested many entrepreneurs who wanted it for themselves and their businesses. That's how uber like app development became such a rave.
An Uber-like app is where the owner(admin) of the on-demand marketplace connects two people under one roof - (the taxi drivers and the people who are in need of taxi on-demand)
Some Interesting Stats:
I hope you've done your research and gathered more stats before deciding to develop an Uber-like app! 💡
No? Don't worry! I'll provide some stats of the current taxi industry,
The global ride-hailing and taxi market is projected to reach US $330.8 billion in 2023, and is expected to grow at a CAGR of 3.46% from 2023 to 2027, reaching US $379 billion by 2027.
The number of users in the ride-hailing and taxi market is expected to reach 1.45 billion by 2027, with user penetration increasing from 17.4% in 2023 to 18.3% by 2027.
The average revenue per user (ARPU) is expected to reach US $247 by 2027.
(Source)
These statistics show the positive outlook of the industry, now this could motivate you to start your own taxi business.
Advantages of developing an Uber-like app for your on-demand business:
These are some of the advantages of having an app like Uber for your on-demand business. These advantages answer your question, "Why should I invest in an Uber-like app?"
The categories of vehicles are very visual and it helps the riders to choose without hassle.
The uber-like app connects end-users and service providers under one roof, which means the end-users will get more benefits at a lesser cost.
It is convenient for the admin of the platform (YOU) to manage the business operations with one simple to use dashboard.
The end-users don't have to wait for an eternity to get a taxi for their daily commute or in critical conditions. The app operates 24/7 and can be used anywhere, anytime.
Automating the business process is one of the crucial steps to scale your business.
Read to learn 7 important lessons for your on-demand business from Uber!
How to build an Uber-like app? [A step-by-step guide]
We all love a step-by-step guide to a process, right? Here you go!
Step 1: Business & revenue model
An aggregator business model connects people and service providers under one platform to satisfy their needs for products or services.
You (as an admin) will manage the entire business operations using the on-demand platform.
The best profit earning system to follow in your Uber-like business is the commission-based revenue model.
The commission is collected from the rider and is transferred to the admin of the platform. Once the day ends, the earnings are distributed automatically to the drivers.
If at all the admins choose to hold the driver's earnings - they can do it manually, using the admin dashboard.
Step 2: Figuring out the features of the Uber-like app
Having the most up-to-date features and functionality in your Uber-like app might be quite beneficial to your on-demand business!
This is the list of features to consider during an Uber-like app development process.
Features for the rider:
One-step registration
Vehicle categories
Fare estimation
Wallet option
Live tracking
In-app chat
Schedule a ride
Precautionary notification
Multiple stops
Features for the driver:
View the status of the trip
Updating the driver's status
Receiving earnings
Push notifications
Dynamic routing facility
Cancellation reasons
Features for the admin panel:
Booking management
Geo-fencing
Automatic earnings distribution
Sub-admin
Notification management
Rider & Driver management
Step 3: Choosing the right tech stack for Uber-like app development
Choosing the right tech stack is a crucial part while entering into the app-based business model.
We suggest Flutter, a cross-platform software development kit that'll help you;
To reduce the development and testing time since it works on a single code base.
The hot reload feature helps the developers to simultaneously fix the bugs and test them.
The look and feel of the app are much superior to the Native technology.
There are regular updates on Flutter given by Google, which helps the development team to constantly improve the app performance.
Step 4: Cost of developing the Uber-like app
The cost of development depends on the features and technology on which you want to build your Uber-like app.
Usually, some software development companies develop their apps from scratch, a high labor-intensive and time-consuming process using native technology. Which takes up to 5 to 7+ months and $40/ hour on the development process and design.
But on the other hand, there are companies that have ready-made solutions that are 100% customizable and scalable, built using the latest technologies in the market.
Get to know our Wooberly - Uber clone built using Flutter, a cross-platform technology.
Wooberly is the ready-to-launch solution and our cost of development includes the white-labeling charges (re-branding) as well.
If you choose to add a few new features or customize the readymade product to your need, we charge $25 per hour [as per July 2021].
Schedule a FREE demo to get a glimpse of our product!
Also, we offer free server installation and mobile app submission (both the Play Store and the App Store)
What a developer must know when it comes to building an Uber-like app?
These are the list of things that a developer should know and concentrate on while building an app for their customers.
The platform has to be convenient to use and the admin must feel comfortable managing their business operations via a simple-to-use dashboard.
The features and functionalities of the platform must be on-trend and should induce a user-friendly experience.
Using the latest technology to create an Uber-like app ensures that the platform is futuristic & flexible.
The code must be easy to understand and clean.
What an entrepreneur must look into for choosing the developing team?
These are some points that an entrepreneur must look forward to when choosing the right development team to build your app like Uber.
The team must prioritize quality over anything else when it comes to the app.
Read the testimonial and get a hands-on feel of their product before having a meeting with them.
The development team must provide you with constant updates during the app development process.
The team must extend their technical support during the launch of the app or any issues with the app functionalities.
Check whether the development team uses the on-trend tech stack to develop their apps.
Lastly, look for the pricing plans and whether their costing fits your budget.
20+ Best business ideas for Uber-like apps in the market:
I know you could get enough of the information from above. It's only fair that we give some enthusiastic business ideas!
Uber for courier
Uber for laundry app
On-demand tutoring app
On-demand taxi-hailing app
Uber for tow truck services
On-demand beauty salon app
On-demand limousine services
On-demand lawn mower services app
On-demand car wash services app
On-demand Elderly care services
On-demand babysitting services app
Dog walking app like Uber
Personal assistant app like Uber
Conclusion
Creating an Uber-like app is the best decision you'll ever make for your business. People demand according to the changing circumstances and to show our entrepreneurial flair, we should be adopting to their needs and preferences.
FAQ
1. What is the best tech stack to use to develop my taxi app?
Flutter is the best technology in the market that you can use to create your Uber-like app at a reasonable price and faster time to market.
2. What is the difference between ready-made solutions and developing an app from scratch?
The technology used to build the app differs from a ready-made solution and a scratch solution.
The pre, during and post-sales services differ in both.
The development time is far less in ready-made solutions than developing a solution from scratch.
The cost of development is far more economical in ready-made solutions.
3. How to contact you to talk about your Uber-like solution?
You can ping us on WhatsApp or drop an email at [email protected]
Need a hand with building your Uber like app?
---