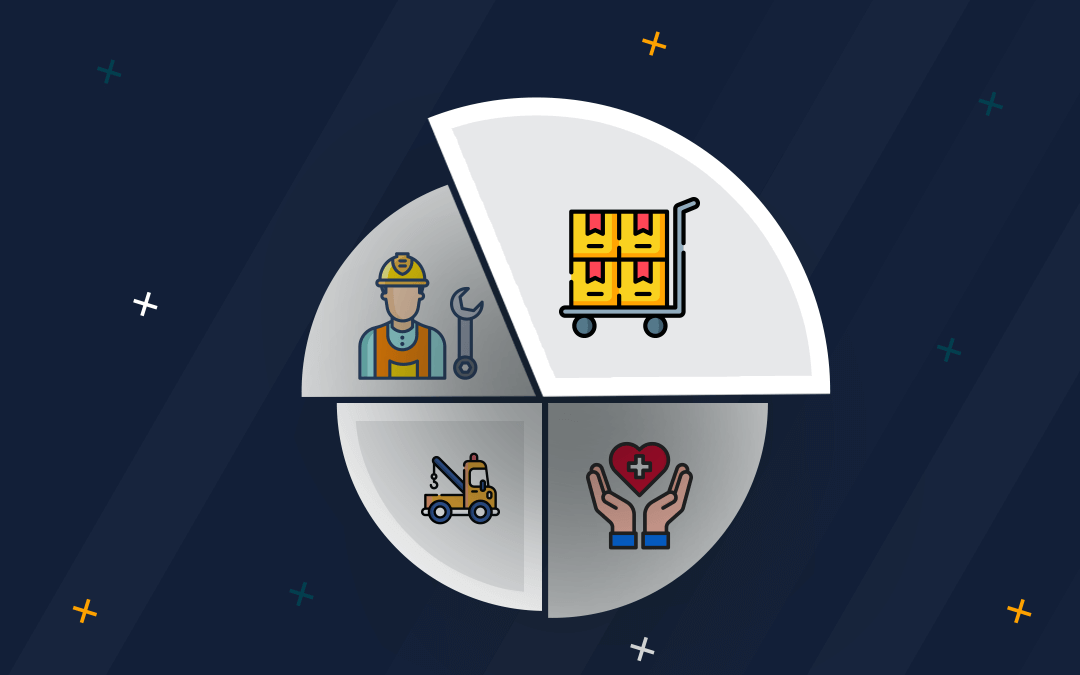 The Complete Guide to Starting a Uber for X Services
Giddy up! It's time to build your own Uber for X startup and be the next market leader. Sounds amazing? Let's get started.
From ordering pizza 🍕 to booking a daily commute, we all depend on the on-demand applications on our mobile. [I can't end a day without those!]
But it all began in March 2009, when Uber launched its ride-hailing services in San Francisco, California.
The popularity of on-demand applications hasn't dropped much since then.
Even during the dreadful COVID time, on-demand apps helped people in a variety of ways, including ordering food, groceries, and even medicine.
[To assist people in these trying times, TaskRabbit provided contactless medicine delivery services.]
Several young entrepreneurs were inspired to launch their own on-demand service marketplaces [also known as Uber for x services].
You might have some questions like,
So how can I start an Uber for x services?
How to create an app like Uber that can suit my business?
Is it even possible to create and compete with the existing businesses?
How can I earn money from it?
and a lot more. [I know you!]
So here we're 😎
In this article, I'm gonna answer all these burning questions that you have about creating an Uber for x app to get started with your business.
What does the 'Uber for X' service mean?
Startups whose business model or services are similar to Uber are popularly known as Uber for X services.
Some famous Uber for x businesses are,
Postmates
Thumbtack
Wag!
TaskRabbit
Roadie
Soothe
Instacart
And the list goes on. [Who knows you could be on the list next year😉]
Coming back to your question, How can I create an Uber for X app?
Do you know there are some ready-made Uber for X scripts available in the market?
What is the Uber for X script?
Uber for X scripts helps entrepreneurs like you to create an app like Uber for any on-demand service ideas.
Wait, I know other ways to create an app like Uber, but how's Uber for X script different? - You might ask.
Here are the crucial reasons why entrepreneurs like you choose ready-made Uber for X scripts for their business,
They are pre-built applications that allow you to get your business up and running quickly.

When compared to building an app from scratch [which most startup owners can't afford], ready-made apps are less expensive.

They are 100% customizable and scalable.
You can get the Uber for X scripts and start your business right away!
Before that, let's get to know how Uber for X services works and their business model.
The business model of Uber for X services
Uber for x businesses follow suit the business model of Uber, the pioneer of on-demand services.
Here's how they work,
The customer registers on the platform using the mobile application.

Then, he/she will choose the service they need and send a booking/order request.

The platform matches the customer's service request with the nearby registered service providers.

The service provider accepts the request and offers the intended service to the customer.

The customer then pays for the service offered and leaves a rating for the service provider.

These whole business operations are managed by the business admin who'll be provided with an admin web panel.
It might look simple. But there are a lot of background processes that are to be performed to make the app function smoothly.
Let's see some of the best Uber for X business ideas, where you can implement this business model.
15 on-demand Uber for X startups ideas that'll help you make real money
1. On-demand taxi app
We all know the success of Uber and how it revolutionized the taxi industry. It also became the household name of many people.
But that doesn't mean there's no opportunity for you to start your own app-based taxi business.
You can start your taxi business locally and then gradually scale it to reach a global audience.
Ready to create your taxi app? Check out Wooberly!
2. Food delivery business
With the lifestyle and preferential shifts, people now prefer ordering food instantly using their mobile apps than preparing it on their own.
Many entrepreneurs started their online food delivery services to cater to this need and became a huge success.
Here's how you can create an on-demand food delivery app and get started with your business.
3. Uber for grocery delivery
Like food delivery, the number of people who order groceries online is increasing day by day. The user base skyrocketed during the COVID time.
To visualize this further, let's see an example. In 2020 alone, the popular grocery delivery app, Instacart had 3,00,000 downloads.
Interesting, right?
You can now start an app-based grocery delivery business like Instacart without much of an effort.
Create a platform that connects grocery stores with customers using the readymade grocery delivery script.
4. Uber for tow truck
Uber for tow trucks is an app-based business model that provides roadside assistance for stranded people.
Using the on-demand app, users can book a tow truck to get back on the road.
People love this idea, and that's why businesses like Honk & Urgent.ly are still out there helping them.
Read more about how you can create an on-demand roadside assistance app.
5. Uber for alcohol delivery
The growth of online alcohol delivery across the USA is showing dramatic momentum.
The Uber for alcohol delivery app - Drizly revealed that their gross merchandise value increased 3.5x during the pandemic.
Exciting, right?
If you've any idea of launching a business similar to Drizly, then there's no better time than this to get started.
6. Uber for bike taxi app
Uber for bike taxi app assists customers to book a bike ride instantly using their mobile app.
The bike taxi business model is as same as the app-based taxi businesses like Uber & Lyft.
You can create a bike taxi app using ready-made and get started with your business instantly.
Get to know how you can create a bike taxi app instantly.
7. Uber for beauty services app
People have a busy lifestyle, and they prefer getting beauty services from the comfort of their homes.
The on-demand beauty services app does just the same.
The customers can book a beautician via their mobile application, and they can get the service without leaving their homes.
Want to create an on-demand beauty service app? Check out this article. [Bonus tip inside]
8. Uber for handyman
You can't deny the fact that we all hate doing our daily chores and getting things done, from cleaning to minor home repairs.
To help people like you and me, on-demand service apps like Thumbtack and Taskrabbit came into existence.
And people love using them to get their tasks done.
Taskrabbit served more than 1.5 million people in 2020 alone.
Crazy numbers, isn't it?
9. Uber for courier
The global market size of the courier delivery business is a whopping $347bn, and it's not gonna stop anytime soon.
The courier delivery business has evolved a lot with the advancements of technology.
People can now send couriers without ever having to leave their homes using their mobile phones.
This kind of business is popularly called Uber for courier service.
Want to know how to create one for your business? Read more without further ado.
10. Uber for pharmacy delivery
We all know how we struggled to get medicines during these COVID situations. [Thanks to healthcare workers and doctors all over the world🙏]
Many companies like Instacart started delivering medicines to support the people to overcome the ongoing crisis.
Interested to join the club of social entrepreneurs? Check out how you can create a pharmacy delivery app that can help millions.
11. Uber for mechanics
Uber for mechanics app helps customers connect with qualified mechanics to get their repair services done at their homes.
They can book services instantly using the on-demand mechanic app on their smartphones.
The mechanics will reach the customers' location to offer services.
Learn more about creating the Uber for mechanics app at the lowest cost possible.
12. Uber for trucks
Customers can use the Uber for trucks app to book or schedule a truck to transport anything from one location to another.
They simply need to enter the pickup and delivery addresses, select the vehicle they want, and complete the booking.
The service provider will show up at the customer's door to offer the services they have requested.
Isn't that a fantastic idea?
If you agree with me, let me help you find a way to create an Uber for trucks app.
Here's one of our on-demand products that can help you create an app for your trucking business.
We'll help you with customizing our product to suit your needs.
13. Uber for dog walking and pet care
Buckle up, pet lovers! This is for you.
Uber for dog walking and pet care allows people to book petsitters for their pets on demand.
Ready to start a business you love?
We are here for you. Get in touch with us!
14. Uber for laundry service
We all skip the laundry day [don't say 'No'😉].
People hate doing laundry, and they love getting this done by nearby laundry service providers.
You can take this to the next level by creating an on-demand laundry app that connects the customers with laundry service providers.
The service providers pick up the laundry, clean it up, and deliver it in a day.
Let us build a laundry service app together!
15. Uber for flower delivery
The flower delivery business model connects the customers and the nearby florists.
Customers can order exotic flowers exclusively on the online platform and get them delivered to their doorstep.
This is a great business idea for budding entrepreneurs to blossom.
We saw a huge list of business ideas that can help entrepreneurs like you to start successful online businesses.
But how can you create an app, and what might be the best technology that can help you get started?
😅Let me help you.
Technology that's best suited for Uber for x app development
Technology influences the way the app is built, the features that can be incorporated, the cost of development, etc.
You need to be at your best when choosing technology for your Uber-like app development.
We've used Flutter to create our readymade Uber clone app, Wooberly.
Why Flutter?
Flutter is a cross-platform technology. What does it mean? It can help you create iOS and Android apps using a single code base.
Flutter saves money and time for app development.
Flutter offers faster app performance & impressive UI.
Flutter apps are scalable and suited for startups.
Cost of creating an app like Uber
You have two options when you decide on creating an app like Uber,
Creating an app from scratch
Creating an app using readymade platforms
The former costs a lot more than the latter in every way.
The readymade Uber clone app offers all the MVP features and functionalities for you to get started with your business.
You'll get the 100% source code so that you can add other features when you need them.
Also, due to the use of cross-platform technologies, the cost of development is far less than native development.
Based on the current market, creating an app from scratch costs you around $20,000 to $50,000, and it'll take a long time to launch your app into the market.
Compared to this, the readymade app will cost you around $5000, which is far more affordable for a startup owner.
Conclusion
It's time for you to pick a business idea and work on it.
Whatever your Uber for X business idea may be, we'll be there to help you on your way to success.
Our readymade apps will help you create any above said on-demand applications hassle-free.
Let us help you create your dream project
---