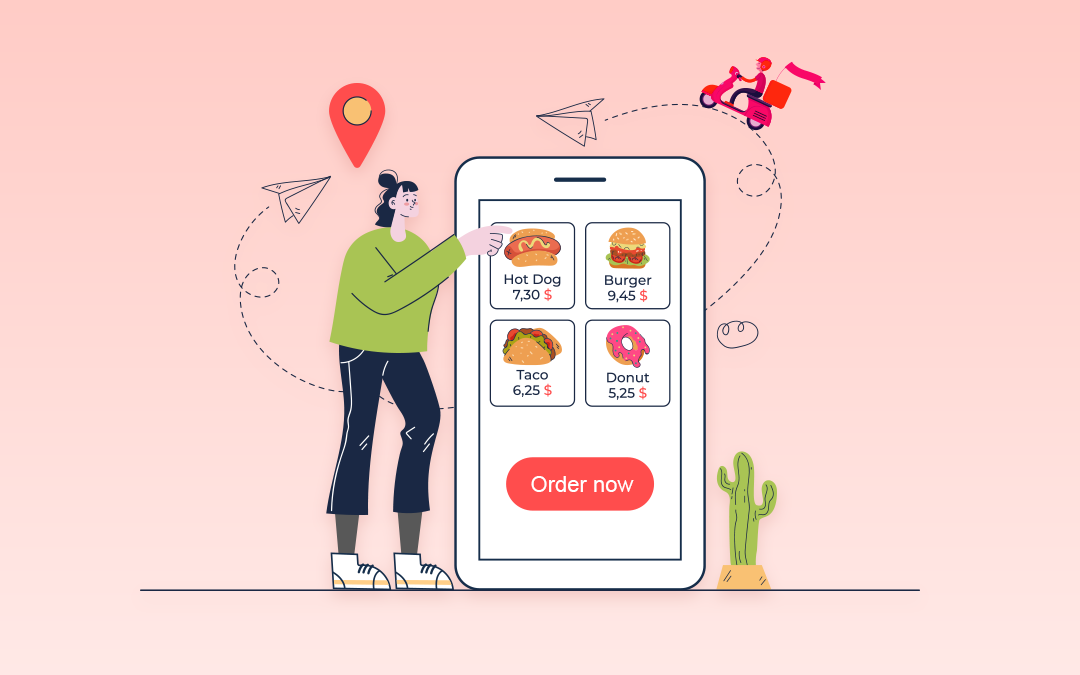 How to Create an App Like DoorDash 10X Faster?
Are you looking to create an app like Doordash? This blog post will show you how to do it 10X faster without using code.
DoorDash is so successful that it recently acquired 🤝 the Finnish delivery app Wolt in a €7bn all-stock deal.
Crazy, right?
DoorDash inspired many entrepreneurs to be a part of this amazing ecosystem.
I think you must be one of them. If not, you wouldn't be here reading this article.
Anyway, we're glad you found this post because it was created with the same care as DoorDash treats its customers.
Let's cut to the chase and discuss how you can be the next big player in the food delivery market by creating an app like DoorDash.
So how does Doordash work behind the curtains?
Doordash works as same as other food delivery platforms 🥡 that operate in the US.
Here's how it goes,
The customer, when hungry, would open the Doordash app to browse through the restaurants.

Then, they pick the restaurant of their choice and select the food items to order.

After selecting the food items, they would choose the payment and delivery options. Then place the order.

The order request will be then sent to the restaurant. The restaurant will accept the order request and process the order.

Once the order is processed, the app assigns the delivery request to nearby delivery partners.

The nearby delivery partner will get notified to pick up the order. They can either accept or reject the delivery request.

Once the order is accepted, the delivery partner will be given a route map to the restaurant to collect the order.

After collecting the order, the delivery partner will be given a route map to the customer's location on the app.

The delivery partner will reach the customer's location to hand over their delicious order. [Yummy!😋]

Customers can rate the delivery partner based on the delivery experience. But the customer has an additional option to rate the restaurant based on their food quality, packaging, & more.
This is the way the cookie crumbles!
Have you ever thought - 'What on earth made DoorDash a huge hit?'
Let's see.
What made DoorDash a successful food delivery business?
DoorDash started their business at first as paloaltodelivery.com, which the founders found to be successful.
Then they rebranded themselves to Doordash in June 2013.
Now, Doordash has about 56% market share 📈 in the US food delivery segment.
Here're some of the reasons behind the success of DoorDash,
Taking care of their users by offering the service they needed the most, like storefront - a commission-free online ordering platform that allows restaurants to create their own website.

Trust in technology - DoorDash uses cutting-edge Machine Learning algorithms to recommend retailers and food items for clients to try, as well as to handle logistical issues.
In one of their publications, they described how they employ machine learning to process large amounts of data from their platform's catalog.
Quick fact:
DoorDash employs 180+ data professionals to enhance its platform. Isn't that amazing?
Getting better every day! - By doing so, they can take on even the biggest competitor in the market.

Customer-focused: It's in their motto - 'At DoorDash, we are working to build the greatest customer support team in the world.'
And they mean it.
They built a credible relationship with their customers and the restaurant owners.
They are everywhere where their customers are.

Also, DoorDash provides more than just so-called 'support' by sharing valuable and nuanced customer data for restaurants to grow.
Intelligent partnerships - Doordash partnered with some of the greatest businesses and NGOs to support its community.
For example, they recently teamed up with Hello Alice to provide $10,000 to restaurants affected by natural catastrophes.
[I really appreciate it👏]
These are some of the reasons that made Doordash outshine some of the bests in the market.
Do you believe me when I say Doordash never made a profit?
Speaking of profits, let's discuss how they make money.
What's the business model of DoorDash and how do they make money?
DoorDash connects customers [Foodies😋], delivery partners. & restaurants using an online marketplace platform.
They generate revenue through commissions from restaurants and service/delivery fees from customers.
Doordash also offers a subscription service like Amazon Prime to retain its customers.
How to create an app like Doordash?
It's every marketplace enthusiast's dream to create an app like Doordash.
But how?
Isn't that for established businesses?
Do I have to spend loads of money?
The answer to all your burning 🔥 questions,
You can create an MVP food delivery platform at a cost of an iPhone.
Here's how you can do it,
Pick a readymade software solution that offers all the required features you need to run the business.
💡 The readymade software solutions are customizable in nature. It'll help entrepreneurs to build an on-demand food delivery platform similar to DoorDash.
Share your requirements with the development team so that they can customize the readymade solution to suit your brand.

They develop the platform, test it, & launch it to the market all at one single payment.
Amazing, right?
But I'm not sure what MVP features to include or which technology to use. - You might ask.
Don't be worried. I'll show you some of the most important features to have in your food delivery platform, as well as the technology you may use to build one.
Let's get this party 🥳 started.
Here're some of the features to include,
Customers' app:
Simple onboarding
Profile management
Search filter option
Order tracking
Multiple payment options
Contactless delivery options
Ratings & Reviews
Delivery partners' app:
Document submission for approval
Delivery availability management
Orders management
Easy navigation option
Multiple payout methods to receive earnings
Earnings management
Restaurant features:
Orders management
Availability management
Menu creation
Multiple payout methods to receive earnings
Document submission for approval
Print receipt option
Analytics dashboard
RTL support
Admin features:
Users [customer, delivery partner, & restaurant] management
Earnings management
Cuisine management
Automatic earnings distribution
Orders management
Sub admins management
Multiple language support
For technology, we suggest you choose Flutter. We even created an article that explains why Flutter is the best choice for on-demand app development.
Do give it a read.
Looks overwhelming?
[Man, I'm tired of explaining all these, how aren't you? You've got to be 🦸 superhuman.]
If you're like ME and need some assistance with creating an app like Doordash, we're so ready to help you.
We offer DoorDash clone, an all-in-one pre-built meal delivery platform that will undoubtedly assist you in developing an app like DoorDash.
Do you use WhatsApp? Simply send us a message.
Our support heroes will get in touch with you to give a complete walkthrough of our product and answer all your questions before you consider buying from us.
Deal?😅
Disclaimer: The term 'Doordash' is solely used for marketing purposes, and we are not associated with the company in any form. The source code and design of our products are fully owned by us. We are not using any of their copyrighted materials.
Let us help you create an app like Doordash with us!
---