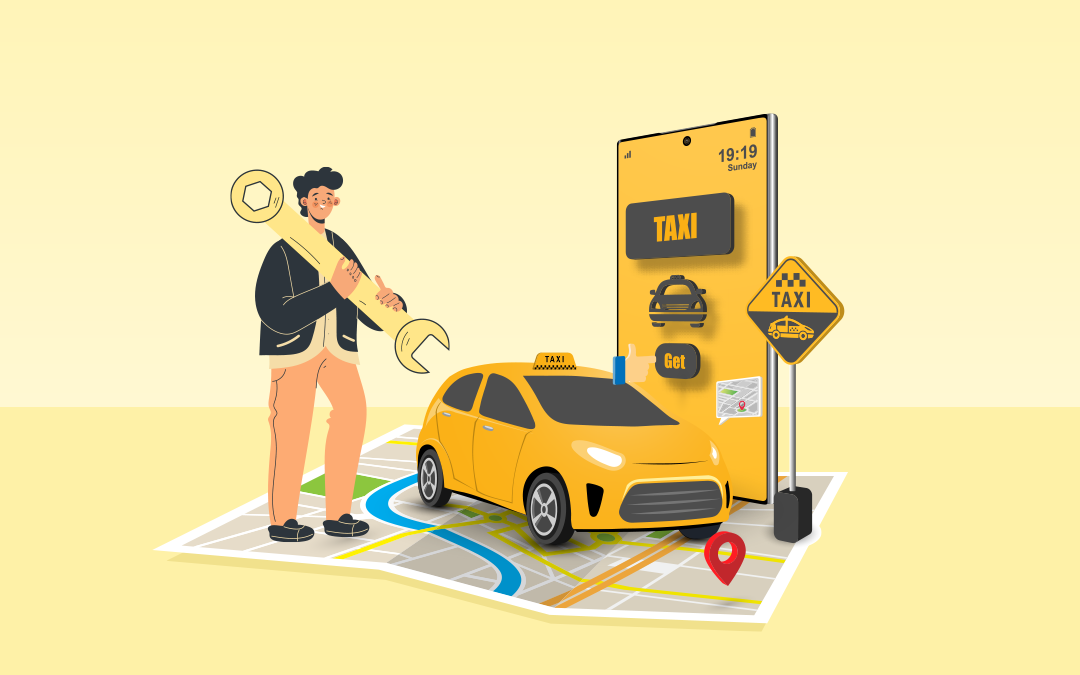 How to get an Uber clone app with zero coding knowledge in 2023?
Being a non-technical person doesn't essentially mean a bad thing. Anyone can get an Uber clone app and run a successful online taxi business now. Learn how by reading this blog.
Disclaimer: The term 'Uber' is solely used for marketing purposes, and we are not associated with the company in any form. The source code and design of our products are fully owned by us. We are not using any of their copyrighted materials.
Not having appropriate coding knowledge should not stunt you from starting an online taxi business.
That's why we have created a short walkthrough on what to know and expect when it comes to launching your own online taxi business with a no code Uber clone app for non-tech entrepreneurs like you.
Read and enjoy!
What is an Uber clone app?
Uber clone app is a ready-to-use kind of taxi app built from the inspiration of Uber and its business model.
It helps entrepreneurs like you to start their own online taxi business without depending upon the traditional method of creating an app.
The Uber clone app can be used to upgrade your existing taxi business or start a new online taxi startup.
What benefits does an Uber clone app hold in the market?
These are some of the benefits when it comes to owning an Uber clone app for your taxi startup;
You can reach out to numerous audiences as people are very much interested in booking services online.
You can collect customer data which will help you analyze the performance of the platform and plan future steps accordingly.
No administration expenses will require. With the help of an online marketplace platform, you can manage your business more efficiently.
The latest online marketing strategies can be implemented in your taxi startup since it has an online presence.
You can give exciting and exclusive features and functionalities according to the business requirements and the customers' preferences.
4 Steps to follow to create an Uber clone app with no code!
These are the 4 steps that you need to follow to build a no-code Uber clone app for your taxi business.
1. Knowing what is the best technology used to create an Uber clone app
It is important to read about the technology before investing in one for creating your Uber clone app.
There are several technologies used to build a taxi app. But only a few are popular and efficient.
For example, Flutter, a cross-platform software development kit (SDK) launched by Google. It is majorly used by smart developers who plan on creating both the Android and iOS apps in one go.
Choosing the right technology doesn't have to be a one-person decision.
2. Analyzing the pros and cons of the technology used to build the solution
Once you discover the technology that's best for you, the next important step is to understand the basics of the technology while building the app.
Since we discussed Flutter, let me tell you the pros and cons of using Flutter to create your on-demand taxi app.
Pros of using Flutter
Flutter helps in reducing the development time since it functions on a single code base.
All that an entrepreneur can dream of - it increases the code-to-market speed.
The testing time is far less when compared to the native technology.
Using Firebase you can simultaneously look for bugs and fix them.
You don't have to hire an Android and iOS developer separately.
Cons of using Flutter
The file size will be larger than a developer anticipates.
There is a limited set of tools and libraries available in Flutter.
Dart is not a popular language for developers. Therefore, it is essential for your developers to learn it.
3. Check for readymade Uber clone apps in the market
Ready-made solutions can be a god-sent for non-tech entrepreneurs since you can launch your business far quicker, more cost-effective, and without writing a single piece of code.
Various ready-made solution providers in the market will help you with it.
These are a few qualities to look into ready-made solution providers before choosing one;
The tech support they provide.
The testimonials of other entrepreneurs when they choose a particular ready-made solution.
Their pricing package (compare it and choose what's best)
Their team size and skill in explaining the technical aspect of running an online taxi business using an Uber clone app.
The features & functionalities they provide in their ready-made Uber clone solution.
4. Cost of developing an Uber clone app with Flutter
The cost of developing an Uber clone app has to be compared with creating the same with the Native technology.
The average cost of development using a Native technology takes $25,000 to $70,000 within a time frame of 750 hours of development or more.
They also charge an additional $40 as labor cost.
But if you plan on choosing a solution built using cross-platform technology then the cost will be 5X lesser.
Let's see… You can buy a taxi app solution for $5000 maximum and an additional cost of $25 for any customized features and functionalities.
According to the US market, you can save up to $33,783
Two things to know when you start an online taxi business with an Uber clone app
1. Business + revenue model
The business model that works efficiently, when it comes to running an online taxi business is the aggregator business model.
The aggregator business model concept is to connect the users and the service providers under one platform, where the admin will be monitoring and controlling the functions of the platform.
The revenue model that compliments this particular business model is the commission-based business model.
A commission amount is charged to the user, and a part of the amount is distributed as service provider earnings. The user service fee and the service provider service fees become the admin earnings.
2. Features to incorporate
These are some of the features to incorporate into your online taxi app startup;
User app (rider)
Simple registration process.
Live tracking.
In-app wallet option.
Schedule a ride.
Precautionary notification.
Driver app
Multi-language and currency.
Trips taken.
Driver's status.
Push notification.
Earnings distribution method.
Admin panel
Heat map.
Manage categories.
Manual dispatcher.
Manage promo codes.
Manage riders & drivers.
Get hands-on experience from a classy ready-made taxi app solution to get an idea!
Conclusion
There is one place where you can get all these features, functionalities built with the dream technology.
Are you wondering what that is?
Check out Wooberly, our 100% customizable and scalable Uber clone app solution that'll help you launch your startup in a jiffy!
Learn more about our product by visiting the demo pages to get an overview.
And we are here to help you with any queries on the product and services. Ping us on WhatsApp or drop us an email at [email protected]
Create your Uber clone app with us!
---