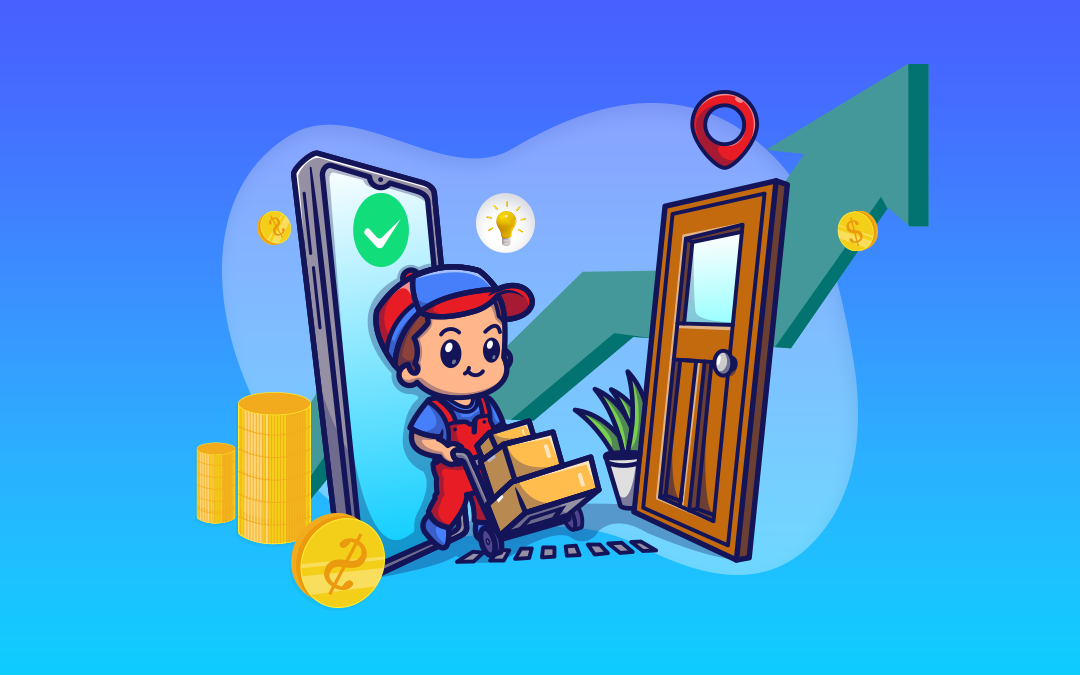 Top Profitable Delivery Business Ideas in 2023
The delivery business industry has seen a rapid growth in recent years. Read to learn about the most profitable delivery business ideas for your startup.
During the COVID-19 pandemic, the demand for delivery services has remained on the higher side. People are getting used to items that are being delivered at their doorsteps.
Delivery business has become widespread and it is expected to generate a revenue of $1.82 billion by the end of 2024 and this is why we are stating that starting a delivery startup is a wise decision.
Let us understand about the top profitable delivery businesses and their advantages
The main advantages of entering into a delivery startup
Flexibility
The diversity that is involved in a delivery business provides flexibility to you as a business owner. You may start your initial stages of your business in one sector but you should be flexible enough to expand it later.
Scalability
Delivery startup is more scalable where you can start a business by investing a little amount. Later if your business is well established among the people you can invest money on top of the initial investment to earn more.
Better Revenue opportunities
With starting a delivery business there are numerous ways to make a profit. Strong business skills and investing more time on the project will lead to generating more income.
Top 7 delivery business ideas for 2023
1. Food Delivery Business
Food delivery business has seen a fanatical growth due to the upcoming trends. The main reason is convenience where people can have their favorite food from their favorite restaurants at their home. Food delivery business has generated a revenue of $12.14 billion in 2022
Food delivery business is much more competitive than other delivery businesses. With the right strategies and planning you can easily carve your way out to the top.
2. Grocery Delivery Business
Grocery delivery business is growing much while comparing it with the initial stages. It is an on-demand business where customers shop for groceries and it will be delivered either to their commercial or residential location. The grocery delivery is expected to hit $147.51 billion by the end of 2022.
There are various ways to start a grocery delivery business where you can partner with a store and deliver the items on their behalf (or) you can create your own platform and partner up with multiple stores where people can use your platform to purchase groceries and deliver it.
3. Medicine Delivery Business
Medicine delivery business comes under essential services and it is pretty beneficial. Medicine delivery is projected to reach $27.60 billion in 2022. The easiest way to start this business is to build an app and get in touch with people who are looking for medicines getting delivered to their door steps.
There is no doubt where you have to spend a lot if you want to create an application and market it. You can also connect with the nearby medical stores and deliver the supplies directly from stores to door steps.
You may need an experienced team in order to fulfill the demand and expand your medicine delivery business as you grow.
4. Flower Delivery Business
Flower delivery business is a wonderful way to enlighten your customers. People send flowers for all special occasions like birthdays and anniversaries where you can expect consistent demand in this business.
In a flower delivery business we should be prepared on busy days like valentines day, christmas and mother's day these are the days where you will be receiving a lot of orders.
You will be needing a special van to deliver the flowers which keeps them fresh and upright during transit. If you want to scale up your delivery business ideas you might need to add on gift baskets delivery too.
5. Water Delivery Business
Water delivery business makes life easier for customers where you can deliver various types of water delivery from individual bottles to office coolers. This business is especially important in areas where the tap water isn't drinkable.
Water delivery is most valued among the business people and residential customers.
If you are trying to establish a delivery startup just make sure you do enough market research to whether commercial or residential clients are more likely to need this service.
On demand Delivery App Development
6. Courier Delivery Business
Courier delivery business is a premium mode of service which includes both collection and delivery of shipments. Courier delivery services mostly partner with E-commerce stores , Banks, Law offices and Hospitals. Also the courier delivery business has generated a revenue of $142.8 billion in 2022.
Delivering the shipments within the shortest possible time frame will make the business more efficient. If you are dreaming of owning a courier service business you can start as a delivery driver and also can get help from delivery drivers to make sure the goods reach the customers.
As the business grows you can invest in buying delivery vans and handling bulk orders. Proper time management skills will help a lot in expanding your business.
7. Meal Prep Delivery Business
Meal prep delivery is in between food and grocery delivery. Instead of delivering ready made meals you bring specific ingredients which are needed to make their own meal along with a recipe.
This business model has become increasingly popular as people become more conscious about being healthy and prefer home made food. There are different customer bases where you can prepare a meal according to their goals. You can also offer different diets like vegan, Vegetarian, keto-friendly and Gluten-free options for example.
You can generate a huge revenue from the meal prep delivery startup through subscriptions. People can subscribe to any plan which they are comfortable with and you can deliver it to them on a monthly basis.
Bonus Tip
Here comes the bonus tip for entrepreneurial minds, who are thinking about building a Multi - Delivery app.
We have built an amazing product that is customizable to suit any kind of delivery service. This product has every necessary feature required to start a multi delivery business.
We have some astonishing features like one-click signup, multi-payment options, multi-currency and language, in-app wallet and live tracking.
Hope you are curious to know about the product.
It's Wooberly SuperDelivery, a highly flexible multi delivery app that helps you to start the business instantly.
To know more about Wooberly SuperDelivery you can reach out to [email protected] or WhatsApp.
Conclusion
So we have discussed the top delivery businesses that are making a big impact on a daily basis. So choose your favorite area where you can explore and build a separate brand for your business.
Create your on demand delivery App with us!
---