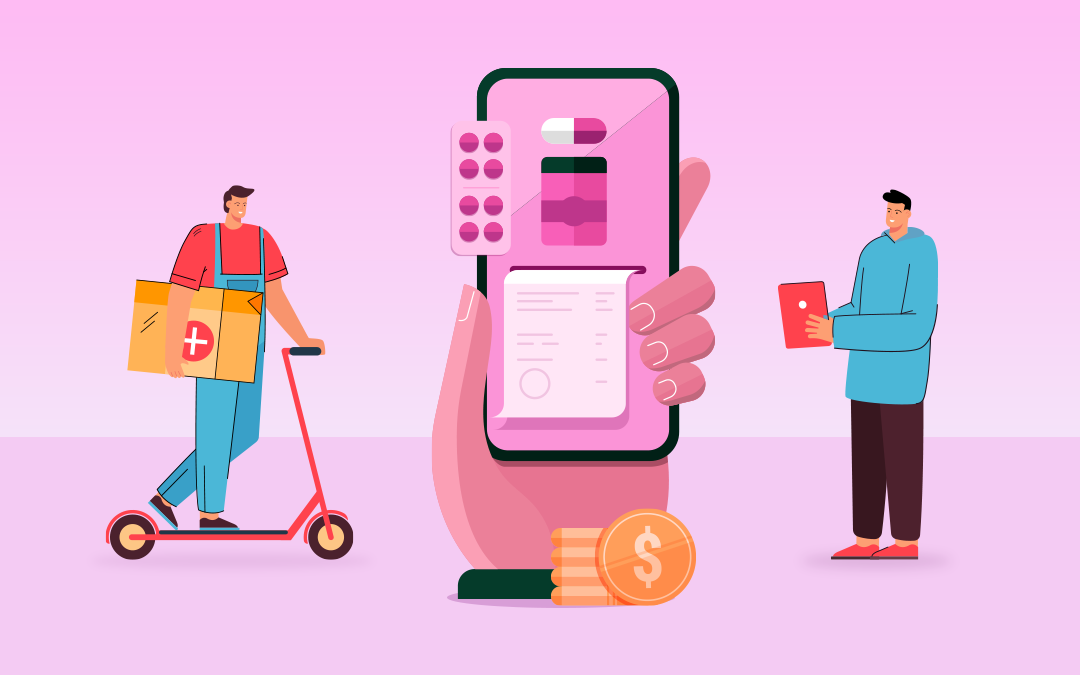 An entrepreneur's guide on online medicine delivery app development
Are you trying to figure out the best moment to launch your pharmacy delivery app? Now is the right time! Learn how to create an online medicine delivery app from start to finish.
With COVID (we hate it), the vast majority of people like me wish to get their products/services delivered straight to their doorsteps.
We get our food, groceries, and other services delivered. Why not medicines too? 🤔
The primary concern of any individual is to wait in line to get their medication during such a grave, pandemic situation. 😷
As a social entrepreneur, you can solve these problems with your creative business idea.
In this article, we have provided a step-by-step guide to creating an online medicine delivery app.
What is a medicine delivery app?
The medicine delivery app is a one-stop drug store for customers. They can look for medicines, health & hygiene products, medical equipment, and more. They can select, order, and get them delivered to their home or workplace.
Market analysis & performance of the medicine delivery industry
The market performance and analysis will help you make vital decisions before entering the market.
To be honest, this is the right time for you to step into the medicine delivery industry since the pandemic has taken over the world once again, and it's our responsibility to be safe.
The medical applications have spread widely, and the forecasted revenue of $11 billion in 2025 implies the same.
And the e-pharmacy market is expected to grow by 17.3% CAGR (forecast period 2019 to 2026).
Aren't these reasons enough to start your medicine delivery business now?
Benefits of creating a medicine delivery app
These are some of the benefits when you create a medicine delivery app for your business.
You can reach out to more customers than anticipated.
It has been the era of the internet for more than 2 decades now. Therefore, you can collect reviews and ratings for your service using your online presence.
It's easier to find you online when you have an app and a properly vetted website.
You can digitize your transactions and make them more convenient & systematic.
You won't need more human resources to manage and monitor your business. It's possible with a simple yet seamless dashboard.
Notable medicine delivery apps in the USA to get inspired
These are some of the notable medicine delivery apps in the USA, which you can draw inspiration from for starting your own online medicine delivery business.
1. Walgreens
Walgreens is the second-largest pharmaceutical giant in the USA. They own a chain of pharmacies behind the CVS health banner. They are said to be one of the fastest prescription fillers in the country, with amazingly creative deals and paperless coupon options.
2. RiteAid
It is an online drug store based in Philadelphia, Pennsylvania and it was acquired by Walgreens in 2015. This is one of the top companies that provided the online vaccination registration portal accessible for disabled people.
3. Capsule
A New York-based online pharmacy that delivers medicines to its customers. This particular company blossomed to eradicate the waiting lines outside the pharmacy and this app gained momentum during the pandemic.
A complete guide on figuring out the medicine delivery app development
1. Features & functionalities
User-friendly features and functionalities will help you connect with your customers easily. Also, your customers can effortlessly navigate through your app and order medicines.
Here're some of the features that your customers would love to have in your medicine delivery app,
Customer app
Easy to use search filters
Multiple online payment options
Order tracking
Contactless delivery.
Order notes.
One-step registration process.
Delivery partner app
Order management.
Easy navigation.
Earnings report.
Payout management.
Availability modes.
Pharmacy store panel
Store availability status.
Manage transactions.
Menu management
Operating hours.
Modifier groups.
Multi-language and currencies.
Admin panel
Managing customers, store owners, and delivery partners.
Order management.
Set promo codes.
Auto earnings distribution.
Manage medicine/items category
2. Tech stack
You can build your medicine delivery app using either Native or cross-platform technology.
Both these technologies have their own set of pros and cons. It is up to you and your business model to choose the best one.
For startups and entrepreneurs who are just starting their ventures, cross-platform technology would be the best bet.
Here're some of the reasons why we say that,
When compared to developing in a Native technology, the development time is significantly reduced.
The developers can work for two platforms (Android and iOS) with a single code base.
Since both apps are developed with one code base, the testing time of the apps reduces 3X more than anticipated.
We suggest Flutter for our customers because of its budget-friendly app development process & takes much less development time.
3. Cost of developing an online medicine delivery app
Though many factors affect the cost of developing an online medicine delivery app, it depends on the technology chosen to build the solution.
Native technology does have its strong suits but not like cross-platform technology.
We recommend Flutter, one of the best cross-platform software development platforms in the market.
You can build your medicine delivery app 3 times faster and 5 times more affordable with technology like Flutter.
You can create a ready-made medicine delivery app for $5,999 (maximum) instead of $50,000 and above.
Check out this amazing ready-made medicine delivery app that doesn't make a hole in your pockets!
4. How to choose the right solution from the right software development team?
These are the 5 points to remember when you are choosing a software development team to design and develop your medicine delivery app.
Check the testimonials of their customers to assure their credibility.
Learn about their products by taking a demo session of their product.
Your market researched features for your app should be customizable using their tech stack.
The UI & UX of their demo product has to be impeccable to impress you.
Their support team has to be friendly and responsive to get proper development-related updates from them.
Conclusion
Well, you got a very detailed picture of how to take step-by-step action for an online medicine delivery development process.
We offer a ready-made medicine delivery solution - WooberlyPharmacy for aspiring entrepreneurs like you.
It is 100% customizable and scalable, which means when your business grows, this platform also scales with it.
Fill out this form to get our product demo for FREE.
Got questions? All you gotta do is get in touch with our tech experts with your list of queries via WhatsApp, or you could be old fashioned and drop an email at [email protected]
The choice is yours!
Eagerly waiting for your response. Cheers!
Create your medicine delivery app!
---