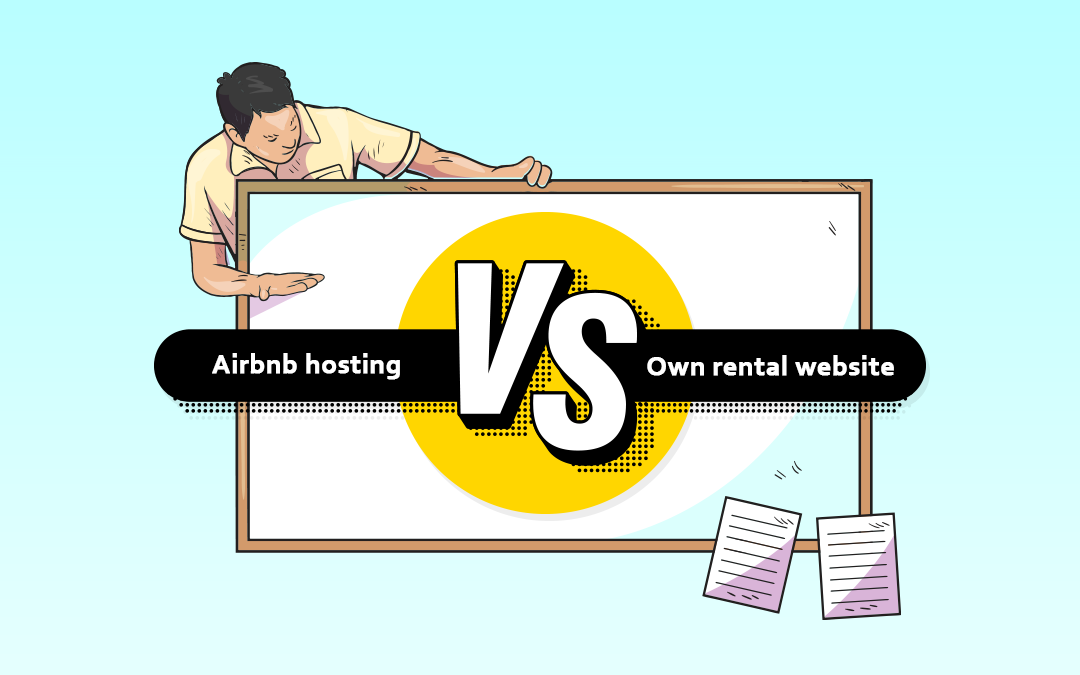 6 Interesting differences between Airbnb hosting and creating your own website
Hey, you're missing out a lot! Airbnb hosts like you are starting their own websites and changing the dynamics. Here're the profitable reasons why it happens!
Being in control of conglomerates could be frustrating. And now, the rental property owners are taking it into their own hands by creating their own rental websites to thrive in the market.
In this blog, let's know why Airbnb hosts are developing their own websites, and also, we'll learn about what is more efficient in generating revenue.
Come, let's learn together!
4 Reasons for an Airbnb host to have their own website
These are the four reasons why Airbnb hosts create their own rental websites. Let's dig in.
1. A website will seem like an online business card
Having a website is always handy, where customers don't need salespeople to convince them to buy goods or services.
Since everything has become digital, it is important to have an online presence through a website for any business.
Why should an Airbnb host be any different?
It's much easier to divert all your customers to your website. And it helps you build trust and a brand for yourself.
2. Complete freedom in managing your property
If you are an Airbnb host, you'll know that you'll have to stick to the categories, filters & conditions given by Airbnb when you list your properties.
But when you own a rental website, you'll have the freedom to create your own categories and rules.
Not only that - you can customize the offers you put up, the look and feel of the website that you want your customers to see.
3. Helps you to reach out to more customers
Having your own rental website not only gives you confidence, but also it'll help you reach out to more customers out of Airbnb's ecosystem.
You can stretch your legs and widen your horizons - bring in more enthusiastic customers, market your rental properties exclusively to your target audience, get more direct bookings, and be more personalized in meet & greets.
People love services that are catered specifically to their needs and demands.
4. Diversify your business
Owning your own website can help you diversify your business by inviting other property owners to list their properties on your website and earn from it.
You can set up your own policies and rules for the host (property owners) and guest (renters) to manage and monitor your own rental platform.
Difference between being a host on Airbnb vs. owning a rental website
| Distinction | Hosting on Airbnb | Owning a rental website |
| --- | --- | --- |
| Transaction control | The rental fee goes directly to Airbnb, they take a portion of the fee as a service fee, and you'll be getting the remaining from them. | If you own a website, you'll be independent and control how you earn from your property. The rental fee directly goes to your bank account. |
| Policies | The rules and regulations of Airbnb apply to you as their host. | Whereas here, you can formulate and regulate of your own accord. |
| Operation | The operations are decided and functionalized to suit Airbnb. | You can customize your operations with unique features and functionalities that'll help you streamline your business. |
| Dependency | Completely dependent on Airbnb. | High independence in running your rental business however you want. |
| Branding | Airbnb is the brand that comes to the customers' minds even when it's your property that makes them happy. And they eventually search for Airbnb to book the next time. | Here, you can create your own brand, and it'll help you market your rental business effectively. |
| Flexibility | Though it's flexible to some extent, you'll have to play by the rules of Airbnb. | You can give more attention to any property of yours according to your target audience and the market. |
Conclusion
In the end, it all comes down to YOU.
You're the one who should make your decision.
Investing in your own business is the most valuable asset you can have.
And if you're confident enough to pursue your dream, let us help you.
We provide a readymade Airbnb clone app called RentALL, which will help you create a website like Airbnb without you having to spend much.
Imagine the freedom and the revenue you'll be generating!!
Exciting, right?
Schedule a FREE demo to get a hands-on experience of our product. Then decide for yourself.
Have questions?
Contact us on WhatsApp or drop us an email at [email protected]
Let us help you create a host-friendly rental website!
---