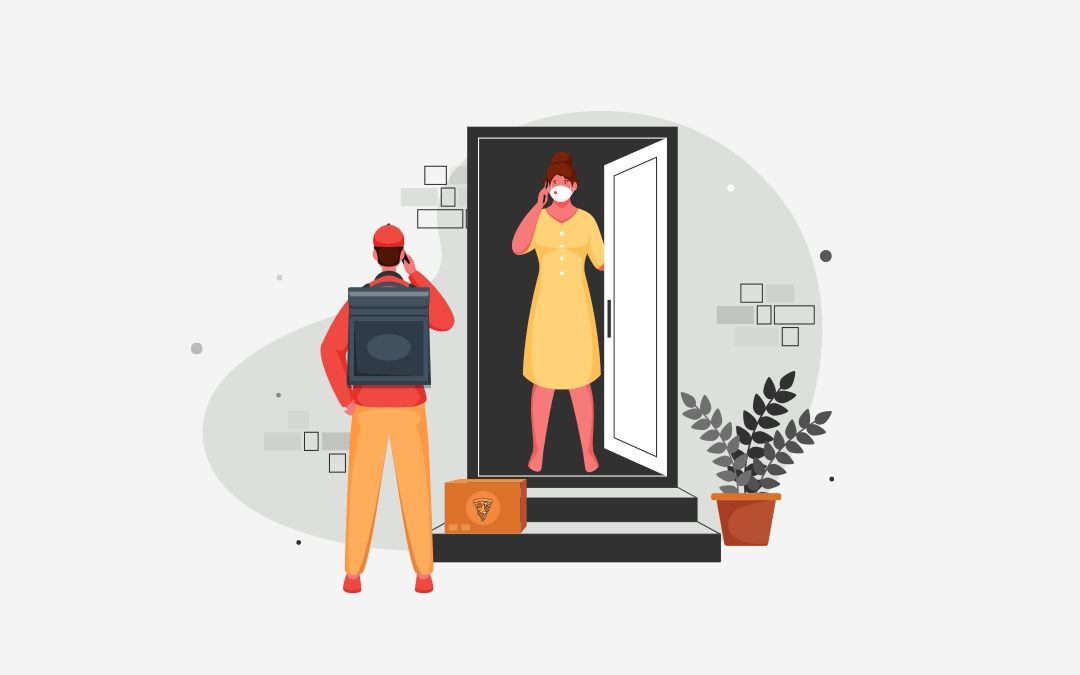 How can contactless food delivery enhance your business?
Want to know how contactless food delivery can enhance your business performance All you have to do it click the link below to know more!
People needed someone to deliver food even during COVID-19. It was the primary need for most of the population and the need increased day by day.
Therefore, many food delivery businesses emerged. Both the new and existing food delivery businesses were forced to indulge in contactless food delivery, which is a good thing.
Even some restaurants started consulting developers to create apps for them to have contactless delivery. And it is important as a businessman to give in to the demand of the consumers.
In this blog, you'll get to know the perks of having a contactless food delivery business!
What is contactless food delivery?
A contactless delivery is a concept of ordering food through apps, making online payments through debit/credit cards or wallets, and getting delivered at your doorstep.
Wallets are basically adding money to the apps. This procedure is by giving the card details – card number, expiry period, and CVV while adding money for easy payment.
Don't worry! The details won't be saved.
How can you achieve contactless food delivery?
Contactless delivery can be achieved through contactless food delivery app development. This is one of the prominent ways of promoting your business to think about owning an on-demand food delivery marketplace that connects to restaurants, delivery partners, and the eaters.
It could either be a website or an app. But with excessive smartphone usage and mobile app development trends, it is essential to keep up with the twists and trends.
Narrowing down the features that you want for your contactless food delivery app.
Segregating the feature perks based on the eater, driver, restaurant web panel, and admin panel.
Figuring out the cost of developing a contactless food delivery app and seeing whether they fit into your budget.
White labeling if you purchase a ready-made on-demand food delivery app.
Having an online presence can be used to inform your target audience regarding your business operations.
What are the standard hygiene procedures to maintain during contactless delivery?
These are some of the basic standard hygiene procedures to be followed when it comes to contactless delivery.
These are the fundamental things that you should be keeping in mind as you'll be the admin of the platform.
Checking the temperature of the delivery partner while starting the day.
The restaurants must take the temperature of the delivery partner while the food is taken for delivery.
The delivery partner should be wearing a mask, a pair of gloves all time during delivery.
The kitchen staff's temperature and the delivery partner's temperature could be on the bill printed by the restaurant bill.
Making an online payment must be highly encouraged by the marketplace owner.
Training the delivery partners to strictly adhere to the delivery instructions given by the eater during ordering the food.
How can we assist you?
Have you heard of WooberlyEats? If not, you're in for a treat!
WooberlyEats is an on-demand food delivery platform that is 100% customizable into any kind of perishable goods delivery.
In WooberlyEats we have three contactless delivery options such as;
Meet at door.
Leave at door.
Pick up outside.
These options can enhance the contactless delivery experience with the eaters to ensure safe and secure delivery.
Want to know what technology we use to build WooberlyEats?
We use Flutter, a single code-based software toolkit that enhances the performance of the apps.
Advantages of using Flutter:
One code-based – Flutter gives developers the space to build cross-platform mobile apps using a single codebase. (Android and iOS)

Faster development – There is a feature called 'Hot Reload' that immediately shows the changes made in the code while running an app. So, it saves a significant amount of time during development.

Quick testing – The apps have to be tested regarding their performance before making it on app stores. When it comes to Flutter, it has a lower testing time compared to others.

Cost-effective – Developing apps through Flutter ensures cost effectiveness from the above-discussed advantages, it must be obvious.
WooberlyEats has the contactless food delivery feature that could increase the platform performance, scalable as and when your business expands – you can expand the platform and it builds trust between the stakeholders.
After reading the blog, I hope you understand the need of having a contactless food delivery platform to enhance your business performance and also ensure customer satisfaction and safety.
Want to contact us? Ping 💬 us on WhatsApp
Or 📧 [email protected]
Need help creating your food delivery app?
---