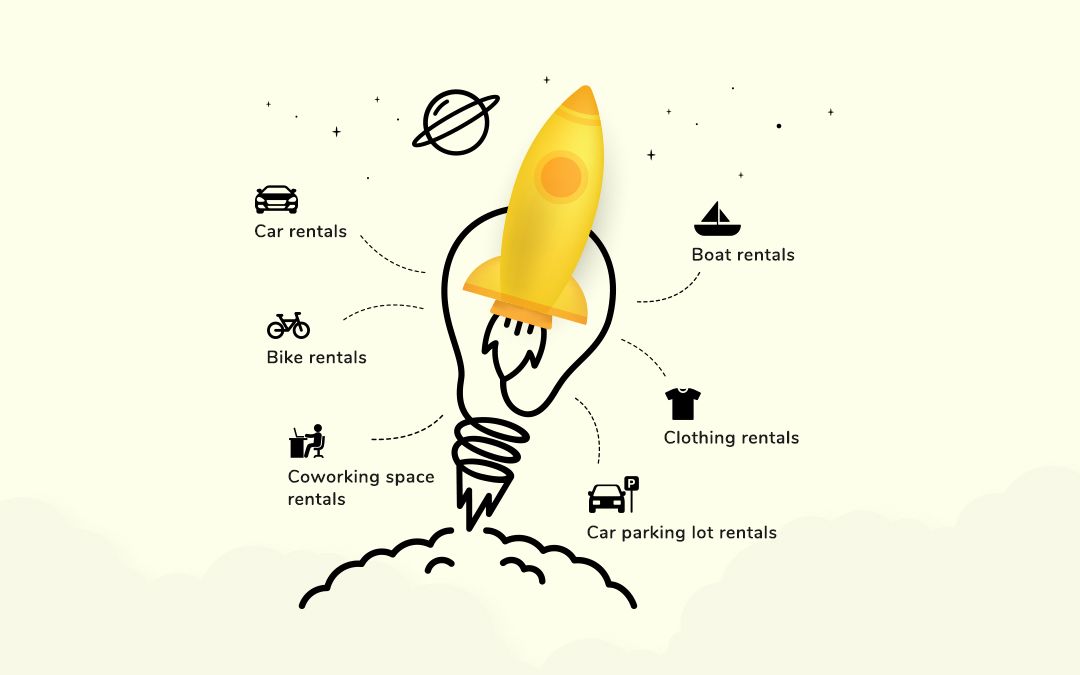 Top 10 craziest online rental business ideas
Are you planning to start a rental business in 2021? This blog provides you the top rental business ideas and recent trends.
Are you planning to start a rental business in 2023? Or here to learn about the recent trends and various rental business ideas?
Here's the comprehensive guide on various rental business ideas that you can make use of to start your own online rental venture like Airbnb.
Let's get started,
Future of rental business
Starting a rental business has gained huge popularity in recent years and is one of the smartest ways to earn huge profits with less investment. The reason behind the popularity is most people prefer a rental rather than owning one.
The total value of the global sharing economy is predicted to increase to 335 Billion U.S. dollars by 2025, compared to 15 billion U.S. dollars in 2014.
👉Know more Rental industry statistics
1. Bike rentals
The bike rental business is one of the most trending and profitable services because a lot of travelers are in need of bikes for their travel purposes.
As per statistics, the global bike rental market is expected to reach USD 4.00 billion by 2025. The reason behind the success of the rental industry is increasing demand, easy access, affordable rates, and so on.
👉 Bike rental app development guide
2. Car rentals
As per research, the car rental market size is valued at $92.92 billion in 2019 and expected to reach $214.04 billion by 2027. It allows the existing car owners to list their vehicles for the renters for a short duration of time.
The car rental business growth is due to the benefits offered for the users like lower service costs, enables faster transactions, and so on.
3. Cloth rentals
The cloth rental business makes it easy for the guest to rent the cloth who is in need for a certain period of time at affordable rates. The cloth rental industry is valued at $1, 013 million by 2017, and estimated to reach $ 1, 856 million by 2023.
👉 Build a marketplace for clothing rental business
4. Interior decoration rentals
As per stats, the revenue generated in interior decoration rentals reaches $723 million in 2019 and is expected to reach greater heights. Easy affordability and accessibility are the main reason for the growth of interior decoration rentals.
5. Vacation rentals
A vacation rental is renting out an apartment, house, a resort for a short period of time. As per statistics, the revenue in the vacation rental reached $9,564 million in 2020 and expected to reach $19, 904 million by 2025.
Vacation rentals allow the host to list their property and guests to make use of the property for their needs for a certain period of time. It offers many benefits to the users including authentic experience, good user experience, reliability, and affordable pricing. This attracts most of the users to make use of the vacation rentals.
Hence, starting a vacation rental business will be more beneficial for the entrepreneurs and helps them to earn more profits.
6. Boat rentals
The global yacht market was valued at $15,205.14 million in 2017 and expected to reach a rate of $27,793 million by 2027. The reason for the growth of boat rental business is that everyone can't afford a boat, so people mostly rent a boat for a certain period of time to satisfy their needs.
👉 How to start your online boat rental business?
7. Coworking space rentals
Finding an ideal location for guests has become more challenging in recent days. This resulted in the rise of coworking space rentals.
Coworking space rentals are the most important aspect for any business providing private workspace for freelancers, startups with limited employees, and research fellows, and so on.
According to the statistics, the number of coworking spaces is forecast to almost double to 49,500 by 2022 globally, from 26,000 in 2017. This is also one of the reasons to start a space rental business.
8. Car parking lot rentals
Car parking rentals are one of the popular rentals growing at a surprising rate. It is nothing but renting the extra spaces like a garage, closet, and basement space to those who need to use the spaces for parking their vehicles.
9. Storage room rentals
The Warehouse rental business helps many people to store their belongings without hassle. According to the stats, the revenue reaches upto $32.6 billion in 2020 and is expected to reach a high value in the future. The growth is mainly due to its flexibility and convenient storage facility.
10. Furniture rentals
Furniture rentals are nothing but renting out furniture for users who are in need. It allows the users to search and book their favourite furniture for their short term use.
As per statistics, the revenue reached $670.7 m in 2020 and expected to reach US $38, 195m 2026.
Want to start your own profitable rental business today?
Nowadays, starting a rental business might be easy but figuring out the best software solution becomes a challenge for entrepreneurs. If you are convinced to launch a rental business, then start your venture with RentALL.
RentALL is a customizable Airbnb clone script that helps in building your rental platforms easily.
Exploring the benefits of RentALL
Here is how we convert your rental business ideas into reality,
The full source code will be available to you and you can alter according to your preferences
Appealing and easy to use the booking page
Offering both Android and iOS app
Offering powerful admin dashboard to manage all the activities on the rental platform
Supporting multi-language and multi-currencies
Conclusion
In this article, we briefly explained the various rental business ideas. If you are ready to launch your rental business, now is a suitable time to get start your own rental business.
Picking a rental business idea that suits your rental business ideas is the most important thing in the long run and the success of your business.
For more support and clarification, contact us at [email protected]
---
Need help building your rental website?
---