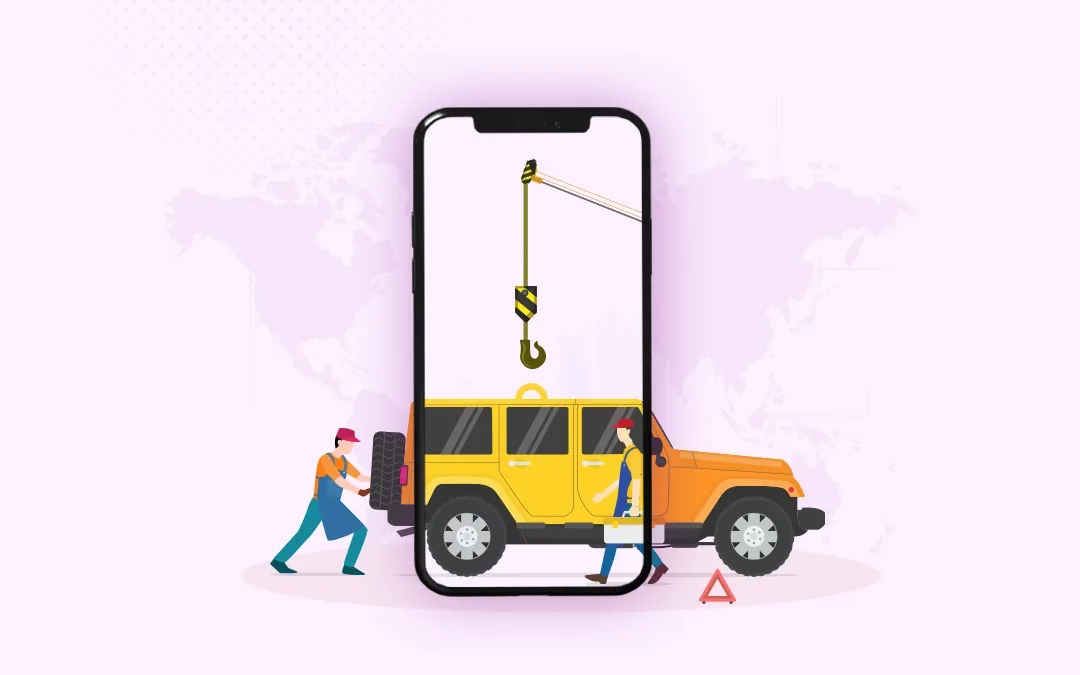 How To Build a Roadside Assistance App like Uber for Towing
Learn how to build a towing and roadside assistance app. Explore features and development costs.
Nowadays, there are a lot of applications available for people's needs. Whether it's beauty services to grocery shopping everything is being online. Consequently, roadside assistance and tow truck services growing among startups.
Imagine yourself traveling somewhere in a car. In the middle of the highway, your car has a breakdown. You call a roadside assistance agency, and nobody answers your call. What to do?
Wouldn't it be wonderful if there were an app designed for booking roadside assistance? Just like booking a taxi or ordering food through an app. The concept of on demand roadside assistance services holds tremendous opportunity for entrepreneurs.
Overview of the roadside assistance industry
The global market value of vehicle roadside assistance is expected to reach 29 USD billion by 2026 [Based on a report from Acumen Research and Consulting].
With that said, let's get into the working methodology on-demand roadside assistance apps.
How does the on demand roadside assistance app like Uber work?
The user logs in via the app using their registered mobile number or their social media account.
Users will search for the nearest tow trucks
They book the service immediately or schedule for later
The tow truck driver will receive the request from the user.
Once the request gets accepted, the user can track the driver in real-time.
The driver reaches the users' location and offers the towing service.
The users can pay for their service via card, cash, or in-app wallet
After completing the service, both customer and driver can rate and also review each other based on their experience.
Features to be included in towing app like Uber
Customer app features
1. Easy login
It allows the customers to log into the app via using their mobile number.
2. Service selection
The customer has the option to select their preferred service from a wide range of categories available from towing to tire replacement.
3. Real-time notifications
It assists the customers to get real-time updates via push notifications regarding the status of their service.
4. Seamless payments
Customers can easily pay for their services via multi-payment modes like cash, card, or wallet.
5. Reviews & ratings
Rating and review option allows the customers to share their opinion and experience easily. It also helps in increasing the quality of the service.
7. Emergency alert
In case of any emergency, customers can share their exact location and also driver's vehicle number via SMS to their emergency contact, and also there is an option to call 911.
Service provider app features
1. Easy registration
This feature allows the driver to register in the app easily with their mobile number and email address.
2. Service requests
The driver receives the service request from the nearby customers in real-time and also has the option to accept/decline the request.
3. Availability status
The driver has an option to change the status as online/offline. The driver receives the service request only when the driver changes the status as online.
4. Easy navigation
It allows the driver to reach the exact pickup location of the customer by using the Google map navigation integrated into the app.
Admin panel features
1. Dashboard
Admin can control all the operations done on the platform with the help of a dashboard.
2. Driver management
This feature allows the admin to monitor and track both the drivers and rides at ease. Admin has the rights to approve or reject any driver's account.
3. Customer management
Admin can manage all the customers along with their personal and also booking details.
4. Pricing management
Admin can set prices based on the type of services, pick up and drop location, distance and so on.
Got a clear idea of features to be included in your on-demand roadside assistance app? Now, it's time to reveal the best on-demand roadside apps available in the market.
Key players in roadside assistance industy
1. AAA
AAA is a US-based emergency roadside assistance company founded on March 04, 1902.
It provides services like roadside assistance, motoring advice, traffic safety, etc. It offers three different packages such as classic, plus, and premier.
2. Urgent.ly
Urgent.ly was founded in the year May 2013 but launched its services in the year 2014 by Ric Fleisher, Surendra Goel, Luke Kathol, Lokesh Kumar, Rick Robinson, and Chris Spanos. It's headquartered in Vienna, Virginia.
It provides the safest roadside assistance services like towing, jumpstart, tire change, gas delivery, auto lockout, stuck-in ditch and also winch services in North America, Europe, Asia, and Australia.
3. On-star
On-star is a US-based roadside assistance company founded in the year 1996. It provides services like an automatic crash response, roadside assistance, crisis assist, stolen vehicle assistance, and so on.
It offers three different plans like safety & security plan, safe & security plan with remote access, and safe and also security with unlimited access.
4. Waze
Waze was founded in the year 2006 by Ehud Shabtai, Amir Shinar, and Uri Levine. It is currently available in 50 languages. Benefits of Waze include affordability, and also scalability.
5. Honk
Honk is the roadside assistance app founded in the year 2014. It offers services like towing, stuck in ditch, roadside assistance, motorcycle & exotic car towing, jumpstart, secondary towing, flat tire, and so on.
It offers many benefits including no membership fees, 24/7 availability, and also multiple payment options available.
How much does it cost to develop a roadside assistance app?
If you want to build your on demand roadside assistance app, either you can build your app from the scratch or using a readymade solution. Building an app from scratch will cost you higher than creating the app with a readymade solution.
The cost of Uber for towing app development will depend on the following factors,
Based on platform (Android, iOS, web)
Features to be included
The complexity of the app
Design
Maintenance of the app
Choosing the right software solution to develop your Uber roadside assistance app
Finding the perfect solution is not that easy in today's competitive world. With abundant choices of the readymade solutions, it is crucial to find the perfect one that suits your business needs & requirements.
Exhibiting the perfect solution to start your on-demand roadside assistance app development process, Wooberly RoadAssist
It helps business owners/startups to create their roadside assistance app with the latest technology Flutter. Wooberly RoadAssist helps in creating the roadside assistance app like Uber at an affordable cost and also limited time due to a single code base.
Benefits of choosing Wooberly RoadAssist over other software solutions,
Availability of 100% source code
Free server installation
Free app submission on both the App Store and Play store
Support even after the app rejection
No hidden fee will be charged
Complete white label solution
Easily scalable
Use of latest technologies like Flutter
Conclusion
Hope this blog helps you with all the required information to develop your own on demand roadside assistance app or Uber for towing.
Got an idea to build your roadside assistance app? Get in touch with us at [email protected]
Let us help you create an on-demand roadside assistance app
---