Know the difference between Readymade VS Custom development
Discover the distinction between Readymade vs. Custom development and choose what works for you to fulfill your business needs.
Choosing between a readymade solution VS custom development becomes a never-ending process. Yes, you don't have time to decide what to do next. Or, if you want to know stuff, that's fine; cause you learn a lot from this blog.
You may ask or doubt our authoritativeness in this particular topic. If not us, who's going to discuss this? Coming to the point, we are web and app developers who specialize in readymade solutions.
We served a lot of clients. We know their journey, business type, ideas, and why they pick a readymade solution. However, hearing their perspective enlightened us.
No worries, this blog will not seem like boasting readymade solutions. We have no intention to give a biased opinion for the sake of marketing.
We read blogs, asked dev communities, and discussed with our developers - to know the best; readymade solution or custom development.
You'll get everything covered. So have your coffee filled next to you and savor it.
What is a readymade solution?
In short, it is a ready-to-use app available for instant use for entrepreneurs. If you're in any niche, assume you want to build a taxi booking app.
Want to find any?
We all know that Uber is the pioneer in the taxi booking business, Airbnb in the vacation rentals business, and TaskRabbit in the Handyman booking business.
Just go and search Uber clone, Airbnb clone, or TaskRabbit clone. You'll find several pages land for the keyword. Pick any you find relevant.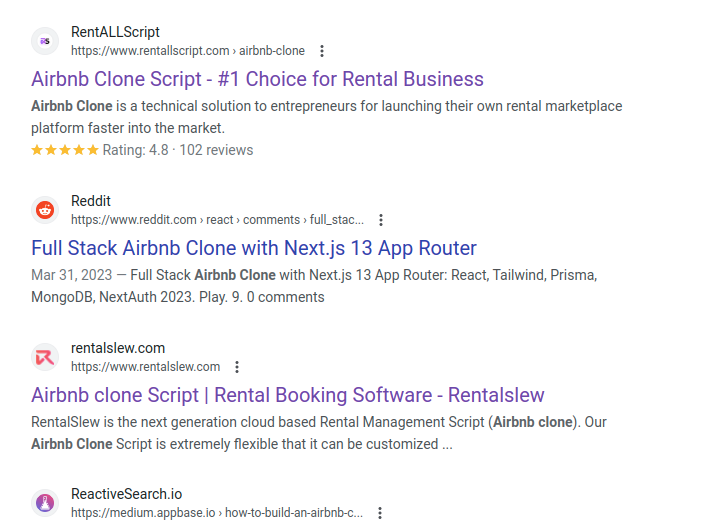 Boom! That's how you find a readymade solution.
We'll get deeper in the next section.
Qualities of Readymade Solution?
Quick implementation
As a result of the pre-build solution, testing, and customization is the only process left before the launch. Unlike custom development, where it needs to build from scratch and deploy.
Cost-effective solution
The advantage of cost-effectiveness is why it persuades startup owners to opt for the solution. Let's take you're building a taxi booking app from scratch - it would cost approximately $40,000 to $50,000.
In-build features and functionality
The readymade solution may encompass in-built features and functionality. However, it's possible to integrate additional features up to the client's requirement.
Ready to use
Since customization is the only process left before the launch - the app can be live for the user swiftly. That's why you may use the term 'ready-to-use solution'.
Best for startup
Startup owners have different requirements and in-hand budgets - some lack investments despite their ideas weren't catchy to investors or rather lack of investment.
The requirements were different, but the goal was the same.
However, the development cost has been the primary concern, and the typical urge to release the platform makes them prefer readymade solutions.
Custom development
It entails the process of developing an app from scratch. In this sense, the developers had to code from the start. Typically, it follows whenever clients approach an app idea.
For instance, let's imagine David, an entrepreneur who badly wants to hook up with custom development to build a taxi booking app - now John approaches a custom app development company.
He will more likely have to wait a long time and invest considerable sums entirely in development. But not everyone can afford to have a big pocket.
But there are also pros & cons to grab. We will see this in the following section.
Qualities of custom development?
Complete control
The advantage of custom development is that you're in complete control of the process. From the requirements to the deployment phase, everything goes as you wish. It makes you adapt the app to fit the current market.
Personalized experience
It gives you a competitive edge while creating unique features and functionalities that match and entice your experience. Therefore, ensuring a personalized experience is possible in custom development.
Slow process
Almost it takes several months, maybe a year to complete the custom development process. However, the time frame changes to the requirement and the features you want to integrate.
Expensive than a readymade solution
We've all heard that creating an app from scratch is far more expensive and time-consuming than using a pre-built solution. Custom development is a good option if you have an investor on your back or a well-known entrepreneur.
What to choose? Readymade or custom development
Choose a readymade solution if...
You want a cost-effective solution
Launch your app quickly
Ok with in-build features or customizing new features
Easy implementation
Visit several readymade solutions partners to enquire, discuss, and share your ideas AND pain points. After analyzing their product, if your instinct says they could be worth partnering with. Just grab them.
Choose a custom development if…
You're ok to invest enormous time & money
You want to build unique features that are not available in the current market
Personalized experience
Complete control
Don't be restricted. If you choose to go with custom development, there's a huge investment involved. Asides, don't you want the best? So, look over the list of possibilities (Custom developers), reviews, and other projects they've completed, and you'll know the rest.
End note
Choosing a custom VS readymade solution depends on your goal and current business scenario. But note; a decision you take to hold a big impact on your business.
From this blog, I have conveyed what I know about readymade solution VS custom development. And I am happy that my statement doesn't favor anyone - including ourselves. I hope this blog educates you on your decision-making process.
If you're interested in a readymade solution...
---