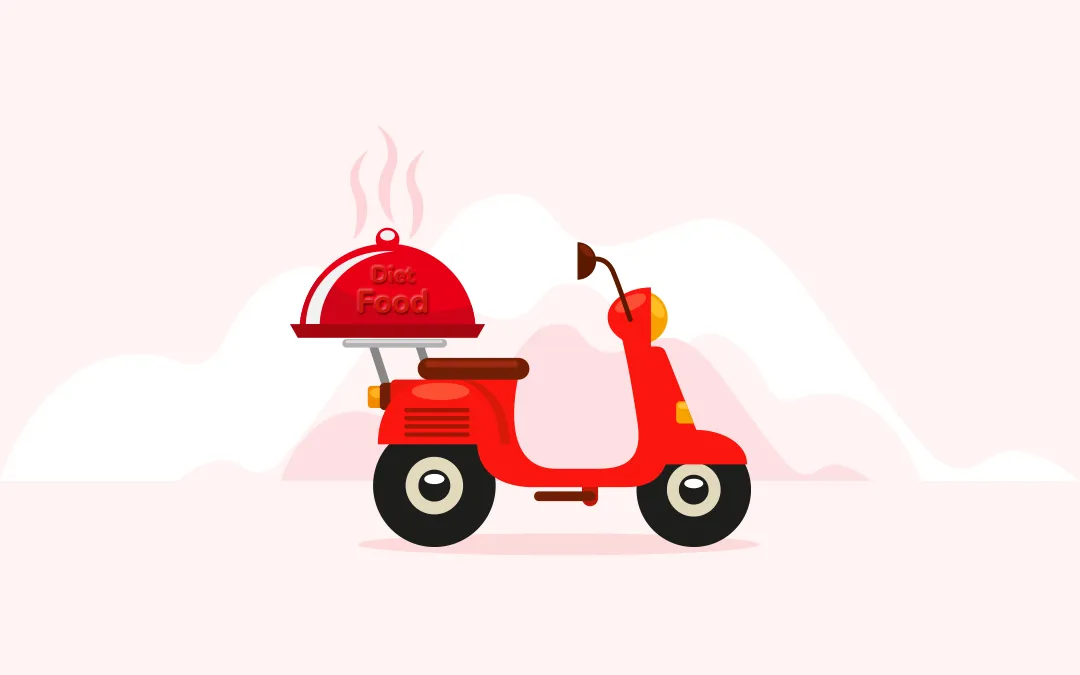 4 points to remember when starting an online diet food delivery business
Have you wondered about the market share of the online diet food delivery business? It's less. Let's jump into the market with an app!
The online delivery business has been growing with the pandemic all over the world. It is important to keep our loved ones safe and secure.
So, people turn to get their goods or services delivered through an online platform. And this could be used as an opportunity to explore a new business idea.
📱Smartphone users are highly exposed to new and healthy food alternatives. They follow nutritionists and other fitness routines – therefore, there is an increase in people consuming diet food products.
In this blog, we'll get to know all the essentials of starting an online diet food delivery business.
What is an online diet food delivery business?
The diet food delivery business can be operated through an on-demand food delivery app which could be a feasible option to reach a larger audience.
Any business owner has to consider taking their business online (app-based) because people love and find it convenient to order their services through an app.
The following are the points that you could consider while starting an online diet food delivery business:
1. Figuring out target audience:
As we already know, health and well-being are a growing priority for people nowadays. The customers are in plenty, but there are not enough products or services to satisfy them.
To find the target audience, you could do these two things:
Initiate taking online surveys via social media.
Look for pages and communities in social media to research the potential audience for your platform.
Do a competitive analysis with your competitors to know where you stand.
2. The business model for online diet food delivery business:
The aggregator model is one of the popular business models to connect the restaurants and the customers who need it.
In the aggregator model, you will be the admin of the platform controlling the users (customers, delivery partners, and the restaurant) and every activity performed in your diet food delivery platform.
You'll have a competitive advantage as your platform is one of the few exclusive places to find all varieties of food items for weight loss.
3. Revenue model:
Any online business has to figure out the revenue 💰 basis for its business. The commission-based revenue model is widely used by entrepreneurs to earn from running an exclusive marketplace.
The admin (that is you) will be receiving commission from both the diet food eaters, delivery partners, and the restaurants that serve weight loss foods
4. Features to include for an online diet food delivery business:
There are going to be 4 deliverable that can be expected from an on-demand app development company when you approach them about starting an online diet food delivery business.
Eater's App
Driver's App (Delivery Partner)
Restaurant Web Panel
Admin Web Panel
Here're the features that you can include in your food delivery app,
Eater app:
Advanced filters used to choose from options based on price range and dietary options.
Eaters can track the order.
In-app wallet option available to make payments.
Eaters will receive prompt push notifications on coupons, offers, and other announcements.
Contactless delivery: Meet at door, leave at door, pick-up outside options available.
Delivery partner app:
Online/Offline toggle can be used to indicate whether the drivers are accepting orders or not.
Drivers can view their earnings reports.
The driver can rate and review the delivery experience to the eater.
Drivers can manage their profiles in the app.
Both in-app navigation and Google maps are available.
Restaurant Panel:
The restaurant can create their own menu.
Restaurants can set and manage the operating hours of their business.
They can add their bank details in the panel to receive their earnings from the admin. (payout method)
They can print out the receipts.
They can set the estimated preparation time for particular hours in a day.
Advantages of having a diet food delivery app for entrepreneurs:
You can manage and monitor the operations of your online diet food delivery business with one simple-to-use dashboard.
You can reach a larger audience with your online presence by using social media to market your platform.
You'll have access to the data of your customers, delivery partners, and the products or services providers – it can be optimized to foresee the future by assessing the platform's performance
You can concentrate on customer satisfaction, improving the platform performance, and other growth strategies than just worrying about operational efficiency.
Connect better with the customers who are on-trend and boost profits using the platform.
5 tips to keep in mind while running an online diet food delivery business:
These are the 5 tips that could keep your on-demand diet food delivery business on the upward growth scale for a longer period.
The registration process for both the eaters and the delivery partners has to be very simple.
Providing updated features to your end-users is one of the best ways to keep them interested in your on-demand diet food delivery app.
Highlight the new users and old users with high ratings and reviews.
Give out offers and coupon codes to your customers for continuous use of your diet food delivery app.
Vet your delivery partners regularly – to ensure that the products or services are delivered on time and to the satisfaction of the customers.
Diet food is going to be wanted and needed by a larger population in the days to come. It is essential to utilize this opportunity to start a successful on-demand diet meal delivery business.
Get to know our awesome product, WooberlyEats. It is an on-demand food delivery app solution that is 100% customizable, and scalable to any delivery business.
If you want to know more about WooberlyEats, take your phone and give us a ping on Whatsapp or drop us an email at [email protected].
---