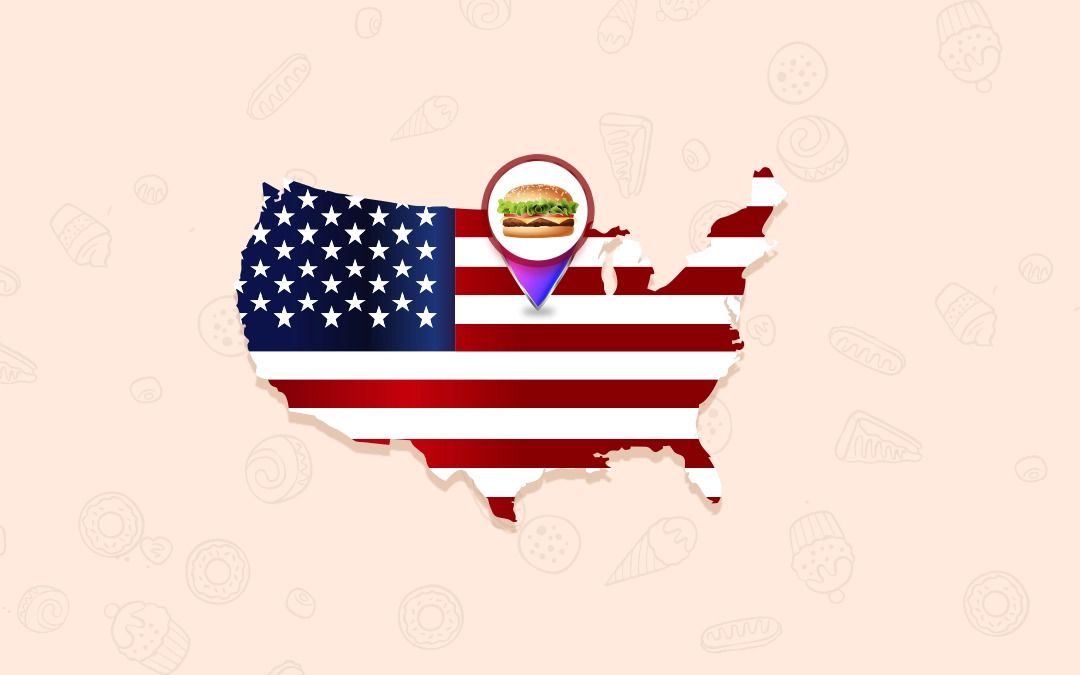 How to start an online food delivery business under 5000$? [2023]
It is not another food delivery business article. I assure you. I have done my research & created this article with all of my knowledge.
😇 It's a blessing to be able to run a business that you love!
Food delivery is one of the craving business ideas among aspiring entrepreneurs.
I'm glad you have decided to launch an online meal delivery service, but how are you going to do it?
In this article, I try to address this question with all of my knowledge in the hopes of assisting you in getting started quickly.
What will you learn from this article?
You might know some information about food delivery. Hence we won't be getting deeper into it.
💡 Did you know? The first food delivery business was established in 1768 in Korea.
⚙️ Let's have a look at how an app-based food delivery system works!
Here's how it goes;
The customer logs into the food ordering app using social media login or by entering a mobile number.

The app validates the mobile number and allows them into the platform.

The app either retrieves the customer's location or prompts them to enter it manually.

The customer would next select the food items they might want to order and add them to the cart.

Proceeding further, the app would take them to the payment page with the order details, where the customer should pay for the order.

The restaurant will be notified of the order once the payment has been processed.

The restaurant will accept the order request and prepare the order.

In the meanwhile, the app matches the order delivery request with the nearby delivery partners.

The delivery partner [the one who accepts the request] will pick up the order from the restaurant and deliver it to the customer's location.

Once the delivery has been completed, both the consumer and the delivery partner can rate their experience.
As a business owner, you or your team will be managing all these activities using the admin panel allocated to you.
Interesting, right?
"Research is creating new knowledge." - Neil Armstrong
Starting a business without proper research isn't going to take you anywhere.
Speaking of market research...!
📈 Let us look at the food delivery industry's performance.
We have all seen the rise of food delivery during this pandemic, and it's not going to stop anytime soon.
The meal delivery market has grown twofold in the United States of America.
Also, the cumulative revenue in the industry is projected to reach US$66,565m this year [2022].
Even in the era of industry slowdown, the funding and acquisitions of food delivery businesses never stopped.
🗓️ In January 2021, Wolt, an online food delivery platform raised $530 million.
📅 And in June 2021, Just Eat acquired Grubhub for $7.3 billion.
With all this data, we could back our claim that food delivery is still a profitable business for an aspiring entrepreneur.
5 types of online food delivery business models
We all know the common term - Food delivery apps. But there are many business models adopted by these businesses. Let us discuss some.
1. Order-only model
Order-only businesses supply restaurants with software that allows them to take customer orders. The delivery services should be handled by the restaurants.
2. Order and delivery model
The order and delivery model offers complete software and logistics solutions for restaurants. They aggregate the restaurants onto the platform and deliver the food directly to the customers.
3. Integrated or Full-stack model
The full-stack model is where the business takes care of the sourcing, meal preparation, and delivery all-in-one platform.
4. Restaurant to customer model
Restaurant to customer model is where the restaurant uses its own delivery management software to accept the order and have its delivery partners deliver the food to the customers.
5. Subscription-based model
The subscription-based model is where the platform accepts the monthly subscription for food delivery and delivers them to the customers directly.
😋 10 crazy food delivery business ideas that will bring you 10X revenue
The food delivery market is quite competitive, so you will need to come up with a unique idea to help you stand out.
It might be the niche of your business, the service you provide, the marketing strategy you use, etc.
So here are some online food delivery business ideas:
Office/corporate meal delivery service

Organic food delivery service

Cooked sea-food delivery service

Frozen foods delivery service

Dairy products delivery service

Snacks and bakery items delivery service

Pet food delivery service

Meal kit delivery service

Pizza delivery service
10 Actionable steps that you can follow to start a food delivery business in the USA 🇺🇸
1. Choose your delivery niche
From the delivery business ideas above, pick the one you are fascinated about or do your research.
Choosing a business niche would help you narrow down your potential customers and serve them effectively.
Generalizing your services won't help you survive in this fierce competition.
Specialize in what you serve and be the best in that area.
Here are some tips for you to choose the niche:
✳️ Write down the list of your areas of interest.
✳️ Analyze the market need for those areas.
✳️ And pick the one that best suits your interests and the interests of your target audience.
2. Find your target audience
Pinpointing the target audience will help you understand and serve them better.
Consider this scenario: you are preparing to launch an office food delivery service. Instead of targeting office workers, employers, and corporations, you are going after everyone who wants meals delivered.
Do you think it would be beneficial? Nah! 🙅
Not everyone is your business' potential customer. You have to pick your audience to tailor your services around them.
3. Create a business plan
Man, this is one of the critical parts of starting a food delivery service. Pay close attention to this because this might help you get funding for your business.
Yes, you read that right! Your business plan is the one that describes your company's core value, objectives, and how your business will achieve those objectives.
Also, creating a clear business plan will help you attract investors to your business.
Here are some of the things you should include in your business plan,
✳️ Executive summary
✳️ Budget and financial analysis
✳️ Marketing strategies
✳️ The technology behind your online delivery startup
Learn more about creating a food delivery business plan!
4. Pick a name for your business
Your business name defines your brand and its traits.
Pick a business name that:
✳️ Reflects your core value
✳️ Easy to read and remember
✳️ Not used by any other businesses
✳️ Related to your business
You can use business name generators from Shopify & Oberlo to get an idea.
5. Register and get a business license
🚀 Time to officially kickstart your online food delivery service!
Registering your business is the first step to establishing your business legally.
Also, it helps you get business loans and fundraisings easily.
In addition to the registration, you need to get some licenses to run your business.
Depending on the country you are in, the legal processes vary.
Here are some of the common licenses you need to get started with your food delivery business:
✳️ Food handling permits
✳️ Employee identification number
✳️ Insurance policies
✳️ General license
✳️ DBA license
✳️ Business operation license
😅 Phew, that's a lot!
6. Create your food delivery app
👻 We're into the fun part!
Yes, we are about to create a food delivery app that would enable your customers to order items and get them delivered.
Here are some of the benefits of creating an app for your delivery business:
✳️ Easy for branding and marketing
✳️ Great to monitor and scale your business
✳️ Customers have the best food ordering experience
✳️ You can provide better customer service
So, how can you create an app within your budget? How?
Here are the two ways to make it happen:
✳️ Creating a food delivery app from scratch and,
✳️ Customizing readymade software solutions to your need.
The approach to creating your app is entirely up to you and your business needs.
From the cost of development point of view, we suggest you use readymade solutions.
It would take around 600 - 750 hours to create a food delivery app from scratch, depending upon the complexity.
And the hourly rate for mobile app development in the USA is around $60 to $125.
So, building a food delivery service app from the ground up would cost between $36000 and $45000.
On the other hand, creating an app by customizing the readymade solutions will cost you around $5000 to $6000.
You could always add more features and functionalities when your business scales up.
For a startup owner, picking the one that offers maximum benefits at a minimum cost would be worthwhile.
As I previously said, the decision is entirely yours!
7. Work out a plan for your logistics
🛵 Vroom, vroom, it's time to deliver!
Depending on your business model, you have to plan out the food delivery to your customers.
Here are three ways to build your logistics team:
✳️ Building your own fleet.
✳️ Partnering with other logistics businesses.
✳️ Hiring people who already have their vehicles. [Like Zomato does]
8. Plan for accounting
As a startup owner, keeping track of your accounts will help you determine the profitability and growth of your startup.
Also, it helps understand how your startup performs against your competitors and where you can invest.
You can use online tools like Quickbooks and Xero for efficient bookkeeping.
9. Marketing your food delivery service
📣 Marketing is inevitable for an online startup.
You can't just wait for your customers to find your business.
And as a startup owner, you can't afford that.
Also, don't think of marketing as a huge investment that you should think about later.
Start small! You can use social media platforms to interact directly with your audience.
Zomato is killing it on social media. [Kudos to their marketing team!😉]
Here are some tips to help you get started:
✳️ Use the push notifications on your app effectively.
✳️ You can use blogs to help your customers order their favorites.
✳️ Use email marketing to promote special offers and products.
✳️ Use your founder's personal brand to the fullest.
💡Pro-tip: Don't stick to one medium or platform. Always explore ways to better your marketing.
10. Plan to retain your customers
Only 18% of the businesses focus on customer retention [🙍Sadly!].
As much you concentrate on getting new customers on board, you should focus on customer loyalty and retention.
Millennials are more likely to order food online, and 44% of them claim they are loyal to their favorite brands.
Here are some of the tips to retain your customers on your food delivery app:
✳️ Push harder on your email marketing.
✳️ Use push notifications to remind them to take action.
✳️ Be there for your customers by answering all their queries.
✳️ Engage with your customers on social media.
✳️ Make use of loyalty programs.
💡Pro-tip: Always personalize your messaging. It will help you bridge the gap between your brand and your customers.
These are the actions you should take to get started with your food delivery business in the USA.
Let us have a virtual high-five ✋ and pat yourselves for being here till now!
But we are not done yet! We still have some crucial things to learn.
☕ So make yourself a coffee and read further.
How does an online delivery service businesses make money?
The food delivery businesses make money by the following means:
✳️ Delivery fees from the customer for every order.
✳️ Service fee from restaurants & delivery partners for every order.
✳️ Subscription fees from the customers.
✳️ Advertising fee from restaurants.
Note: These might differ based on the business model you choose to run your platform.
How much does it cost to start an online food delivery business?
It would cost around $5000 to $10000 to start a food delivery service initially.
Your investment includes:
✳️ App development cost
✳️ Business license and permits cost
✳️ Marketing budget
✳️ Insurances
The startup cost might vary depending on your geographical location and economy.
5 popular delivery startups to watch out for
These are some of the delivery startups that are worth exploring:
✳️ Dunzo
✳️ Gorillas
✳️ Getir
✳️ Glovo
✳️ All Day kitchens
As I promised, here's the bonus section!
8 tips for running a thriving food delivery service
✳️ Provide incentives to your delivery partners and keep them happy.
✳️ Use personalized marketing strategies to attract customers.
✳️ Weed out low-quality restaurants from your platform.
✳️ Provide the best customer support possible.
✳️ Offer safer delivery with contactless delivery methods.
✳️ Predict early and adapt to the changing customer needs.
✳️ Add more than food later when your business matures.
✳️ Get constant feedback from your customers.
Here's what some of the world's most ardent food delivery app users have to say:
We spoke with some people who use meal delivery apps and asked them about their experiences ordering from them.
When you decide to establish a food delivery service, these tips will help you improve it.
I use DoorDash to order food once or twice per week. I'd love to have customers upload a photo of the front of their house or front door that is available for the delivery driver to see once the order is placed.
That way, on contact-free delivery, they know they got the correct house. I never select contact-free delivery because I've had my food dropped off at the wrong house in the past.
Courtney Galyen

Boluo School
My food-delivery app of choice is BiteSquad. I have the most success with BiteSquad when it comes to changing addresses and providing specifics on where and how I'd like the food delivered.
Some apps don't make it easy on you when you change locations. Sometimes you want the food to come to your office or your friends' house or your neighbor's house – and you shouldn't have any difficulty adding a specific address for the driver to deliver to. BiteSquad makes that easy for the user.
Joel Jackson

Co-founder of Lifeforce
Of all the food delivery apps, I tend to use DoorDash the most. I usually order from the app about two times a week, especially since I started working from home. My only complaint is that sometimes you don't know a restaurant is closed or not accepting orders until you try to submit an order. It's a major point of frustration when it happens and I wish they would just let us know up-front!
⛰️ We made it.
We've seen everything you need to know to get started with your food ordering business.
It's now up to you to make it happen.
Bookmark this article and go through the steps again.
Have we forgotten something, or do you have something to say to us? Simply send us a WhatsApp message.
References:
Create your food delivery app like UberEats!
---