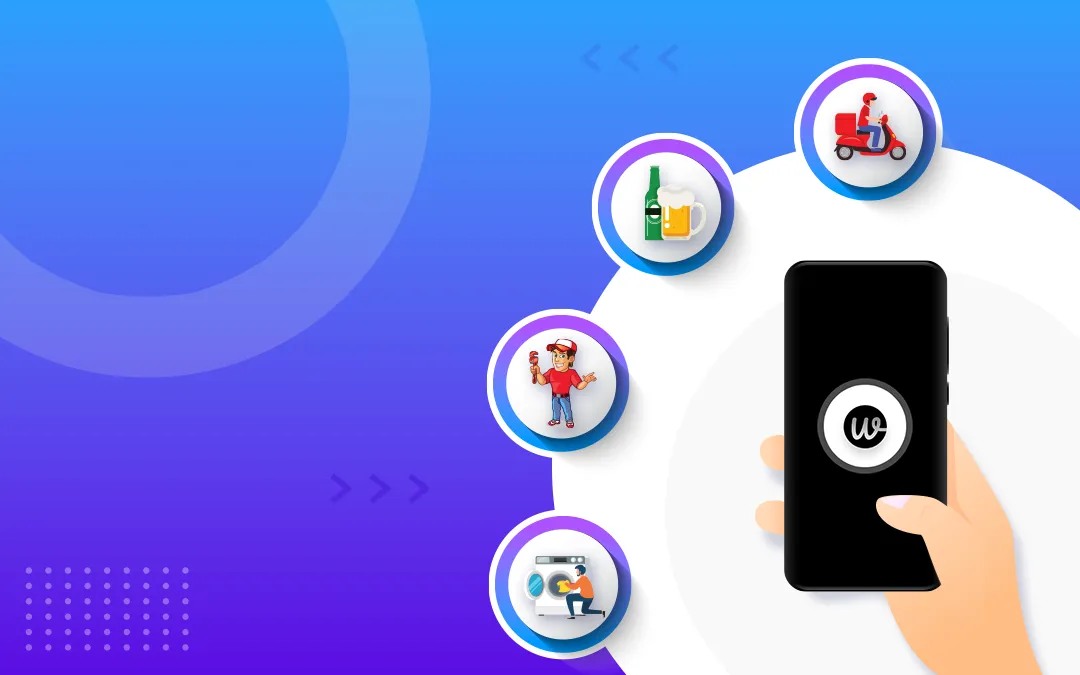 10 Best On-demand service apps that you should try in 2023
According to the report about on-demand economy statistics, 86.5 million people are using on-demand apps in the US for their day-to-day life. And its market value is expected to reach $335Billion by the year 2025.
Due to its increasing demands, building your on-demand app might be one of the best choices to reach your target audience and also increase your business profit.
This blog lists the top 10 on-demand service apps in the US that you can get inspiration from and if you're about to start an on-demand business right now, then there's a bonus tip at the end of this blog.
What are on-demand service apps?
On-demand service apps work like an intermediary that connects consumers and service providers. It allows users to book their services in just a few minutes.
10 Best On-demand service apps in the US
1. Soothe: Massage
Soothe is a California-based multinational on-demand massage service provider started in the year 2013. It allows customers to get a variety of massage services in the comfort of their homes.
Soothe expanding its services in many countries like the United States, Australia, UK, Canada, Germany.
2. Glamsquad: Beauty
Glamsquad was founded in the year 2014 by victoria Elsner. It is headquartered in Newyork. It is one of the best beauty on-demand platforms that allows users to search and book the services they need.
After accepting the booking, the professionals reach users' locations to provide the services.
3. Rinse: Laundry
Rinse was founded in the year 2013 in San Francisco, Los Angeles, and Washington DC. It offers a convenient laundry service to users where they can schedule their laundry pickup and get their service done in a span of time.
The laundry experts clean the clothes according to the services opted by the user and delivery will be done within the given time interval.
4. Handy: Home services
Handy is a NewYork based on-demand handyman service company founded in the year 2012 but provides services in the United States, United Kingdom, and Canada. It connects users with service professionals to offer services like cleaning, installation, and also other services at a fixed price. And you can check out here, the complete guide to building an Uber for handyman app.
6. Drizly: Alcohol Delivery
Drizly was founded in the year 2012 by Nick Rellas, Justin Robinson, Spencer Frazier, and Brett Beller operates over 100 cities across the United States and Canada. It was launched in Boston in the year 2013 and also its services were expanding to Newyork, Los Angeles, and Chicago.
It allows the users to order drinks from their preferred shop that is delivered to their location. If you're an entrepreneur, you can use Uber for alcohol delivery script to start your business like Drizly.
7. Doctor on demand: HealthCare
The doctor on demand is a US-based company. It allows patients who need medical consultation to connect with the doctors at any time, anywhere by scheduling an appointment. It helps in saving time and also money when compared to reaching the doctor directly.
8. Rover – dog walking
It was founded in the year 2011 in Seattle, Washington, and has nearly 65,000 dog walkers and also sitters across the U.S. It allows dog owners to register on the platform and to find nearby pet sitters to book immediately or on a scheduled basis.
9. Wype – Car Washing
Wype is a Los Angeles-based on-demand car cleaning service, allowing users to book a car cleaning service. It provides affordable and also convenient services that help in keeping your car clean at all times.
10. Blacklane – Chauffeur
Blacklane is a Berlin-based startup founded by Jens Wohltorf and Frank Steuer in 2011 that provides chauffeur services by connecting users to professional chauffeurs. It offers services in more than 60 countries, 300 cities, and also 600 airports all over the world.
It allows the rider to book the services. Once booking gets done, the driver picks and drops the rider in their given location. The rider can also instruct the driver to reach their drop location.
All set to develop your own on-demand app?
The benefits of on-demand apps help to reach your wider audience and also that make your brand known to everyone.
Build your own on-demand app with the ready-made app solution, Wooberly!
Have any idea of Wooberly?
Wooberly - Uber clone app helps entrepreneurs in developing their own on-demand apps without spending too much development time and also cost. It comes up with both Android and iOS apps built with the latest technology Flutter.
What makes Wooberly the best choice?
Easily customizable
Top-notch features
Latest technology
One time payment
Easily scalable
Better user experience
What makes you wait? Get your dream fulfilled with Wooberly. Contact us at [email protected] to get a free demo of our product.
Our team will always be ready to clarify all your doubts and also provide you with all the necessary support.
---