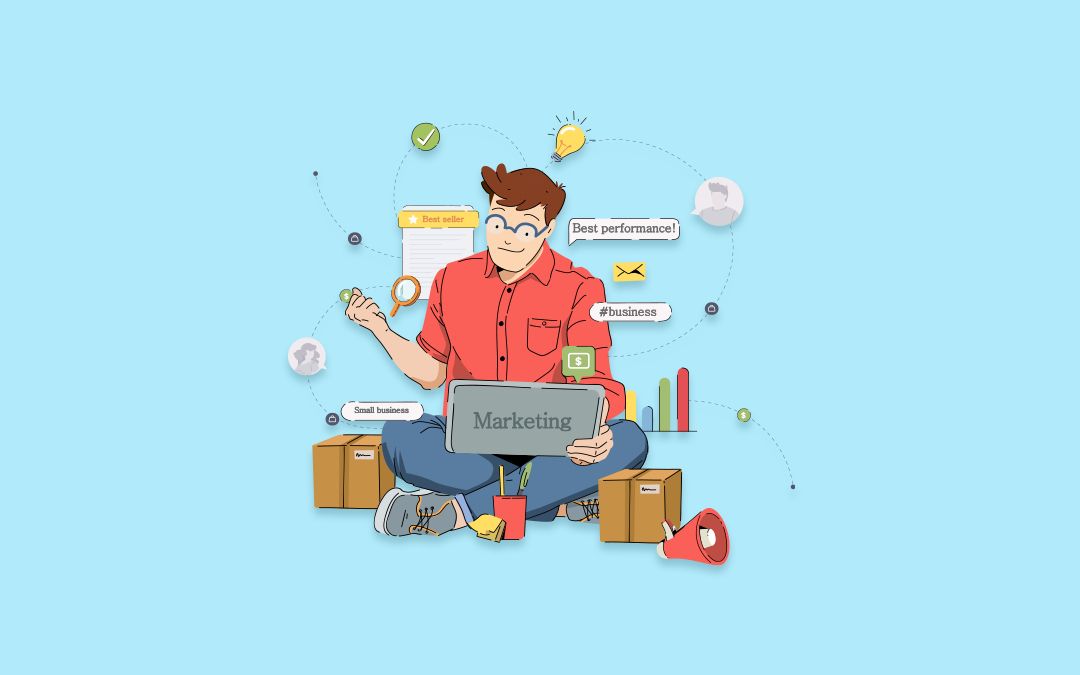 5 Reasons stating the importance of marketing for small businesses
Why do you think there is a need for the small business marketing in this era? There are core 5 reasons to it - come, check out!
Running a small business involves a lot of work and consistency. Mainly marketing the products or services or even enhancing your brand visibility amongst the lot.
The small business marketing efforts are not overrated. Trust me! It has a high volume of competition that's the key reason why more marketers are owning a consulting service.
In this blog, you'll know why marketing is important for your small business to thrive in the niche-based business world and the reasons to support the hypothesis.
Small business marketing: Why is it important?
There are a large number of small businesses that are raising day-by-day and looking for potential success strategies. It is equally important to concentrate on both the products or services and marketing.
Some business owners are immersed in creating an exceptional product or service that they forget to focus on marketing and vice versa.
Marketing without a speak-worthy product is a waste of time and money. There are many reasons to prove it but the core reason is to connect – customers and sellers to maintain a stable relationship between them.
Let's discuss further the reasons why marketing is essential for any small business.
5 reasons what marketing can do for a small business:
1. Marketing informs your customers.
The main objective of any business is to inform the customers about their products and services. Marketing is the process of attaining that objective. A website is the major information desk of any small business.
On your website, you'll be giving out information about your products or services, a video demonstration of the products, testimonials, blogs, support infrastructure, and much more.
It is one way of feeding news about your existence in the market. Sprout Social mentioned that 89% of the people buy from a brand when they own a website or an app.
2. Marketing engages your customers.
Social media is one of the best internet and low-cost marketing strategies for small business owners.
Facebook, YouTube, Twitter, Instagram, Pinterest, Email, and LinkedIn are some of the most popular social media platforms that help our customers engage with our content.
The customers would like to have an interactive forum. There is no use in just posting content on such platforms. It is essential to make your customers feel acknowledged when it comes to engaging in social media.
Take efforts to introduce new content tactics and make use of hashtags efficiently in each platform respectively.
3. Marketing creates revenue opportunities.
Let's say you are introducing a new product or service into your niche market. As most end-users are extremely active on social media, online marketing for small businesses is so important.
Running a Facebook ad would be a feasible option.
You can laser-target your potential customers with Facebook ads. You can target your audience based on their geographical location, demographics, etc.
Facebook paid campaigns are cost-effective. You can get more quality leads for your business at low CPC. [CPC differs from business to business]
💡Pro Tip: You'll need to create a Facebook page, to begin with, and be consistent to win over followers.

4. Marketing helps in competing.
When your marketing efforts are outstanding, it'll put you on the map with the larger corporations. The edge that a larger corporation doesn't have is the personal touch.
A small business can give out personalized service with a real sense of customer value and attention.
5. Marketing aids data for the future.
When marketing your product or service through social media or your website there is going to be an ample amount of data.
Data is used to predict the behavioral pattern of your customers and helps you have well-calculated futuristic plans for your small business.
The analytics of your social media accounts gives you insights on what kind of offers, content presentation, product details your customers would like from you.
And when you concentrate on localizing your business, Google My Business (GMB) account will help you reach out to your local customers.
The act of performing a marketing tactic is to generate the information of your customers (without invading their privacy) that can be used for the benefit of the business periodically when needed.
Wrap up:
When it comes to running a small business, it is obvious to have an online presence to understand the marketing functions that happen in and around the market.
In the end, it is all about reaching the right kind of customers at the time of need and satisfying their wants.
And marketing is an important tool to accomplish this.
---