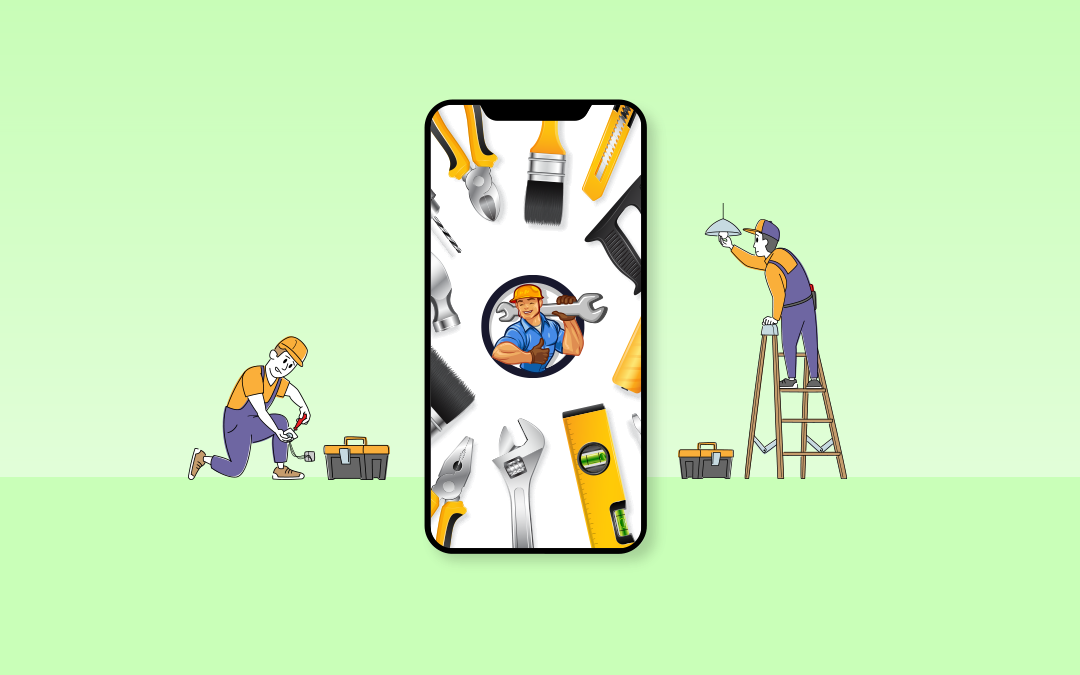 How to create an on demand service app like TaskRabbit in just 3 steps?
We have heard of TaskRabbit and how successful they are. Is the entrepreneur in you eager to know how to create an on-demand service app? Then, you should read this blog.
This article is a part of our guide for non-technical entrepreneurs on creating an app
Being an entrepreneur is super exciting! But the research part could be a little tiring.
To make it a bit easier, we have created this article with all the data you need to create an app like TaskRabbit.
So what are all the topics this article covers? 🤔
You'll get to know what TaskRabbit is, how it works, and a step-by-step guide to help you start planning for your on demand service business!
Why wait? Let's hop into the blog to learn more.
What is TaskRabbit?
TaskRabbit is an on demand service marketplace platform started in 2008. It is a same-day handyman services where people can book the services in need and get the job done.
This service platform encourages users to hire freelancers demanded by the local population at large. TaskRabbit has almost 1,40,000 taskers (the service providers) who are vetted to match the needs of their users.
The working process of TaskRabbit clone is the users have to type in the service they need in the search bar, a list of suitable options pops up according to their needs, they pick one, and avail the service.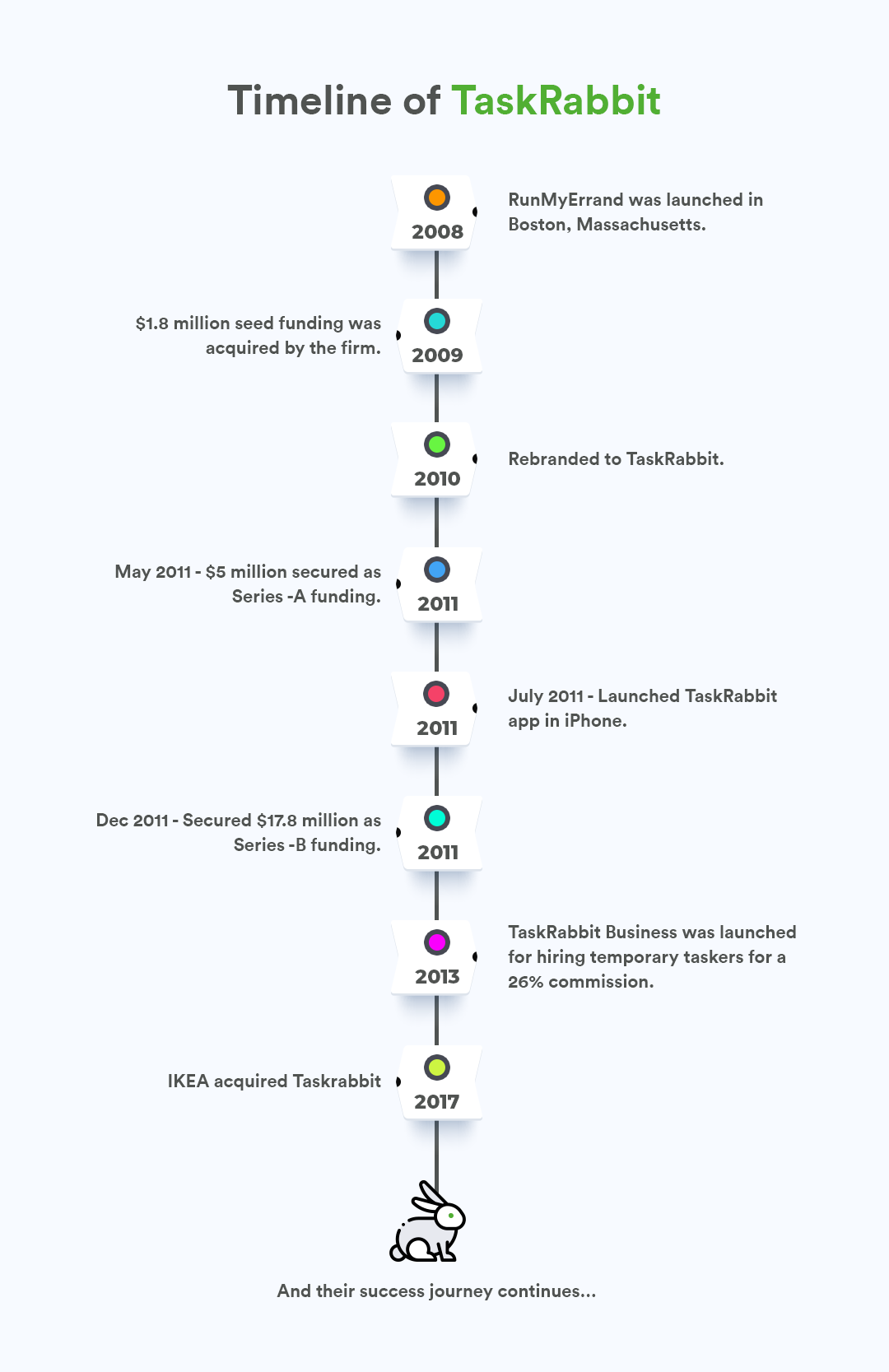 A step-by-step guide to creating a marketplace app like TaskRabbit
To be as successful and widespread as TaskRabbit, you gotta know how to create one. 🐰
In this section, you'll be learning crucial guide-like information on how to develop an app like TaskRabbit!
1. Business & revenue model to implement in your on demand service app
The business model to implement in an on demand services app is the aggregator business model. The core concept of the aggregator business model is to join the users and the service providers on one platform.
The admin of the platform will monitor and manage the users and the service providers who enter the marketplace.
The commission-based revenue model nicely complements the aggregator form of the business model.
A commission is charged to the users in the form of booking and service fees, which will be directly sent to the admin.
The earnings of the service provider will be distributed by the admin and a percentage of the commission becomes the admin earnings.
2. Features to incorporate in your TaskRabbit clone
This is a list of features and functionalities that could be incorporated into an TaskRabbit clone app
User app
Multiple service categories.
Wallet options to promote cashless payment.
Schedule the services when necessary.
Appreciating the service providers by tipping them.
In-app chat options to discuss service-related details.
Service provider app
Managing services they offer.
Adding payout method to receive their earnings.
Service provider's availability status.
Checking the earnings report.
Tracking the bookings using the current and past bookings.
Admin web panel
Manage the users, the service providers, and the sub-admins.
Manage service category availability.
Automatic earnings distribution system.
Manage bookings and scheduled bookings.
Fare management.
And more exclusive and exciting features can be customized in the TaskRabbit clone according to your business needs.
Get a FREE demo of our on demand handyman app that gives you these features and more!
3. Tech stack used to build the excellence
Have you ever thought of using cross-platform technology to build your on demand service app?
It's time you start thinking about it. Flutter is a superior cross-platform software development kit used to build on demand apps.
These are some of the top brands that used Flutter to build their apps in 2021 and now other budding entrepreneurs want the same!
Amazon
The @ company
Realtor.com
Nubank
Toyota
Homethrive
Being an entrepreneur, it is important to make pocket-friendly decisions, don't you think?
Well, to be more specific all these factors have to align with the cost of developing an on-demand app like TaskRabbit. 💰
We break it down and make it simple for you.
Read how much will it cost to develop an on-demand services app here!
Pointers to become successful like TaskRabbit
They have a strong customer support team. The more attention they pay to their customers, the less they have to worry about their reputation.
Every task (listing) is insured up to $1,000,000. This ensures safe dealing in the platform - both beneficial to the service provider and the platform owner.
They concentrate highly on the local service providers reaching users of their own locality.
Taskdoers (service providers) are properly vetted before approving the listing into the platform. This ensures more reliability amongst the users.
They give their users a good timespan of breathing time to get accustomed to their updated version of the app. (Sometimes keeping a passive presence during a crisis helps!)
Conclusion
Do you want to create an on-demand service app like TaskRabbit and boom in your chosen industry?
Worry not. We got you covered!
Here is our ready-made, 100% customizable on demand handyman solution - WooberlyHandyman.
Our objective is to help our customers to bring their envisioned plan into reality.
Check out our product and join hands with us to create your on-demand service platform quickly and easily.
Is your brain bubbling up with questions?
Don't hesitate to contact us via WhatsApp or drop us an email at [email protected]
Disclaimer: The term 'TaskRabbit' is solely used for marketing purposes, and we are not associated with the company in any form. The source code and design of our products are fully owned by us. We are not using any of their copyrighted materials.
Let us help you create an app like TaskRabbit
Other resources you might like to read:
---