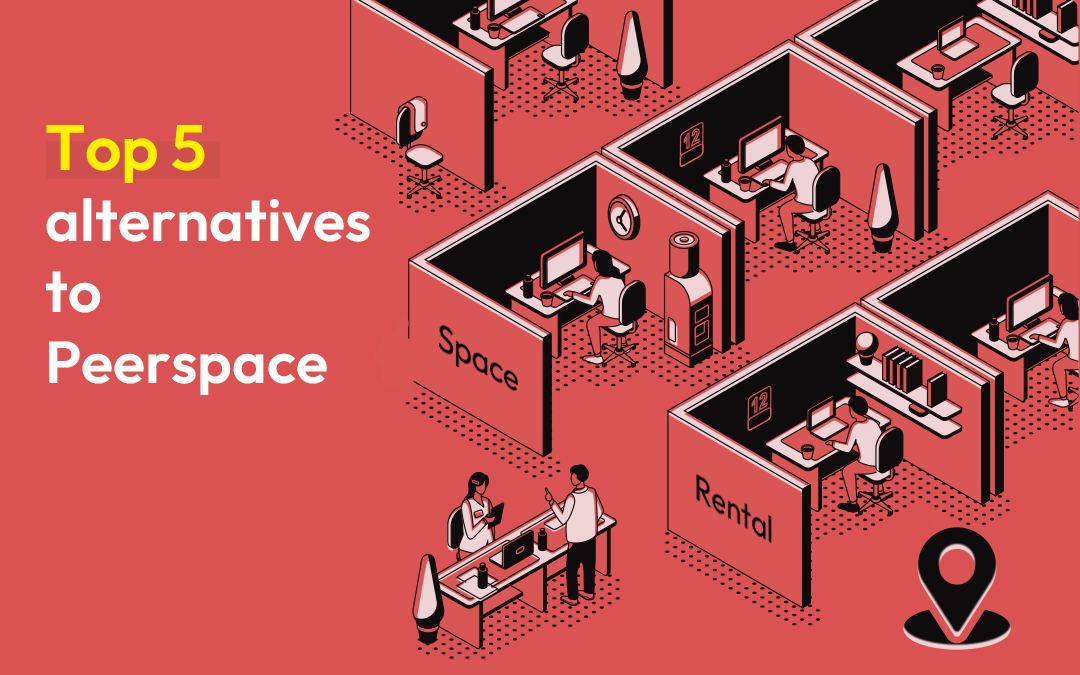 Top 5 Alternatives to Peerspace
This article listed the top 5 alternatives to Peerspace, which are market leaders in the space rental business.
What is Peerspace?
Peerspace is an online marketplace platform that brings together professionals and companies to search 🔎 for shared conference rooms and event venues. Peerspace provides an opportunity for people to book unique spaces for photoshoots, films, events, meetings, etc.
It is one of the leading marketplaces for hourly ⏳ venue rentals and helps people to find unique locations for meet-ups, office workspaces, team spaces, meeting rooms, event spaces, etc. Peerspace is not only for creative professionals but also for major brands, entertainment companies, artists 🧑‍🎨, and musicians 🎻 are also using Peerspace.
It allows its customers to choose more than 30,000 places around the world. Peerspace was founded in 2014 by Rony Chammas and Matt Bendett. You can find Peerspace rentals across 30 metro areas in the United States and also available in Canada, Frace, the UK, and Australia as well.
How Peerspace works?
Peerspace has a website and mobile apps that allow the host to list their property 🏘 with a wide range of options, users can rent spaces based on an hourly basis.
They make a profit by taking a percentage of the transaction from the host and the renter.
Alternatives to Peerspace
Now, we are going to look into the top 5 alternatives of Peerspace,
1) Carr Workplaces
Carr Workplaces allows you to access vibrant and top-of-the-line workplaces to get your work done. It has co-working locations nationwide that connect like-minded individuals.
You to choose the plan daily, monthly, or yearly.
Allows you to access different meeting rooms based on availability.
You can find a place either for you or for your whole team.
Founded in 2003, it is a family-owned 👨‍👩‍👧‍👦 and operated company that provides meticulous care to its customers.
2) Splacer
It is an online rental platform that allows people to list and book short-term spaces for unique experiences. People can choose the best venues that are listed on the platform by filtering them based on their size, location, and type of activity. The space owners can list the property and customers can book the spaces based on their needs.
Adi Biran co-founded Splacer with the belief of changing the way the world uses space. And, to overcome the traditional concept of event space and provide everyone with the most eclectic and inspiring spaces 🌃
3) WeWork
WeWork was founded in 2010, it operates as an office-space leasing company that offers flexible workspaces worldwide 🌎. It provides flexible lease options to tenants on a short-term basis like dedicated desks in shared office spaces, standard offices, office suites with private amenities, and full-floor offices.
It operates in 700 locations globally in 150 cities and 38 countries worldwide and generates most of its revenue 💰 from its flexible work-space locations in the United States.
Are you looking for a tech partner?
Get 30-min interactive session to discuss your queries, get a product demo, and more!
4) Impact Hub
Impact Hub is a global coworking space that services over 100 cities across five continents. It provides an awesome hospitality 🏖 experience to its customers like 24/7 access to facilities, a kitchen, a private office, free wifi, good discounts on meeting rooms and conference rooms, etc.
It creates a community among its members and the city where they are located. They also connect entrepreneurs and innovators to large organizations, partners, investors, and the public sector to build a sustainable society.
5) TeamWorking by TechNexus
TeamWorking is a safe, ready-made, integrated environment that allows people to physically meet and collaborate.
It is more than office space and the right place to connect, create and collaborate with young minds 🙋‍♂️. They believe innovation will happen when you are with the right people, at the right time, and in the right place.
How to create a platform similar to Peerspace?
A recent report from Oxford Economics says that the event planning industry generates $325 billion in direct spending and $845 billion in business sales.
If you are planning to start a space rental business, then you have landed at the right place. Look for web and mobile app development companies that can help you in building your coworking space app or you can prefer a coworking space software that is purely customizable and ready to use.
One of the unique scripts with world-class performance is RentALL Space.
Advantages of RentALL Space
100 % customizable 💯
Unique features 🔖
One-time purchase 💲
Top-notch technology 🔥
Complete white-label solution 💮
Free rebranding 🛠
Free installation and technical support 🧑‍💻
I hope this blog helps you to build your co-working space platform for your business. Speak with our team at [email protected] or WhatsApp to know more.
Start your space rental business with us!
---