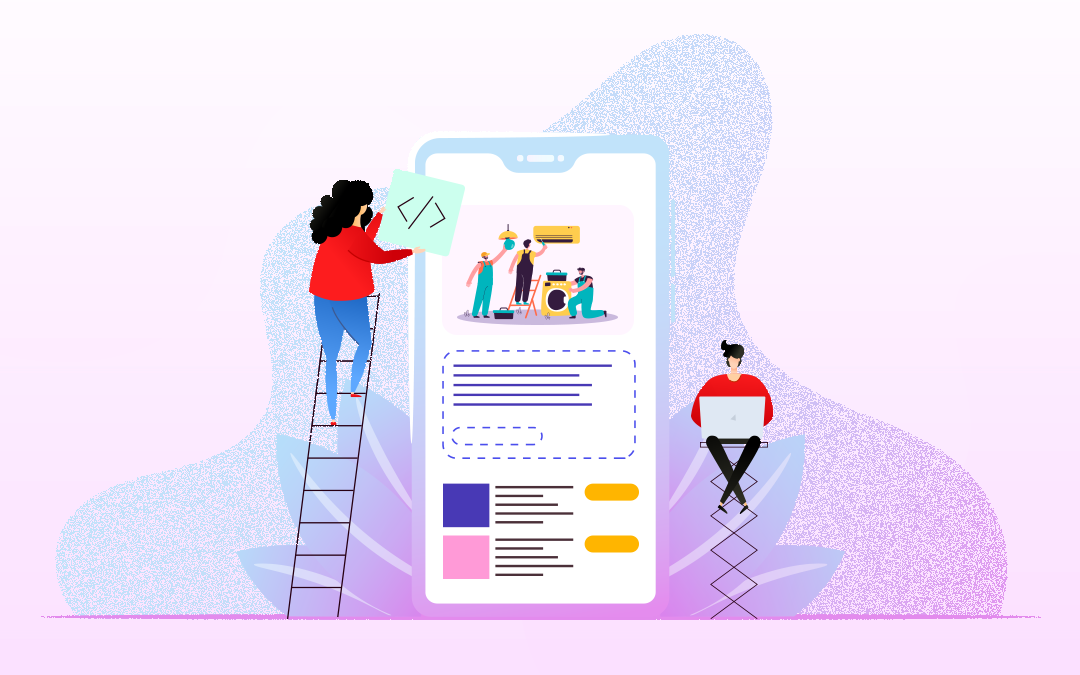 How to develop a service marketplace app like Thumbtack?
Let's get to know the step-by-step process of developing a service marketplace app like Thumbtack to start a business of your own. Check out the blog to know more!
Are you looking for a new business prospect to dive into by the end of the year? Worry no more! Get to know one such amazing business idea - a service marketplace app like Thumbtack.
With days to come, people will find it convenient to book online for any product or service. Home services like painting, scraping the walls, plumbing, decorating, and more have come online for people to book their service instantly.
In this blog, you'll be reading about creating a service marketplace app like Thumbtack with a step-by-step guide to take us through the process.
And you'll get to know the core reasons for Thumbtack's success. (Something that an entrepreneur should look up to!)
Let's get going!
What is an on-demand service marketplace?
A service marketplace is like an online platform where the users and the service providers get connected.
The users can browse through the listed services through their app and book them.
The service providers will have an app of their own to manage their bookings and earnings accordingly.
The admin (you) will have a web panel to oversee all the business functions.
Why should you build a service marketplace like Thumbtack?
According to the reports, the residents of the US alone spend a whopping $35.5 billion on availing services from the on-demand service marketplace.
And the estimated growth rate (CAGR) of the same would be 53% in the year 2020 - 2024.
There are almost 57.4 billion on-demand services app users in the US, and it's increasing substantially. It shows a never-ending growth scale.
Let's get started with your service marketplace app development!
Steps to develop a service marketplace app like Thumbtack
Let's be thorough and know the step-by-step process of developing a service marketplace app like Thumbtack.
These steps will help you draw a mind map for future references to start any business. Read further!
1. Business & revenue model
The business model to implement in your service marketplace app like Thumbtack would be an aggregator business model.
An aggregator business acts as a connecting agent between the users and the service providers using an online marketplace platform.
The said marketplace platform will be managed and controlled by the business admin.
The revenue model that complements this particular business model is the commission-based revenue stream. A fee would be charged to both the user and the service provider to use the platform.
2. Features and functionalities to include in the service marketplace app like Thumbtack
The features you include in your service marketplace will induce users to stay with you for a longer period of time.
Let's get to know a list of features that'll keep your users and the service providers interested and also help you manage your business hassle-free.
User features
One-step registration process.
Live tracking.
In-app wallet option.
Service scheduling.
Multiple service categories.
Service provider features
Multi-language and currencies.
Services management.
Earnings report.
Managing service requests from users.
Multiple payout methods.
Admin features
Manage the users and service providers.
Service category management.
Geo-fencing.
Manage fare for the service.
Auto-payout for service providers.
It's just a notable few. Imagine having a whole lot of exciting features and functionalities to include in your service marketplace app! Amazing isn't it?
3. Suggested tech stack that can be used to build the service marketplace app
The technology used to develop your service marketplace app can contribute to a lot of factors like development time, cost of development, testing time, and more.
Therefore, it is wise to choose carefully without rushing through the process.
We suggest using Flutter to build your service marketplace app at ease! Let's know more about it.
Flutter is a cross-platform software development toolkit created by Google that gives developers a lot of freedom in coding a creative UI.
Let's get to know the reasons why Flutter should be considered;
The Android and iOS versions of the apps can be developed with just a single codebase.
The developers can test the output and simultaneously fix the issues with the output. It saves a lot of time.
The cost of development is 3X lesser when compared to building your app with Native technology.
Aren't these reasons enough? Want to know more?
Read on to know more about why we chose to use Flutter for our on-demand app development process and how it helped us craft a better experience for our customers.
4. Cost of developing a service marketplace app like Thumbtack
The cost of development is a crucial part of starting any business since it has to come under your specific budget.
Let's get to know two scenarios that'll help you make a decision quickly and effectively.
Scenario 1
Choosing a development team that builds an app from scratch is option one.
Usually, they'll choose Native technology to build the solution, which is a time-consuming process and costs a lot of money.
It takes $20,000 to $50,000 to develop a marketplace like Thumbtack from scratch.
Native technology needs Android and iOS developers separately. Roughly calculate the number of developers you'll be needing!
Scenario 2
Choosing a ready-made on-demand marketplace solution that can be white-labeled and used according to your business needs is the most viable option.
Using readymade solutions can save a lump sum of money and time. You can focus on other aspects of your business.
Ideally, the readymade solutions would have all the necessary MVP features to get started with your business.
We offer WooberlyHandyman, a readymade on-demand handyman app solution that can be used to create and launch your service marketplace at ease.
The features and functionalities are of the market standard, thoroughly researched according to the on-demand business needs. If you want to add a feature or customize an existing one, an additional cost of $25 per hour will be charged. (which is nominal)
Shouldn't you be thinking hard?
Learn a little about Thumbtack's success
When Thumbtack launched, it almost had the first entrant advantage in the market. Before Thumbtack, there were Yelp, Craigslist, and Angie's list in the industry as competitors.
Thumbtack had the competitive advantage of having an app in 2008 when apps were just getting started to get popular amongst the population.
Thumbtack allows a maximum of 5 quotes for one listing, and it's on a first-come, first-serve basis.
Users are allowed to post reviews and ratings with photos for each service. It helps new users to choose the best among others.
It allows the users to send personal messages.
Wrapping up
Are you excited to start your own service marketplace app like Thumbtack? You are not far from finding the right development team to build your dream project!
Check out the FREE demo to get a good look at our product. Got doubts, questions that you need a proper explanation?
Don't hesitate to ping our technical support team via WhatsApp or drop us an email at [email protected]
We are looking forward to hearing from you!
Disclaimer: The term 'Thumbtack' is solely used for marketing purposes, and we are not associated with the company in any form. The source code and design of our products are fully owned by us. We are not using any of their copyrighted materials.
Create an app like Thumbtack with us!
Other resources you might like:
---