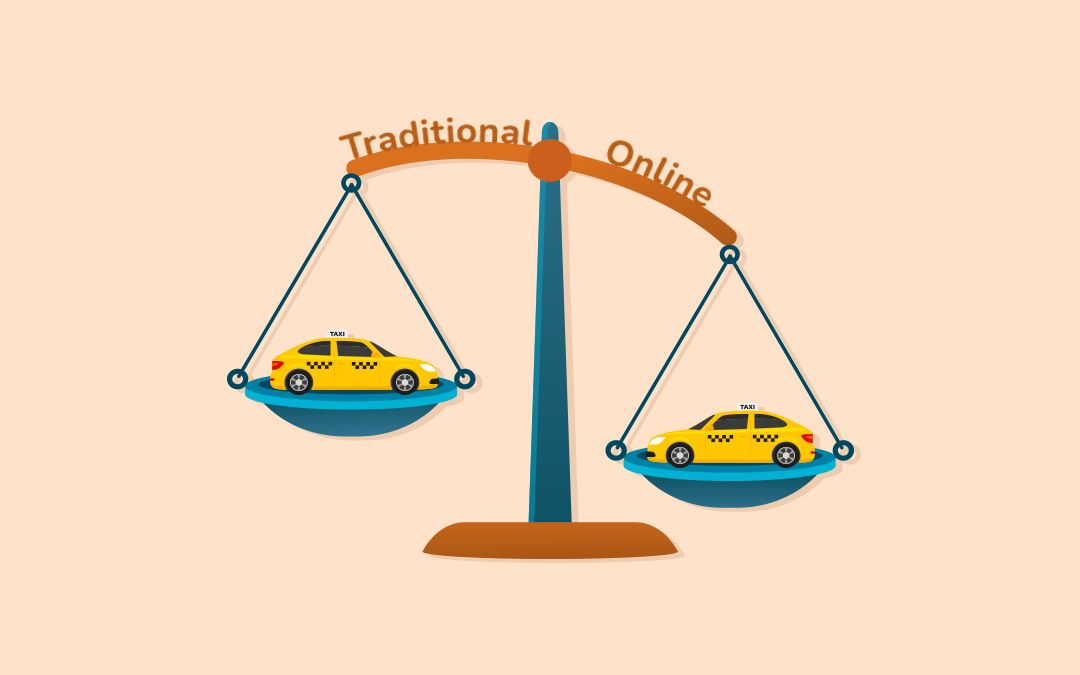 How does an online taxi business differ from a traditional business?
Ever wondered how an online presence can grow your taxi business? If yes, read to know on online taxi business vs. traditional business!
Owning any kind of business demands constant upgradation. That's how a business can grow and become more successful.
If you already own taxi business in a traditional fashion, you have to read this blog to know why an online taxi business could be so much more beneficial in all aspects.
In this content, you'll get to know what an online business is, what are the benefits of an online taxi business compared to a traditional business, and 5 exclusive tips on getting a ready-made taxi app.
What is an online taxi business?
Usually running a business online constitutes that there is an app involved to facilitate the business operations.
The same goes here! An on-demand taxi business could help you grow your start-up efficiently and there are added advantages of running your business online!
Benefits of running an online taxi business compared to traditional business
Ease of booking rides
The riders would feel at ease in booking their rides if they could use an app. They could access the app from anywhere with just a mere internet connection.
The riders could choose from types of vehicles, and the estimated fare. This could help the riders choose what is suitable for them. It enhances the booking experience in general.
Creates brand identity
This is the era of millennials who use social media excessively. Therefore, creating an app for your brand specifically can enhance brand visibility.
In turn, the app can extend your brand identity – just like how Uber is one of the best taxi booking apps in the market.
Access to user data
When you offer an app to the users (to both the driver and the rider) you as the marketplace owner will have access to their data.
Which will help you to analyze the performance of the platform and whether the earnings report is on par with the performance report.
Now that could be more beneficial than running a traditional taxi business. With analysis, you can come up with strategies to improve the platform.
Technological business advancement
Introducing technology in your business can help visualize the growth road map for a period of time. As the business owner, you can also track the bookings in real-time.
An app can help you monitor the reviews and the ratings given by the riders and the drivers to each other. That gives you an edge in controlling the marketplace.
More profits and Lesser maintenance cost
There won't be any recruiting drivers, no inventory management (vehicle), and no manual payment handling. Running an online taxi business in the aggregator model could only mean business expansion. Therefore, it'll be more profitable.
Advantages of opting for a ready-made taxi business app
These are the advantages as to why you should be using a ready-made app that is 100% customizable and scalable as your taxi business grows.
Latest tech stack usage
When you want to develop an app for your on-demand taxi business, it is essential to find developers who use on-trend technology. Using modern technology could reflect in the output of the app.
When it comes to ready-made apps, there'll be exclusive white labeling and you can add and remove features that work for your business.
Less lead time
The lead time could be lesser than developing an app from scratch. The delivery time would be shorter and more prompt when you go for a ready-made app solution.
Cost-efficient
Finding specialists to build your taxi app could be very costly. What if you opt for a very good ready-made app developing company that has a team of dedicated developers allotted on your project?
That would be cool and will definitely cost less than finding a team yourself.
Receive 100% source code
Some ready-made app developing companies provide 100% source code once you pay for it. You can also receive tech support from these app development companies according to your pricing package. Isn't that convenient?
Confidentiality
I bet you'll be very assured of your business idea being safe and secure with the ready-made app developers as you'll be signing a Non-Disclosure Agreement (NDA) with them. You'll have nothing to worry about your business idea and work on becoming a tremendous success.
Wondering about who could help you with all these? There is one stop to implement all these exciting plans for your business!
We give you Wooberly, an Uber clone script that can be customized into anything you want!
Want more insights to begin? Ping us on WhatsApp!!
---