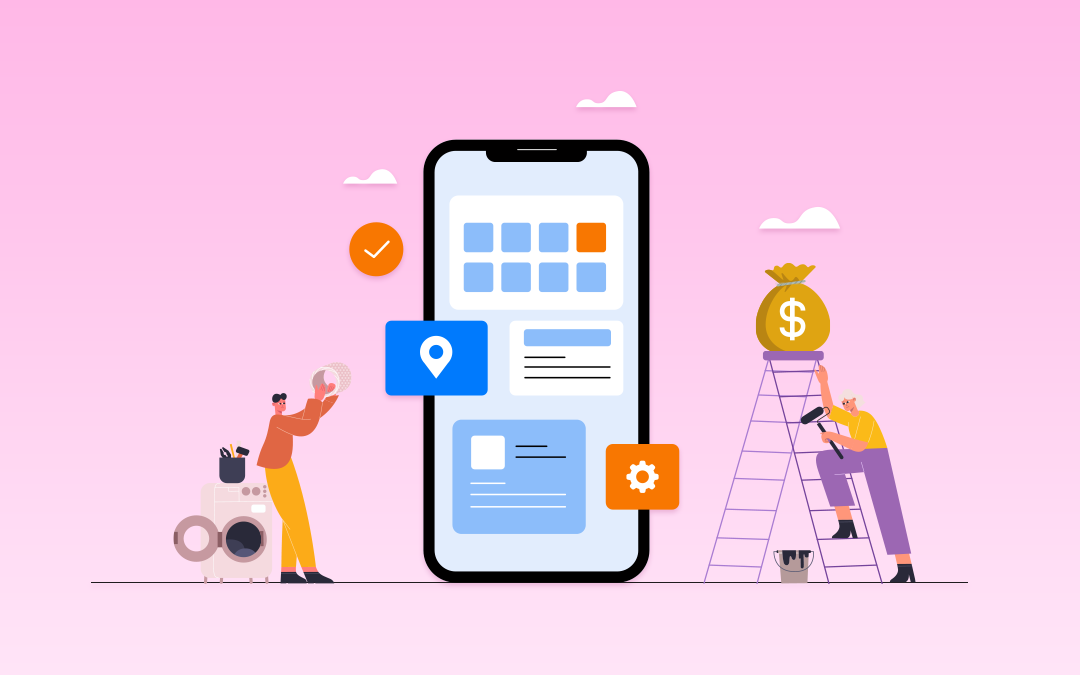 How much does it cost to create an on-demand service app?
Invest in creating an on-demand service app to support your startup in the long run. Less investment more returns, and reach. Why are you still waiting? Read fully to learn more!
This article is a part of our guide for non-technical entrepreneurs on creating an app
A new year is just around the corner and it's time to start thinking about launching a new business. But first, the cost! The on-demand service app that you procure has to meet the budget plan of your startup.
You might wonder how to make it happen.
Here's the answer, explore all the cost-effective options available and choose the one that best suits your business. To help you make an informed decision, we give you this blog.
What is an on-demand service app?
An on-demand service app is created to keep the end-users and the service providers connected.
As the on-demand marketplace owner, you'll have the sole authority to manage and monitor the users and the service providers, who register themselves into the platform.
How does an on-demand service app work?
Let's know how an on-demand service app works to understand the know-how of the business operations.
The service providers and the users have two separate apps in both Android and iOS versions. 📱
They can install it and register themselves by giving the required information.
Let's say it's a handyman service marketplace platform. Now the workflow gets narrowed down and more interesting.
The user selects a particular service from the categories available. They choose their current location, then pick a payment method to make a booking for the service.
The service provider receives the service requests, he will accept the service request to get the user information such as the service type, user's location, contact information, and more.
Once the service is complete, the user can rate and give a tip to the service provider.
The user can either pay in cash, credit, or debit card or with an in-app wallet option for the service received.
The earnings are sent to the admin of the platform (you). Your platform will automatically distribute the earnings to the service providers' bank account.
A part of the service charges will be your earnings.
Note: There are enormous features and functionalities that make an on-demand service app more user-friendly, interesting, and convenient to use.
Well, did you get a gist of what we are trying to say?
What is the cost of building an on-demand service app?
When it comes to knowing the cost of developing an on-demand service app, it is essential to explore all the cost-efficient options available in the market.
We have disclosed two major options that'll help you make a concrete decision.
Option 1
You'll need skilled personnel to design both Android and iOS versions of an on-demand service app if you're starting from scratch. Why should you need separate experts?
Because the code for Android and iOS need individual developers if they choose Native technology to build your on-demand service app.
Native technology though has its pros - there are some major cost-related issues that need to be addressed.
The development and testing time of the app is more than what you anticipate.
The cost of developing an on-demand service app from scratch costs from $20,000 to $50,000. 💸
An average labor cost per hour varies according to the technology and team size.
Option 2
Rebranding a ready-made on-demand app according to your business needs will take less time, save cost 💰, and needs fewer developers than developing a solution from scratch.
Using a cross-platform technology like Flutter to build your on-demand service app could be a boon for entrepreneurs since you'll be able to launch your business sooner than anticipated.
Using Flutter, the development team will be able to create futuristic functionalities that meet current market standards.
And the pricing plans are far more reasonable than developing a solution from scratch.
What solution gives me all this? - you must be wondering!
We give you Wooberly, a Uber clone script that is ready-made, has 100% customization available and expands as your business grows.
Why should you consider our ready-made solution?
We are known for our impeccable delivery time.
We use Flutter, a cross-platform software development toolkit to help you build your dream projects more easily.
Our developers have the space to be creative with the UI & UX since we use Flutter.
Our support team is on standby to answer all your questions and give you regular updates on the development process.
Our features and functionalities are thoroughly researched and it makes our solution more business-ready!
Businesses that can be built using our on-demand service app!
These are some of the business ideas that'll help you know your options if you plan on owning an on-demand service app to kick-start your on-demand startup!
🧹 On-demand home care services.
💇On-demand beauty or salon services.
🔧On-demand plumbing services.
🧽 On-demand cleaning services.
And a lot more!
Conclusion
Well, as we already introduced Wooberly to you. It's time for you to check us out and get back to our tech team if you like us.
Ping us on WhatsApp or drop us an email at [email protected]
We are looking forward to hearing from you!
Create your on-demand app with us!
---