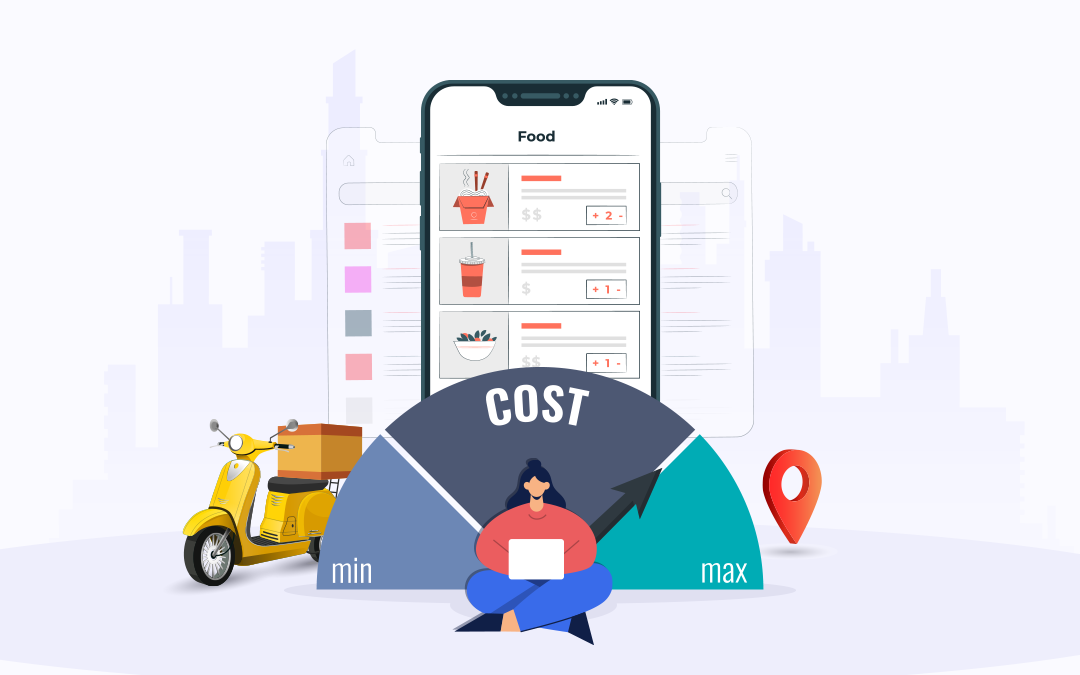 Streamline Operations and Increase Sales with Food Delivery App Development
Food delivery app development can help streamline your business operations and increase sales. Let our team design a user-friendly app tailored to your needs.
While starting a food delivery business there are a few things to plan for the venture ahead. One such thing is owning an on demand food delivery app.
Therefore, we give you an article about the on demand food delivery app development, the tech stack that is used to build the app, and also as a bonus a few must-have features that you'd like to include in your food delivery app!
Let's get going!
What is an on demand food delivery app?
During the pandemic, we were able to see the need for contactless doorstep delivery services. How about you own one such online food delivery platform?
A food delivery app is a marketplace platform that connects the users, the restaurants, and the delivery partners under one roof.
The admin of the food delivery app (that is you!) will be managing the users (all users, delivery partners, and restaurants), and also earn profit out of it.
The aggregator-based business model helps in connecting the eaters (users), delivery partners, restaurants under your food ordering platform. You'll be the admin of the platform since you are the business owner.
And the commission-based revenue model can be very complimentary to this particular business model.
It's a win-win situation for you! -> Serve the best to your customers & earn easy money out of it!
Why should you develop a food delivery app?
These are the five reasons why you should be seriously considering starting an on-demand food delivery service.
Online food delivery industry has grown 204% in the last five years. And there is estimated revenue growth of $30 billion is projected in 2022. (It's not going to go down after that!)
People got comfortable with ordering food online and getting them delivered to their doorsteps.
The number of smartphone users is increasing very rapidly so food delivery app-based businesses are the future of the world.
Having an online presence for your food delivery business is the best thing that you can do to grow and expand your business.
Having an on-demand food delivery app for your business can induce more customer satisfaction and increase customer retention.
What to consider while starting food delivery app development process?
These are some of the steps that you should be considering while starting food delivery app development process. These steps can be used as a sufficient roadmap to follow to achieve your goal.
1. Features & functionalities
It is important to figure out the features and functionalities of food delivery platform by segregating it based on the user intent.
Market research of the industrial standard, customer's expectations, and the major competitors is the first thing to do when you choose the features for your food delivery app.
2. Food delivery app development cost
There are two things to remember on food delivery app development cost - developing a food delivery app from scratch or opting for a customizable ready-made solution.
Let's dig into their difference and save some money with the best quality app;
A) Scratch development process
Hiring a food delivery app development team who does it from scratch is time-consuming and it'll delay the process of starting your food delivery business.
The time of development and the delivery time cannot be assured.
It takes $20,000 to $70,000 to develop the on-demand food delivery app from scratch and they charge an additional labor cost of $40 per hour.
They might include a charge for app installation, app submission, and so on.
B) Ready-made solution
You'll be hiring one team with skills in developing both Android and iOS apps. Which in turn means less hiring costs.
The ready-made solution is 100% customizable and scalable. The development time is far less and delivery time is very punctual.
You can procure the user app, delivery partner app, the restaurant web panel, and the admin web panel for a maximum of $5000 only including the white-labeling charges!
You can get FREE app installation and submission in the App Store and the Play Store.
You'll receive 100% of the source code in a single payment.
3. Tech stack used to develop the food ordering app
The technology that is used to develop the food ordering app must be superior and must give out a convenient output. Most of the developers chose Flutter because of its seamless benefits.
Flutter is a cross-platform software development kit that helps in developing both Android and iOS apps with a single code base. The developers needn't type two separate codes, test them separately. It saves time and money to build your food ordering app.
Pre and post-sales services provided by the development team
The pre-sales service must include;
A FREE demo session of the product if you choose a ready-made solution provider.
A technical team to answer all your questions both on business and technical aspects.
Their website must have a testimonial section for you to cross-reference their credibility.
During the development process, they must have a team to give you regular updates on the app and its progress.
The post-sales service must include;
Any technical assistance during app installation or submission rejection.
Further technical support during the business venture is based on the pricing plan that you choose will clearly state the duration of technical support.
Bonus!!
5 Must-have features include in food delivery app development
These are some of the must-have features to be included in yourfood delivery app.
1. Contactless delivery
This feature will very well highlight the user app as the pandemic is in swing and people care about their safety. Having options such as Meet at door, Leave at door, and Pickup outside can encourage more users.
2. Add-ons while ordering
The add-on feature can also complement the user's app very well. The users can choose add-ons of their choice to their food items. The add-on is managed by the restaurant owner.
3. Delivery partner navigation
The delivery partner can navigate the exact location of the restaurant and the user's location using the navigation feature. It is a combination of both the Google Maps and the inbuilt Flutter location.
4. Restaurant owners can add modifier groups
The restaurant owners can add modifier groups to the food items that'll help users to order exactly what they want. This feature can be an exciting option for the user which will, in turn, make restaurants receive more orders.
5. Automatic payout facility
The admin doesn't have to make manual payments to the delivery partners anymore. Everything is automated now! The delivery partner will receive their earnings 24 hours after the day is closed. The admin can hold the payout (earnings) manually if necessary.
Wrapping up
Want to get to know what ready-made solution gives all this excellence? Check out WooberlyEats, a 100% customizable and scalable solution built using the superior cross-platform technology called Flutter.
Get to know more about us from our website -> WooberlyEats!
And feel free to contact us with any questions technical or non-technical via WhatsApp or drop us an email at [email protected]
Let us help you create an app like UberEats
Other food related business resources you might like:
Food delivery software solution page
---