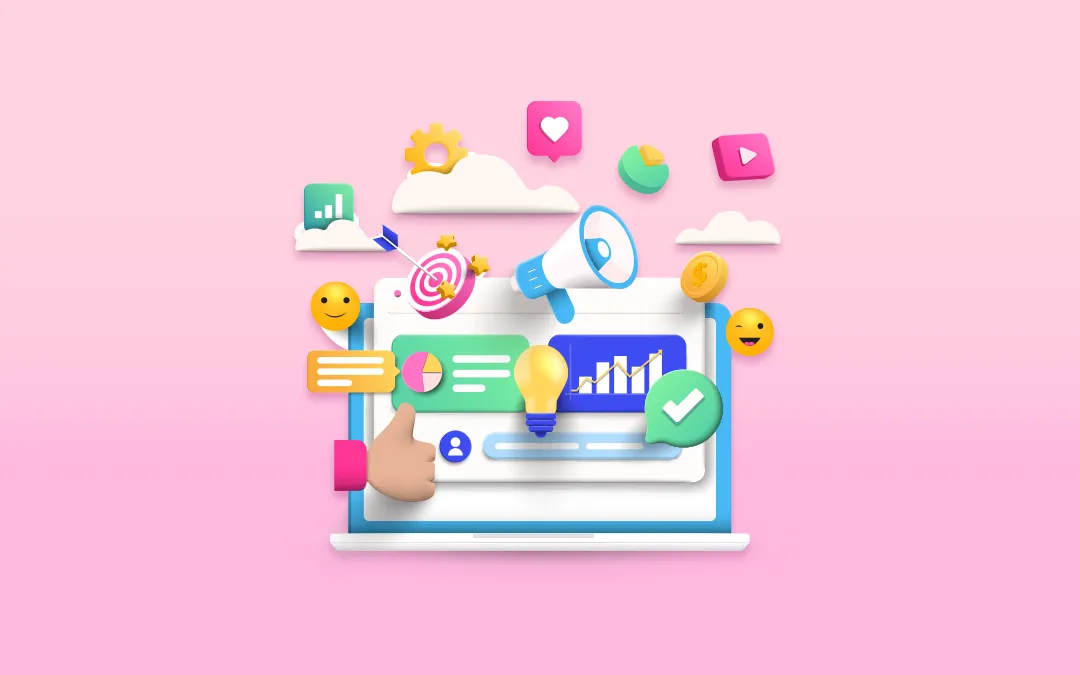 10+ best low-cost marketing ideas for startups to grow their business
Are you looking for some low-cost marketing ideas for startups? This article will assist you in choosing the finest marketing ideas for your business.
To thrive in this digital world, startups need to have a strong online presence for their business.
According to a recent research, the majority of startups fail because they do not market themselves effectively. The only way for startups to succeed and compete in this competitive landscape is to pick up the right low cost marketing ideas.
The apt marketing tactics will assist your business to reach potential customers. Looking for low cost marketing ideas that can help you get started with marketing? If so, this blog is for you.
This article will help you choose the best marketing ideas for your online business.
Why is marketing important for startups?
Marketing allows startups to reach and engage with potential customers. Following are the benefits of marketing for startups,
Help better understand the customers.
Increases your online presence.
Boost customer engagement.
Help increase brand awareness.
Low cost marketing ideas for startups
Google My Business
Google My Business is a free and easy-to-use tool that allows businesses to manage their online presence across Google platforms, including Google search and maps.
The benefits of Google My Business are that it allows customers to find your business trouble-free and helps in marketing your business effectively.
Bing Places
Bing Places for business allows you to connect with customers by simply listing your business. There are several compelling reasons to list your business on Bing Places.
Bing Places adds your business to Bing Maps, making it easy for customers to find your business.

Setting up a Bing Places listing is simple and free.

Bing Places can help you increase your online visibility.
Webinars
A webinar is a seminar, live presentation, meeting, or event that takes place online and is only open to a limited audience. It is one of the effective tools for marketing products, engaging customers, and lead generation.
Webinars are one of the most effective and low cost marketing channels available to small businesses. The following is a detailed list of the benefits of using a webinar.
Webinars are accessible to a global audience.
Increases the brand value.
A great way to get high-quality leads.
Facebook ad campaign
As we all know, Facebook is one of the most widely used marketing platforms in the world. According to the report, the social media behemoth has grown to over 2.7 billion active users and is set to expand its ad network to accommodate a wide spectrum of businesses.
Facebook advertising allows you to reach people based on location, job description, upcoming life events, and more.
Benefits of advertising on Facebook
An affordable and most effective form of advertising
Improves brand visibility.
Increases website traffic.
Best lead generation platform.
Guest posting
Guest blogging, often known as guest posting, is one of the best low-cost online marketing tactics. It is the process of writing content for another website to build brand awareness.
The following are some of the ways that guest blogging might benefit you.
Guest posting will help improve your search ranking.
It helps gain relationships with other relevant bloggers in your niche.
Social media marketing
Social media marketing (SMM) strategies involves posting text and image content, videos, and sharing information on social media networks, as well as paid advertising to reach your target audience.
According to statistics, the number of people using social media reached 3.6 billion in 2020 and is expected to reach 4.41 billion by 2025.
The most popular social media platforms are Facebook, Instagram, Twitter, LinkedIn, Pinterest, YouTube, and so on.
Content marketing
Content marketing is one of the most cost-effective marketing strategies to grow your business. It involves creating content such as articles, video content, infographics, and so on. In content marketing, the quality of the content supersedes the quantity.
Email marketing
Email marketing is the best form of low-budget marketing that helps you connect with the members subscribed to your email list. You can use email marketing to inform your customers about product launches, offers, etc.
Email marketing can also be used to send out educational content to create a strong community around your business.
Video marketing
Video marketing is an effective way to communicate with your target audience and also helps in expanding your business utilizing video content. The purpose of video marketing is to boost your brand's visibility, increase customer engagement, and eventually increase sales.
Let's take a look at the ways of increasing lead generation using video marketing,
Identify your target audience
Add a call-to-action to your videos to make them more engaging.
Make a video with high-quality content.
Utilize the power of social media
Infographic
One of the most popular and cost-effective marketing tools is infographics. Infographics are a visual representation of information or data that consists of graphics, charts, and text that helps to understand a particular topic.
👉Here's one of our infographics.
E-book
An E-book is a non-editable, reflowable book in a digital format that can be read on a computer, mobile phone, or any other device.
Points to keep in mind while creating e-book,
Your e-book should be written with your target audience in mind.
Find the right topic.
Maintain a clear and consistent tone in your e-book.
Make your e-book more visually appealing.
Make a landing page to promote your e-book.
SEO
SEO [Search Engine Optimization] is the process of optimizing your website to rank well in search engine results for keywords related to your business.
Conclusion
As you can see from the preceding information, there are a plethora of marketing ideas available for startups. So, it's time to change your perspective and use effective strategies to market your business based on your budget.
---