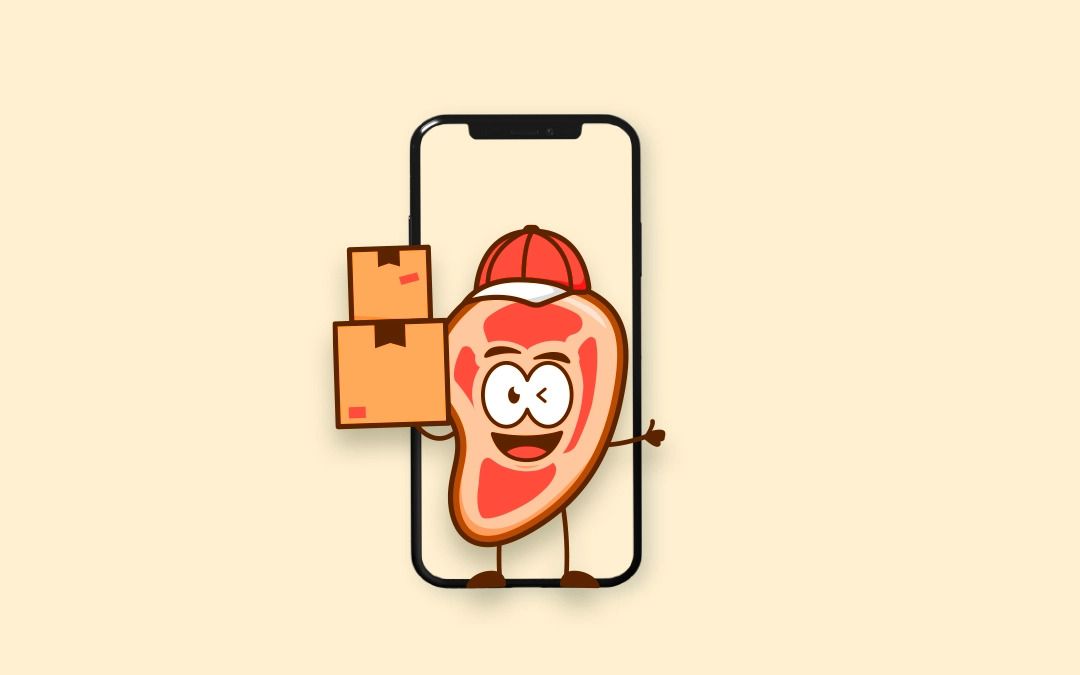 How to create an on-demand meat delivery app?
Are you a meat delivery businessman wanting to take your business through apps? Read through to know on-demand meat delivery app development!
Adulteration is quite common that we, the general public have been facing for decades now. Especially meat, it is essential to go check whether the meat is fresh or not.
Stocking up on groceries weekly twice or thrice has become a tedious task for busy people. Do people have the time to stock up? No. Can we make it easier for them? Yes. How do you ask?
Enhance the perishable items delivery experience much at ease by using the ready-made customized web and native app development technologies.
To begin with, my fellow entrepreneurs, you have to know why this is the right time to take your meat delivery business to an app-based business model.
Almost 47% of the meat business owners in Arab countries like Qatar, Dubai, Saudi Arabia, and Oman have taken their meat delivery startups or business to the next phase using on-demand meat delivery software.
Furthermore, let's jot down a few reasons for you to take up this marketplace idea now!
People at large consume so many branded products from shower gels to financial investments – but the meat delivery business is completely unorganized and there are few to no brands when it comes to meat delivery.
Doorstep delivery is what your end-users would want. Every day- in and out, which is possible with an easily accessible marketplace.
Butchers can't manage to run delivery with a fully-running butchery. This gap can be very well utilized with your marketplace.
Cold storage of meat products has always been expensive for the butchers. This could be eliminated if the butcher's delivery plunges into the sky. (Meaning: 5. Lesser storage. Less price for quality meat.)
To understand the operations better. You have to browse through a few businesses that are doing a wonderful job when it comes to the on-demand meat delivery business.
Crowd Cows
Crowd Cows are a Seattle-based online beef delivery business since 2015 and they are successfully distributing the meat to 2976 cities around the world.
They make it a point to take the charges from the meat consumers only when they cover their expenses of buying a full cow. They deliver beef, pork, chicken, wagyu, and seafood. Crowd Cows generate a revenue of $12M a year.
Tender Cuts
Tender Cuts is a web and mobile-based platform to order meat and fish. It is an Indian-based on-demand meat delivery services platform since 2016. They claim that their delivery turn-around time is around 90 minutes.
And they deliver chicken, mutton, marinades, lamb, and prawns. They procure farm-fresh, non-added preservatives and halal products only.
Licious
Licious is an Indian-based organization operating since 2015. The business works as a zero inventory model. They deliver individually hand-cut, vacuum-sealed meat to the meat eater's doorsteps.
They give out a subscription model with pre-set dates and times. Their revenue spiked to 75% since the COVID-19 that too amidst an expansion spree says the CEO of Licious, Vivek Gupta.
There are 3 kinds of business models when it comes to on-demand meat delivery app development
Meat delivery aggregator
This business model is a platform to connect three parties like the Butcher or meat unit owners, Delivery partners, and Meat consumers with the admin. There will be apps for the consumers and the delivery partner, and web panels for butchers and the admin.
Admin can control all the consumers and delivery partners with their overall dashboard.
App for meat outlets/chains
The butchers or meat outlets could customize the plans for an app development where they are the admin who will also have a hold on the inventory of meat. Here, the outlets will have a full-fledged admin panel with the meat details. And there will be apps for the delivery partner and the meat consumer.
White label meat delivery store app development
White label delivery app is basically used for changing the name and the brand logo of the meat delivery store in the ready-made web panel and app.
Here too, there will be two apps for a delivery partner and end meat consumer respectively. Then there will be an extensive admin and butcher's panel.
Have you thought of the layout and features that you will be wanting for on your web panel and the app? If not, these are the few details that you must be considering for your meat delivery startup.
Meat consumer app features
Advanced filters
Having advanced filters including the price range and different types of meat could be user-friendly and this enhances the ordering process for meat consumers.
Track order
The meat consumer must be able to track their orders from ordering to delivery. They must be able to contact the delivery partner if necessary.
Saved location
The meat consumers would like to save the locations in which there are frequent deliveries. For example, their home address or workplace, if they prefer.
Multiple booking
A meat consumer would like to order different kinds of meat from different places. Multiple orders could be performed in the consumer app. The consumer need not wait for the first order to be delivered before making another order. This increases the app usage from the meat consumer's end.
Delivery partner app features
Online / Offline mode
The delivery partner must be given the flexibility to choose the delivery hours via an Online/Offline toggle. They could push the button if the delivery partner is available for delivery.
Navigation
The delivery partner should be able to navigate both the butcher's location and the meat consumer's location. There must be an inbuilt map in the app and also a navigate option that could be directed towards Google maps.
Order and profile management
The delivery partner must have an option to access the current and the past orders that they have delivered. Additionally, their profile must be in their own control – as the delivery partner will be giving their contact information, vehicle documents, and driver's license.
Payout
The delivery partner could sync their banking information with the app to receive their payouts from the admin. They could have multiple payout options and set one in default to track their payouts.
Butcher's web panel
Operating hours
The butcher could have an option of controlling their business hours 24*7. They could even fix availability time for a particular type of meat. It encourages all the participants who are involved in the booking process.
Transaction management
The butcher needs to be able to manage all the transactions that are performed. Just for the sake of a track record.
Earnings and payouts
There must be a hold on the earnings based on a week, month, and total. Even the order history could be depicted in a graphical format. Payouts from the admin have to be automatic and there could be one payout option in default.
Admin panel
Manage all participants
The admin should be in control of all the participants (meat consumers, butchers, and delivery partners) who come in and out of the marketplace. The admin has to have a hold over the payouts, their earnings, and other crucial details.
Auto-payout
The payout to all the participants (Delivery partner and Butcher's panel) that the admin owes could be automatic. But at the same time, the admin must be able to hold the payout due to circumstances.
Manage promo codes
What is a business without its offers and discounts? Right!
The admin could give out offers, coupons, and promo codes for the meat consumers from time to time to increase the app usage.
How WooberlyEats could technically take over your business launch?
You must be thinking as to what tech solution could give you everything that is stated in this blog!
Here in WooberlyEats, an UberEats clone – a customizable app solution for meat delivery services. We make it a point to deliver the best, using the best technology available in the market. We use a technology called Flutter.
Let's know a little about the technology that makes all this possible, shall we?
Flutter is the User Interface (UI) development kit created by Google. The advantages of using a Flutter app development are;
It is of a single code base – one code for iOS, Android, Linux, and GoogleFuchsia.
Enhances the User Experience (UX).
Less development and testing time.
Flutter location plugin is available in addition to Google Maps.
Modern User Interface (UI).
Faster app performance.
Our team presents you with WooberlyEats —> A Customizable on-demand meat delivery app solution, and Flutter-based modern app development to fulfill your business requirements.
Ping us. Let's discuss pricing plans and more – WhatsApp.
Let us help you create a meat delivery app
---