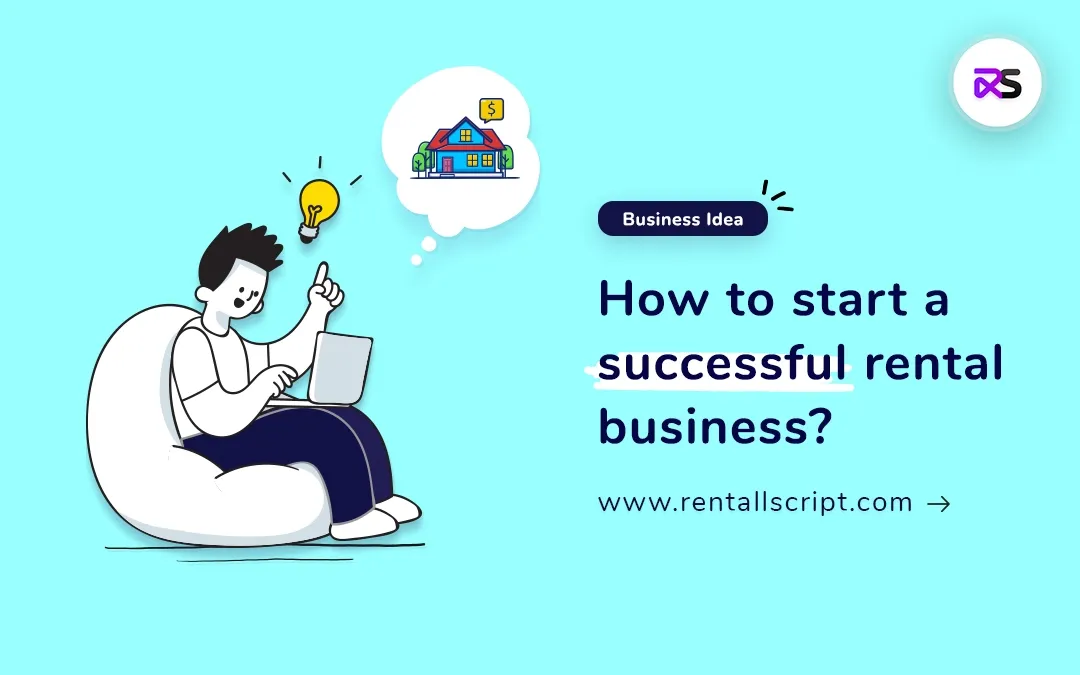 How to start a successful rental business in 2021?
In this blog post, you're going to find out the step-by-step process of starting an online rental business, benefits, types, and its business model.
Entrepreneurs and small business owners are interested in starting an online rental business, after the success of the many rental businesses like Airbnb, HomeAway, VRBO, Lyft, and Turo.
Due to increasing tourism globally, the rental industry is expecting more growth and business opportunities. According to the rental business statistics, the revenue of the rental business is predicted to reach 335 billion U.S. dollars by 2025.
As per the survey, 80% of the users like to rent rather than buying. So starting an online rental business in 2021 will give great success to your business career.
If you're a business enthusiast and looking for a great business opportunity in the online rental industry, then this blog is dedicated to you.
Topics we are going to cover,
Steps for starting an online rental business
Benefits of starting an online rental business
Types of online rental business ideas
Business models
How RentALL can help you to start your rental business journey
Are you ready? Let's jump in!
Steps for starting an online rental business
1. Identify the rental business idea
Finding the right rental business idea that helps to solve the customer's problem. Well, how to identify the right business idea?
Start analyzing yourself and your strengths. and know the answers to below mentioned questions
What are your interests?
How do you know what you're good at?
What service do you wish existed that currently doesn't?
2. Do market research
Research your target market by identifying the demographics factors. And, also research how you can make your business different from others in the market.
3. Have a strong mission
To clearly define your mission, you need to recognize your business strength, and its purpose.
4. Review your financial plan
Starting a business requires money that you likely won't have right away. This is why you need a financial plan for startup costs.
You need to think about these questions,
Do I need to expand?
Necessary to have more equipment?
Should I hire more staff?
Do I need other new resources?
How will my plan affect my cash flow?
Will I need financing? If yes, how much?
This will determine your financial impact in the upcoming years.
5. Put together a business plan
A business plan outlines the steps that you need to take care, before starting a successful rental business.
The business plan includes,
Your mission statement
A description of your business
List of your products or services
An analysis of the current market and opportunity
Your financial plan so those who review can understand the opportunity
Be clear and conscious
6. Choosing the right software
Choosing the right rental software can help you to get rid of managing your rental business business operations manually.
Consider the following while choosing the software product,
Bookings management
Inventory management
Online bookings
Payments
7. Launch
Before launching a rental business, you need to build a rental marketplace platform that helps you to manage your bookings and reservations automatically. With the right business plan, you can build a long lasting rental business.
Benefits of starting an online rental business
A modern approach in today's rental business can be more helpful to business owners. Here are the top benefits of the online rental business such as,
Increase in business revenue
Easy to manage rental bookings
Payments can be done online
Instant support through Email or Call
Reduced workload.
Here are the various types of online rental business ideas that you can start now.
Types of online rental business ideas
Vacation Rental Business
Vacation rental businesses can be renting your own house, room, and apartment with a specific range of amount per hour. As per stats, vacation rental business revenue has expected to reach 113.9 Billion by 2027. Some of the top companies in the vacation rental market are Airbnb, HomeAway, and Vrbo.
Car Rental Business
Car rental businesses can help customers to rent a car for tour and other travel purposes. As per statistics, the car rental market size has expected to reach $214.04 billion by 2027. Some of the top companies of car rental businesses are Alamo, Enterprise, Turo, and Hertz.
Space Rental Business
Space rental businesses can help people to rent spaces for meetings, parties, and other celebrations. According to the statistics, the number of space rental businesses is forecast to almost double to 49,500 by 2022. Some of the top companies of the space rental business are WeWork, Peerspace, and Nextspace.
Boat Rental Business
Everyone can't afford to purchase the boat, so renting the boat can help people for fishing and sightseeing. According to the stats, the global boat rental market is expected to reach US$ 19.7 Billion by 2030. Some of the top companies of boat rental businesses are Zizooboats, Homestead, Sailo, and GetMyBoat.
Bike Rental Business
The bike rental business can help people or tourists to travel to nearby locations. As per stats, the global bike rental market is expected to reach USD 4.00 billion by 2025. Some of the top companies of bike rental businesses are RentOnGo, ZipHop, RenTrip, and Snapbikes.
Cloth Rental Business
The cloth rental business can help customers to rent clothes for functions, meetings, and celebrations. As per the stats, the clothing rental business is expected to reach $1,856 million by 2023. Some of the top companies of cloth rental businesses are Rent the Runway Unlimited, Gwynnie Bee, New York & Company Closet, and Tulerie.
Equipment Rental Business
The equipment rental business helps customers to rent equipment for construction, medical, and other purposes. According to the stats, the equipment rental market is expected to reach $145.22 billion by 2026. Some of the top companies of equipment rental businesses are United Rentals, Sunbelt Rentals, and Herc Rentals.
Business Model
Once, you selected your niche-based rental business idea. Then, you need to select a business model by obeying the unique value proposition. The value proposition should convince your potential customers to choose your business over others.
Business models can be of different forms, such as
Direct sales
Franchise
Freemium
Subscription model
One Example for choosing the perfect business model – Airbnb
Airbnb is an online rental marketplace platform, that helps people to list, find and rent accommodation. They started their journey in 2008, but they do not own any accommodation. Their business model is sharing economy platforms, which helps to connect rental business owners and customers on a single platform.
5 Things to consider before choosing a business model
Customers
Keep your customers in mind before you choose the business model.
Ask this question,
Who are my customers?
What are the problems my business is going to solve?
How can I design my business revenue model ?
These questions can help to improve your business and also solve the customer's problem.
Value Proposition
The value proposition is a statement that answers "How are you going to solve the problem of the customers?"
Two-in-one value proposition example: Airbnb
It helps people to share their unused property to earn extra income.
Helps travelers to book nearby places for stay.
Solving real time problems of the customer helps your business to create a unique value.
Market
Evaluate your market potential by answering the below questions.
Who will pay for this product/service?
What feedback has come from my professional network?
Who has bought the product in the past?
What feedback has come from customized consumer research?
Who are my competitors and what is the potential to gain market share?
Competitors
Analyse your competitors and know what's working and not working for them. Once analysed, you should always aim to gain a competitive advantage.
Scalability
Scalability is the ability of a business to handle the increasing demands of the market.
How RentALL will be the perfect choice for starting your rental business?
RentALL helps you to build an online rental marketplace platform similar to Airbnb. It helps to connect rental business owners and renters on a single platform.
Our exceptional knowledge in developing rental app solutions using a leading tech stack makes platform owners one step ahead of the competition. RentALL will be the complete digital setup for your rental business and that will digitize every manual operation.
How does it help your rental business?
It helps to reach more customers
Grow your business visibility
Increase in demand for the rental app
Generating sustainable revenue
Increase user engagement
Top reasons to choose RentALL
100% customizable rental solution.
One-time payment
Scalable
Built with modern technologies.
Better User Experience
Launch worldwide
Fast and powerful performance.
Some of the top features of RentALL
iCal Integration — Export & Import
Seasonal Pricing Calendar
Stripe Connect
Advanced search filters
Dynamic SiteMap for SEO
Popular Locations Management
CMS Management
Message Auditing
Ban Users
Payout Management
Manage Document Verification
Currency Management
Review Management
Refund Management
Listing Setting Management
Cancellation Policies
Email verification, and more.
Wrapping Up
Step by step plan helps entrepreneurs for starting a successful rental business in the right direction. If you are ready to start your own rental business, we got you covered with the perfect solution – RentALL.
If you have any questions, chat with us: WhatsApp.
(or)
Reach us via Email: support@radicalstart.com
---