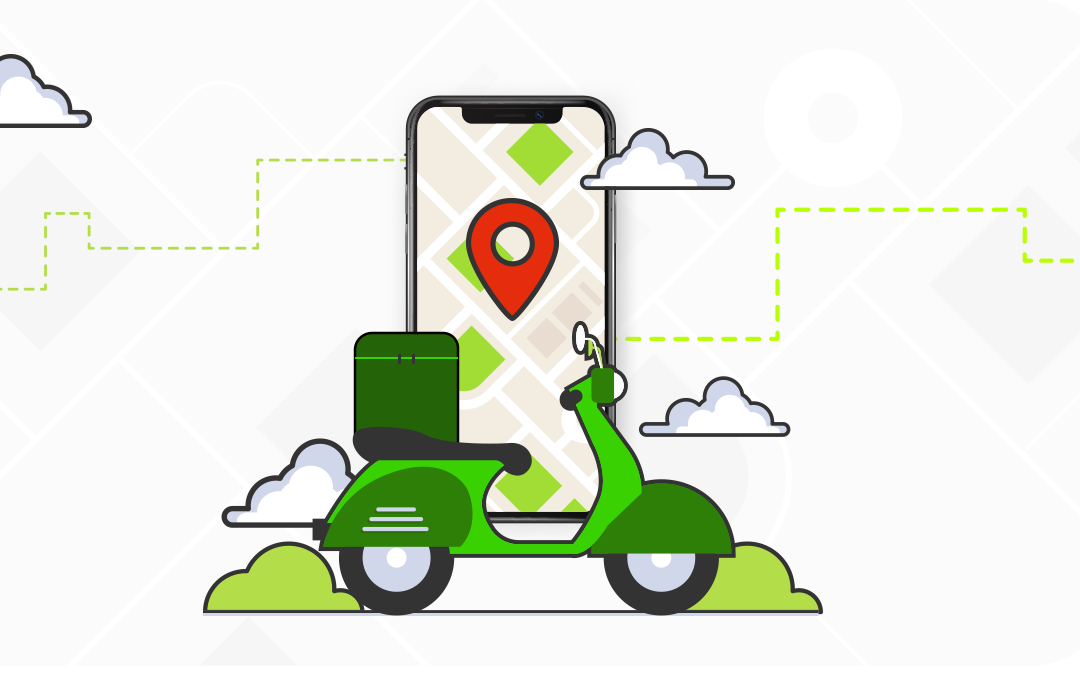 How to create a delivery service app - A Simple Guide[2023]
Here we discuss less about the delivery service app and more about how to develop one. So, let's join with the straightforward guide.
While exploring the world of delivery apps, we can't certainly neglect the food delivery app.
By 2029, the industry expects to reach a new high of $320 billion in market size.
And nowadays, there are a lot of food delivery apps including Uber Eats, Just Eat, Grubhub, DoorDash, and more.
The good news is that the food delivery industry is still not yet monopolized. Each player holds an equal portion of the total market share.
And in the pharmaceutical industry, the average revenue per user is expected to rise to US$19.03.
All of these indicate overall positive growth in the delivery industry.
So, don't feel too late to start.
Now, we have seen the statistics of these two industries' growth.
So, let's explore the types of delivery apps and how to create one 😇
Guide for Developing a delivery service app
What is the Delivery app?
The delivery app connects the user and merchant to exchange goods. And the platform collaborates with delivery partners to fulfill the order.
Nowadays, as you all know, we are more exposed to this convenience or somehow used to it.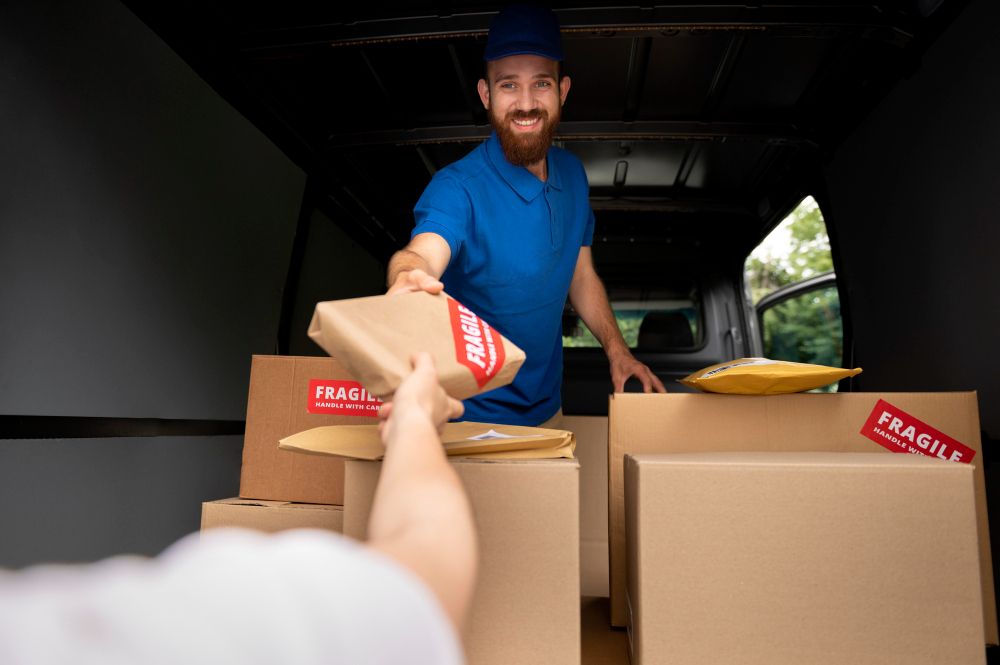 Delivery apps save time and money for users. And for merchants, it helps them to showcase their products online. So, it is a win-win situation 💯
With the many merchants listed in the app, the user can choose from enormous suppliers listed on the platform. Therefore, they can handpick their selection.
Types of delivery service apps?
Food delivery app 🍽
As we saw earlier, the user can order any food available in the restaurant and get delivered to their place.
Grocery delivery app 🛒
The app allows users to order groceries and other necessities. Some key players include Instacart, Amazon Fresh, and Walmart Groceries.
Pharmacy delivery app 💊
Here the user order medicines and health-related items. The platform fulfills the service with the help of nearby pharmaceutical shops.
Alcohol delivery app 🥂
The platform delivers alcohol to users by sourcing it from nearby liquor stores & bars.
Package delivery app 📦
Completely online, the user can track and get their packages delivered to their places. And also can receive notification on the status of the order.
Must have features in the Delivery app
Push notification 🔔
Push notifications are used to keep customers up to date on the status of their deliveries. The goal is to make them aware of the entire process, from dispatch to delivery.
GPS tracking 📍
Users need to track the package in real-time. This feature is helpful to the user while tracking the order with mobile phones. So to help the users with that, GPS tracking is essential.
Multi-language support
Nowadays, every app has a multi-language option. Before choosing a language, find out what language your users are familiar with. And give them a list of languages to choose from.
Promo code
The promo code allows the platform to compliment users. During the checkout process, the user can enter the promo code and receive a discount on the total cost.
Also, the user can track the current order using order history.
Reviews & ratings 🌟
The rating includes a star rating where users can rate on a scale of 1-5 stars. And review section where the user can describe their experience in written feedback.
This helps the merchant and future customers to make informed decisions.
Let's develop your delivery service app 🛵!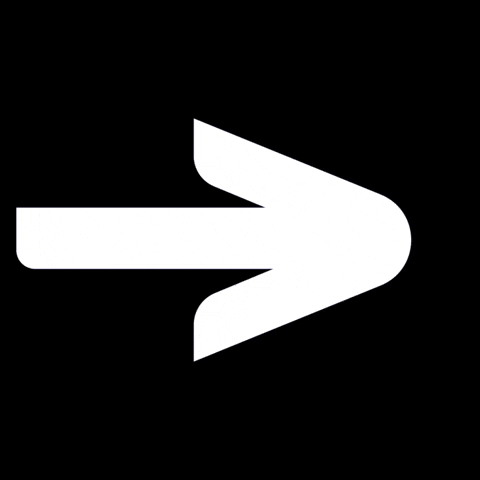 Book a Free Demo
Custom development VS Readymade solution?
When it comes to developing an app, there are two ways to consider. It is custom development or a readymade solution.
But both processes differ in their way.
Like what?
Let's look at both to discover which suits your business.
Custom app development
Custom development is the process of developing an app from scratch. Yup, it's a long process.
You need to spend time and resources to reap the benefits of it.
Is it the right option for my business 🤔
That's up to your requirement.
Like, if you plan to integrate new features that weren't available in the present market. Then you can choose custom app development.
And there are some benefits that you would seek.
Then, you might ask about the budget.
Yes! Cost is the pitfall in custom app development. It ranges from $50,000 to $1,00,000.
The cost mentioned above is the rough guide and we can't precisely guess it.
Readymade solution
Earlier, we have seen custom app development. And the readymade solution is in complete contrast to it.
In what way?
It is a pre-build app that can be tailored to meet the specific need of the business. As a result, the cost and time needed for development are quite lesser.
How to choose the right partner?
Time ⌚
Consider how long it takes them to develop your delivery app. It could be custom development or either a ready-made solution.
Choose an option that is convenient for your needs based on your requirements.
As I said earlier, custom development takes time compared to readymade solutions.
Apart from that, you have a right to know their development timeframe.
Background verification
Before collaborating with any business, do a little background check. For instance, check the previous portfolio they have done earlier.
And read their client's reviews to find out their authoritativeness. It shows the level of satisfaction they delivered to their respective clients.
Finally, read their blogs and if you like their way of doing business, then grasp it.
After-sale service
It is what most businesses lack. So, be aware of whom you partnered with. Also, verify that they delivered top-notch sale service to their users.
Cost 💲
Cost is one of the crucial factors for every business.
In the chaos of the business world, you need to knock on every door to search for better pricing.
If you choose the ready-made solution for your delivery app, we have a list of products that may be a good fit for your company.
While talking about the cost, we used Flutter to develop our delivery app.
So, what's so special about that?
Single code base features allow developers to use the same code for iOS and Android, thus reducing the overall cost of the development.
Therefore, the technology we used would speak for us.
And we have a list of delivery service app that gets you started with the delivery business. Below mentioned is some of them.
If you aren't enough with this, we can customize our script to fit the delivery service app you want to build.
I hope this blog enlightened you on how to develop your delivery service app.
This is all from my side, and thank you for your consistent reading.
Need support to build a delivery service app?
---