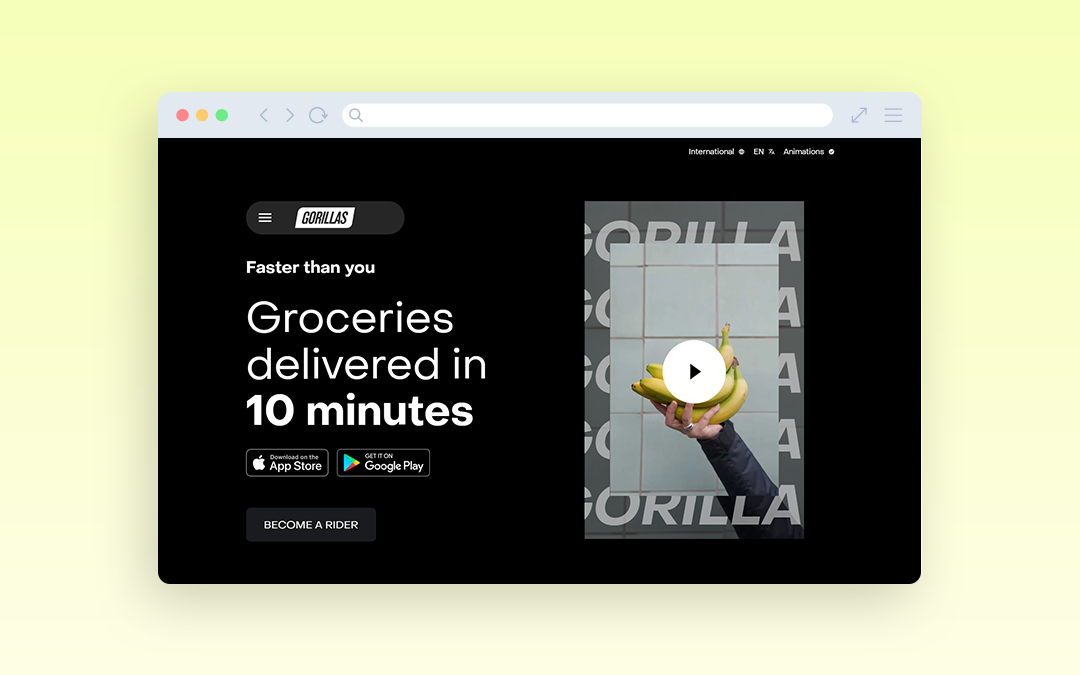 Gorillas: An on-demand grocery startup taking over the world!
Have you heard of the startup - Gorillas? Their name is as terrific as their services! Click on the link to read about this on-demand grocery delivery business.
Everyone aspires to be an entrepreneur but creating a business that matches your passion and solves consumer problems in one go is a gift not everyone can possess.
Ever heard of Gorillas? (I know the name is fierce!). And no, not the mammal but the leading on-demand grocery delivery marketplace.
If you ever dreamt about starting an on-demand grocery delivery business, here's the source of inspiration for you - the story of Gorillas.
What is Gorillas?
Gorillas is an on-demand grocery delivery app that promises to deliver the items in 10 minutes. ⏲️
(That's a daring fleet!)
The grocery delivery app connects with the dark stores to procure quality grocery items and deliver them to the users' doorstep.
Dark Store
Noun
Meaning:
The dark store is a brick and mortar store that has been transformed into a warehouse to serve as a logistics hub for companies that promise same-day delivery.
How did they get started?
Gorillas started their venture in May 2020 on Berlin soil. The founders are Jörg Kartner and Kagan Sümer. Their goal is to optimize hyper-local distribution.
For instance, you are hosting a dinner party of 50 people coming to celebrate your birthday.
You bought all the ingredients in the store the day before, but only when you are making the dinner do you realize that you have missed an important ingredient to prepare your main course - the mushroom ravioli. 🍝
The target audience of Gorillas is these kinds of people who need groceries at their doorstep in a very short span of time.
What are Gorillas' fundings & acquisitions?
In August 2020, Gorillas got their first funding from Atlantic Food Labs of 1.2 million pounds. That helped them to expand their business more than just Berlin and Germany.
Since September 2021, Gorillas has operations in over 60 cities in 9 countries, including the UK, Germany, Belgium, etc.
The Gorillas attained the status of a unicorn startup in little more than a year since they launched their business.
As of Oct 19th, 2021 - Delivery Hero has invested $287 million in Gorillas, which means they own an 8% stake in the Berlin-based grocery delivery startup.
Pros and cons of Gorillas - what to learn from them?
It is always helpful to know the pros and cons of starting a venture. Let's know about Gorillas so that we can make an informed decision.
Pros
The Gorillas charge $2 per delivery for the customers for their zippy delivery.
They use 'dark grocery stores' to procure their grocery items which means these stores are exclusive for pick-up and delivery-based orders.
The logistics become much simpler since the delivery partner can just pick up the grocery items from the nearby dark store to the customer's drop-off location.
Cons
They hire their own delivery partners.
Lack of customer support once the order is placed.
How did Gorillas, an on-demand grocery delivery startup get so successful?
Gorilla's motto on delivery is "Faster than you". Their speedy delivery is the reason for their insanely speedy success.
Their delivery partners are given a bike rather than a vehicle. The founder of Gorillas is an avid cyclist, and it is said that he biked from Turkey to China.
He also believes that the fastest and the most efficient mode of transportation is the cycle. And rightly said, it has contributed more to the success of the Gorillas.
Gorillas have almost 100 warehouses after they got their three-round funding of $335.4 million. They call the dark stores as micro-fulfillment infrastructure which stores over 2000 grocery items.
Conclusion
Gorillas have clearly understood what their customers need - quick and efficient delivery to their doorstep. Their success and expansion rate have been massive since the pandemic has contributed to their situation.
If they concentrate more on their employees and customer support, their success wouldn't be just a momentary growth but a long-lasting journey.
If you want to start an exciting business venture like Gorillas - take a look at our ready-made on-demand grocery delivery app, WooberlyGrocery.
And if you have any questions be it technical or managerial don't hesitate to ping our support team via WhatsApp or [email protected]
Disclaimer: The term 'Gorillas' is solely used for marketing purposes, and we are not associated with the company in any form. The source code and design of our products are fully owned by us. We are not using any of their copyrighted materials.
Create your own branded grocery delivery app with us!
---