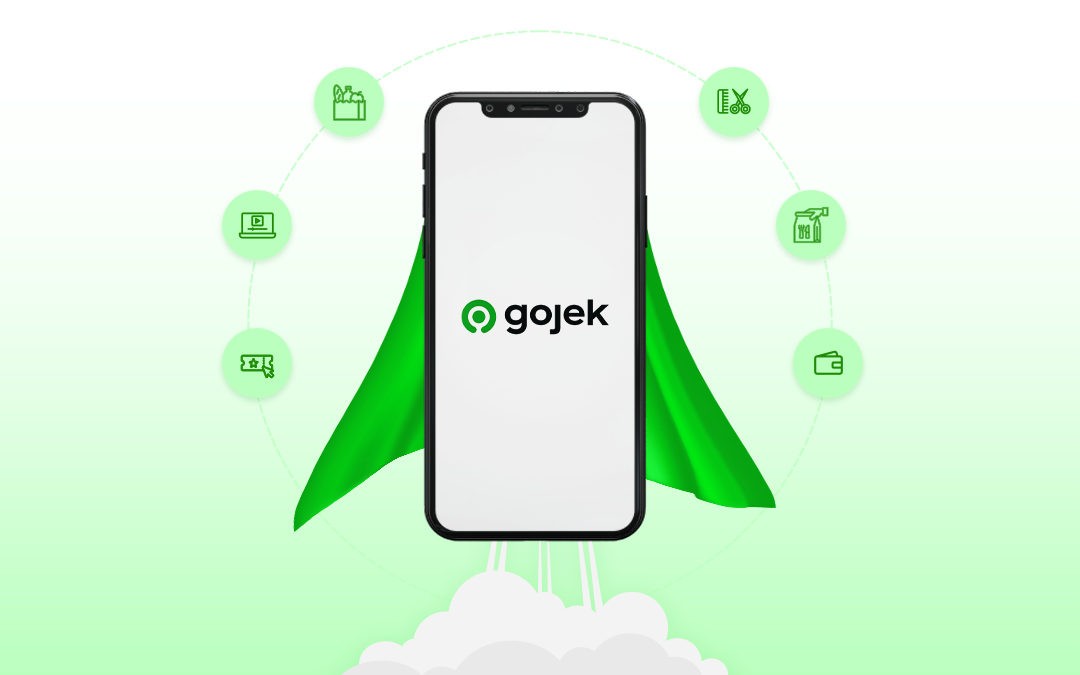 Gojek - The Transformation of Bike Taxi to the Super app
The journey of Gojek started 13 years ago, now they transformed their business phase into a super app. To know better, get into this blog.
A short glance at Gojek
Let's get into what you're looking for without further hemming and hawing.
Gojek is an Indonesia-based company that runs on-demand multi-service and digital payments in Jakarta. They first established their presence in
Indonesia in 2009.
The journey started as a call center to connect the consumer to courier delivery and two-wheeler ride-hailing service.
They launched their first mobile app in 2015 with four service categories. GoRide, GoSend, GoShop, and GoFood are all on the list.
The transformation of the call center to the Super app, they have come a long way back. And today, they are valued at $10 billion.
To proudly said, Gojek is the first Unicorn and Detacorn in Indonesia.
The previous year in May 2021, Gojek and Tokopedia completed their merger and formed a new holding company called GoTo.
Who founded Gojek 🤔
If you are wondering about the name of its founder? Then it's worth hearing!
Nadiem Makarim, Michaelangelo Moran, and Kevin aluwi co-founded Gojek by partnering with 20 motorbike drivers in 2010.
Nadiem Makarim holds a degree from Brown University and Harvard business school. He worked three years for Mckinsey before joining Gojek as a co-founder.
How Nadiem Makarim finds out the problem and solves it?
The driver spends the majority of their time casting around the rider, while the riders do the same when looking for the drivers. As a result, Nadiem Makarim learns about the dissipation of opportunities in this field.
So, he took a ride to solve the problem by providing platforms for both the rider and the driver.
Then proceed to the following co-founder, Michaelangelo Moran. He was a long-time school friend of Nadiem Makarim, asides from the position of Brand Director, he designed the first logo of the company.
Being an Indonesian startup, they have the advantage of understanding the local market meticulously and implementing a new feature that welfares the riders' and drivers' lives.
What do They Offer?
GoPay - e-wallet service
GoRide - Motorcycle Taxi service
Go-car - Raid-hailing service
Gobluebird - Unlike Go-car, the riders are charged by the meters they travel.
Go-food - Food delivery service
Go-Mart - Grocery shopping
Go-send - Courier delivery service
Go-Tix - Online ticket booking
Go-med - An app-based medicine delivery service
Go-massage - Personal massage service
Go-clean - Professional house cleaning service
Go-glam - Beauty service
Go-auto - Automobile service company
Go-bills - Bill payment service
Go-play & Go-service - Video streaming platform
Go-Pertamina - on-demand fuel delivery service
Hard to read right 😅
These are the available product category in the Gojek app.
They never fail to leave out any services. Gojek was unrivaled. Their transition from call centers to the Super app validates the success of their on-demand business.
Employees
Gojek employs over 3000 people. If you recall, their story begins with partnering with 20 motorbike drivers to hire more than 3000 employees for Gojek. Truly inspiring.
In 2018, they announced a $500 million new investment to expand in the Southeast Asian market 🌏
Their achievement
Gojek ranks 17 in Fortune's 2017 list of "56 Companies that Changed the World

Also in 2019, they made it into Fortune's Top 50 Companies That Changed The World

Superior Products and Services Awards 2016

The BrandZ Top 15 Most Valuable Indonesian Brands 2019

Top 3 Brand Performers and Top 3 Most Powerful Transportation/Logistic brands

The Best Indonesia Mobile App 2015
These are all glimpses of their achievement, the real ones stay on enhancing their users' lives by giving access to every service, called super app, and have also created enormous employment opportunities.
Are you looking for a tech partner?
Get 30-min interactive session to discuss your queries, get a product demo, and more!
Rebranding
Gojek announced its complete rebranding on July 2019, to embody the transformation of being a ride-hailing business to achieve the position of the super app.
Yes. They have done it quite successfully.
Key partner
Delivery partner
Banks
Fundraiser
Merchant
Key activity
Advertise & Marketing
Expansion
Add more services to the portfolio
App experience
Talent acquisition
Value proposition
For consumer
Wide range of service
Pleasant app experience
Customer support
Secure payments
For merchant
Provides platforms
Profit margin
Buzz over the Super app 🔥
Super apps are becoming popular. Every successful company strives to combine its product lines and make them available on a single platform. Some of the super apps or trying to one, acquire the business in which they are missing out.
For instance, take the example of Gojek, assuming they don't have a grocery delivery service. Now, they would urge to include one. What options would they be left with?
There are two choices. The first option is to start a new grocery delivery service from scratch, while the second is to acquire an existing grocery delivery business. Considering their convenience, they can choose the best option that is well-suited for them.
Super apps are the best thing that happens in the business world 💯
Consumers are well-eased with the convenience of every service in a single app.
The average user has about 40 apps on their phone; however, they may prefer to use only a few of them and ignore the rest.
Therefore, it demonstrates the inconvenience of having multiple apps on mobile phones.
Transition over the years[from year to year]
In 2010, they started with the mission to improve the ecosystem of Gojek(motorbike taxis) and connect the rider manual with their call centers.
In 2015, they launched their first mobile app and scaled 3000 to 1,00,000 orders per day.
In 2016, the order climbed to 3,00,000 per day and it increased the driver's salary by 150%
In 2017, two years after its mobile launch, it reached the milestone of 30 million monthly bookings. And have empowered more than 30,000 people with disability.
By 2018, with 18 products, Gojek did 100+ Million orders and started their service in Vietnam, Singapore, and Thailand.
In 2019, their contribution to the Indonesian economy increased by twofold over the previous year.
In 2020, they launched GoStore which helps local, micro, small, and medium-sized enterprises by setting up online stores.
Want to develop a Gojek clone app🦸‍♂️
For the business enthusiast, it is a worth hearing story to adore. As I previously stated, the journey starts from being a call center to assisting riders and drivers. Gojek has changed its business model to adapt to market expectations.
From nothing to a transition of superpower, they have swapped the old pattern and created a super fresh template of how a business should be.
And I have another bit of information to share with you. Especially for entrepreneurs who plan to uphold their startup in the application world. Then don't worry, We've got you covered!
From Food delivery to pharmacy delivery, we have a list of the delivery app combined altogether to get started with your entrepreneurial journey. We named our product "Wooberly SuperDelivery - Gojek clone", the name said it all.
More than a multi-delivery app, we can integrate a new app as per your requirement. Like Taxi booking apps, Handyman service apps, and Rental app like Airbnb.
These are all a glimpse of what we offer.
Additionally, we used a super fast Flutter technology that reduces the overall cost and time of the app development. Therefore, you can outsmart your market demand by spending additional resources on other activities.
So, consider the below-listed demo link of our product Wooberly SuperDelivery for Android and iOS apps. And get started on your more alike supper app journey ⏬
Admin panel - Explore how this panel works for the admin.
Store panel - Take a look at the outlook of the merchant app
For Android
For iOS
I hope you are all amused with the data presented in this blog.
And it's time to say farewell. See you all at the next one 🙌
Develop your Gojek clone app with us!
---