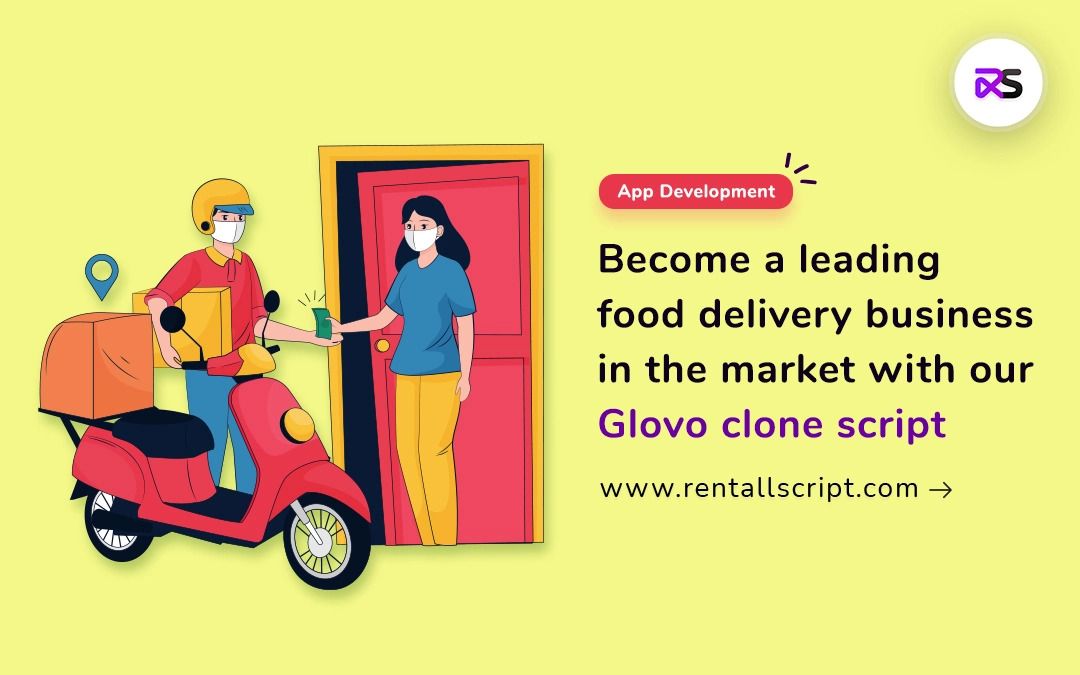 Glovo Clone: Launch a Successful Multi-Delivery Startup
Planning to launch an on-demand food delivery business with the Glovo clone? This blog covers you all the essential thing that you must know.
The food delivery industry is booming. In 2021, the global food delivery market was valued at $136.1 billion, and it is expected to grow to $216.1 billion by 2028. This growth is being driven by the increasing popularity of online ordering and convenience.
Glovo is a Spanish multi-delivery app founded in 2014 by Oscar Pierre. It was launched in 2015 by Oscar and Sacha Michaud. Glovo is a last-mile delivery platform that connects users with businesses and couriers. Users can order food, groceries, pharmacy products, and more from the Glovo platform.
The success of Glovo inspires delivery startups to get started Glovo-like platform for their business. That is why the Glovo clone comes in.
In this blog post, I will discuss launching a successful on-demand delivery app with a Glovo clone.
What is a Glovo clone?
A Glovo clone is a pre-built platform that has all the essential features and functionality to launch a successful multi-delivery app. It helps in automating all kinds of business operations.
If you're considering launching a delivery startup, a Glovo clone script is a great way to get started. With a Glovo clone app, you can launch your business quickly and easily.
Perks of developing a delivery app like Glovo
Starting a multi-service app like Glovo can bring various benefits and opportunities. Here are some advantages:
Customer reach:
A delivery app helps to connect with a larger audience and increase your customer base.
Increase online visibility:
Increased visibility on the internet will grow, making it easier for people to find you.
Rising demand for Glovo-like apps
The increasing popularity of apps like Glovo shows a rising demand for similar services.
Cost-effective business idea:
It's a business idea that doesn't need a huge budget.
Glovo clone app: The complete workflow
Customers sign in to the app by using their login credentials
Search and place their orders from the desired restaurant
The restaurant receives the order request from the customers and has the option to accept/decline the request
Once accepted, then the app will automatically assign the order request to the nearby delivery partner
Delivery partner also has the option to accept/ decline the request
After accepting, then the delivery partner will be able to receive the order from the restaurant
Delivery partners receive the location of the customer and reach their location with the help of Google map navigation
Customer can track their order until it gets delivered to their location
After the successful delivery, customers can rate both restaurants and delivery partners based on food quality and order experience. The delivery partner can also rate the customers based on their delivery experience.
The key features to consider
User app Features
Registration
Registration is the foremost step while logging into the platform. Users can simply login into the app using their registered mobile number.
Order tracking
Eaters can easily track their order status from restaurant confirmation to order that gets delivered right to their location.
Promo code
A Promo code is nothing but offering discounts to customers. Apply a promo code before placing your order to get some price reductions on your orders.
Multiple languages
Customers can choose their preferred language from the list of languages available are English, French, Indonesian, Japanese, Spanish, and Russian.
Multi payment options
Customers have the option to pay for their orders via card, cash, or wallet. Recharge your wallet by using a credit or debit card.
Saved places
Customers can add their both home and work addresses based on their convenience.
Advanced search filters
Customers can easily get their favorite dishes from the desired restaurant by filtering price and dietary.
Delivery partner app
Document submission
The delivery partner has to submit all the necessary documents related to their vehicles like insurance, license, and registration. Admin verifies all the documents submitted by the admin.
Earnings management
Delivery partners can easily manage their earnings as both monthly and weekly earnings.
Toggle availability
The delivery partners can switch their status as online/offline easily by using the toggle button. The delivery partner receives the order request once the status is changed online.
Route optimization
It helps the Delivery partner to find the shortest route to reach the customer's location.
Store panel
Order alert
The stores will be continuously notified regarding the order placed by the customers with the complete order and customer information
Manage menu
The stores update and manage the menu based on the item availability. Hence, it allows the customers to search for the dishes and place their orders easily.
Manage transactions
Stores can manage all the completed and future transactions done on the platform.
Manage orders
Stores can view all the current and previous orders. They can either accept or decline the order request based on the availability of the food items or operating hours.
How much does it cost to develop an app like Glovo?
There are two options for developing an app like Glovo:
Building it from scratch

Using a ready-made solution
Building an app from scratch is more expensive and time-consuming. But it gives you more control over the features and functionality of your app. You can also customize the app to fit your specific needs and branding. The cost of building an app like Glovo from scratch can range from $30,000 to $100,000 or more. It depends on the features and functionality you want to include.
Using a Glovo clone is less expensive and faster to launch. It is customizable and scalable. The cost of a Glovo clone can range from $5,000 to $20,000 or more. It also depends on the features and functionality you want to include.
Wooberly SuperDelivery – Ready to use multi delivery app solution
Wooberly SuperDelivery is a customizable multi-delivery app solution built with Flutter. It helps startups to launch a delivery app like Glovo instantly. Wooberly SuperDelivery allows startups to integrate multiple categories to provide a seamless experience.
Let's see how Wooberly SuperDelivery benefits entrepreneurs,
How Wooberly SuperDelivery benefits you?
Wooberly SuperDelivery is overloaded with many benefits includes.
Built with Fluter
Availability of 100% source code
Perfect white label solution
Scalable solution
Top-notch features
Multi-currency and Multi-language support
Multi-payment options
Wrapping-up
Hope this blog provides you all the necessary things that you should know before starting a Glovo like delivery app business.
Wooberly SuperDelivery readily available for you to start your Glovo like food delivery business instantly.
Schedule a demo with our tech experts by visiting our WooberlyEats product page.
For more assistance, contact us at [email protected] (or) Talk to us via Whatsapp.
Let us help you create an app like Glovo
---