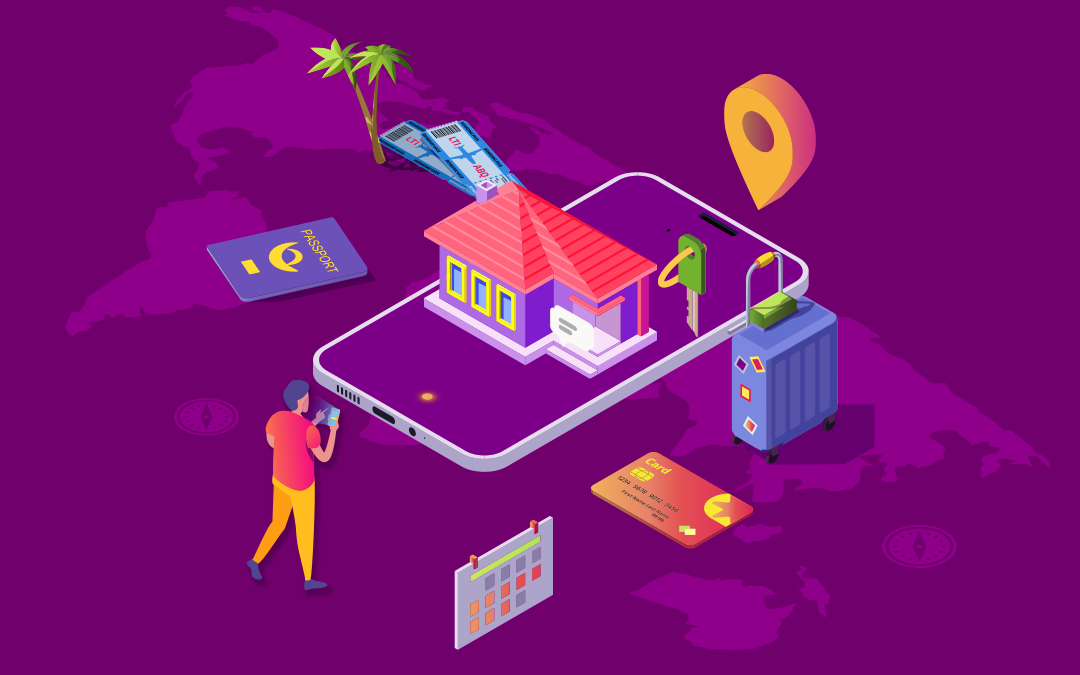 A Complete Guide to Create a Vacation Rental App like Airbnb [Cost + Technology + Features]
Let's get to know the one-stop solution to create a vacation rental app like Airbnb. Check out the blog for the features, technology, and cost of developing an app like Airbnb!
If you have an idea of building an app like Airbnb, then you have landed at the right place.
Today, most travelers prefer homestay to hotels as it gives more comfort and privacy than hotels. Additionally, homeowners are being very kind & friendly and allowing the guest to carry their pets with them.
The main goal of starting a vacation rental business is to connect people looking for accommodation with people who want to rent their homes and make revenue out of it.
Starting a vacation rental business is a tremendous process as you need to choose the right cost, technology, and features to compete with the market.
This blog gives you a very good idea about creating a vacation rental platform like Airbnb.
Let us discuss some benefits of starting a vacation rental platform.
Benefits
There are more benefits to owning a vacation rental business compared to traditional long-term rentals.
Huge Gross Revenue: The annual growth will go up to 6.3% which results in a market volume of $105.70bn by 2026.
According to Copyrise report, global tourists spend 180 billion on travel every year.
Around 64% of the tourist choose to stay in a vacation rental for privacy, kitchen accessibility, and also it is pet friendly.
A vacation rental business allows you to generate revenue from additional services such as local tours, event hosting, cleaning, and laundry.
The deductions from rental income like easing fees, maintenance and repairs, utilities and supplies, property taxes and insurance helps you with tax advantages.
Features to consider for the vacation rental app like Airbnb
Guest Features
Guests are people who look for any house or property to stay, sleep and cook during their stay. They mainly look for homely staycations to enjoy their vacation.
Here are the must-have guest features,
Advanced search filters - It allows guests to filter price ranges, and categories using search filters
Wishlist - Users can save their favorite listings for the future booking process
Edit profile - Users can manage their entire profile
Document Verification - Users can upload their documents and get verified by the admin
Advanced Internal Messaging system - With an In-app messaging system, guests and hosts can interact with each other on the platform
Upcoming & Previous Trips - This allows users to manage their entire trip history
SMS verification - To get additional security in the platform, users can verify themselves using SMS
Report User - Users can report the host in case of any fraudulence
Host Features
Hosts are people who post the listings of their homes or spare places on the website in order for the guests to book their property. In return, the host will earn revenue after the booking gets completed.
The host can accept or decline the booking request based on their preference. They can list their property with all the information about the facilities they are providing, elegant images, etc.
Here are the must-have host features,
iCal Integration – It allows the host to export or import the calendar, and with the help of iCal, the host can also sync their calendar to other external calendars
Manage Reservations - Host can manage the entire reservation for each individual listing on the platform
Transaction History - Host can manage the completed transactions, future transactions, and gross earnings on the platform
Payout Preferences - Host can choose the required payout method to receive the payment from the admin
Seasonal Pricing - Host can set special pricing for guests during the peak festive season or during long holidays
Manage Listings - The host can manage the entire listings that are created or published on the platform
Message History - Allows host to view the entire chat history between guest and host
Admin Features
Admin is the one who monitors and manages the entire activities of the platform from the admin panel. Admin can also earn revenue by charging commission fees from guests and hosts for using the platform.
Here are the must-have admin features,
Dashboard - Admin can manage the entire users, listings, and reservations of the entire platform in a single dashboard
Manage Users - Allows admin to view the entire details of the platform users like email address, phone number, date of birth, address, etc. To ensure security, the platform should have the option to ban fake users on the platform
Manage Admins - This feature allows the admin to add a sub-admin and allocate roles and responsibilities in the platform
Manage Listings - Admin has the access to edit, delete or view the detailed information of the listings
Manage Reservations - Under this, the admin can manage the entire reservation details along with the status of each reservation
Manage Service fee - Admin can set a host and guest service fee from the admin panel and manage the entire fee structure as fixed or in percentage
Auto Payout - It automatically sends a payout to hosts in a short span of time
To build these top-class features you need to choose the right technology. Let's discuss the same.
Cost
Airbnb is the most successful home-sharing platform and if you have plans to build a vacation rental platform like Airbnb, then the below lines are for you,
For achieving this, you have two options,
If you have the knowledge and experience of the technologies mentioned above, you can develop the software on your own. But it takes a lot of time for you to create an app like Airbnb with all the must-have features. Instead of this, it is advisable to go with readymade scripts.
They are independent web applications that are readily available in the market for you to start a business.
Look at nowhere but RentALL - Airbnb clone, a readymade solution that helps entrepreneurs and business owners to launch their platforms effortlessly.
RentALL is more sophisticated and built with futuristic technologies to provide a hassle-free experience to users.
You can get,
100 % source code
Unlimited updates
Multi-domain License
Multi-Currency
Latest Tech stack
Now, speaking about the pricing, RentALL cost you between $3000 to $4000
Want to know more about RentALL?
Closing thoughts
I believe you got enough knowledge to create your own vacation rental app. Speak with us today on WhatsApp and let us help you to achieve your dream of building a world-class vacation rental platform.
Create your Vacation Rental App with us!
---