Food delivery software
It is equipped with all the essential features to enlarge your food delivery business.
Book free consultation
Food delivery software is the key to digitize your business
With the change in time, traditional businesses have to level up to be more efficient, connect with customer needs & current trends, and survive through hard times.
The digitalization of the business using restaurant management software can radically improve the brand reach and internal business operations.
Make the best out of your business with a smart
food delivery software
Manage restaurants & drivers
Easily track reservations on the platform
Automate your payout schedule
Send real-time push notification
Boost your brand by engaging customers
Implement a secure payment processing
Our end-to-end development process
We follow the agile methodology approach for developing restaurant management software that allows delivering our project suiting to the market requirement and adds value to the business.

Discover
We gain an understanding of the customers' business idea and their needs.

Develop
Begin the development process starting with functionalities & UI layouts.


Test
The quality assurance team tests the final product with various techniques.

Launch
We finally launch the food delivery software successfully into the market.

Ready to start your project?

All-in-one food delivery software to run your business better
WooberlyEats is a better and powerful food delivery software to manage and handle all the internal operations smoothly. The restaurant management software is designed to be visually appealing and meets the needs of business owners and customers.
The software is quicker to set up and seamlessly connects the eaters, drivers, and restaurant owners. It is best in terms of the performance of the software, scalability, and in developing a minimum viable product.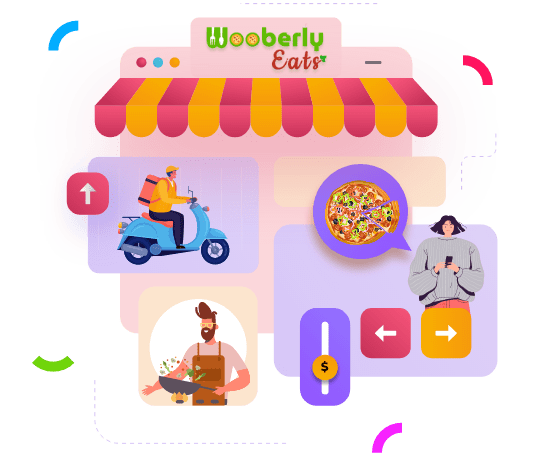 Get an agile web panel for the restaurant owners
Let restaurants be open for new business opportunities and reach new customer doors through seamless food delivery software. WooberlyEats makes it easy for restaurant owners to handle their online business such as,
Makes it simple to
add &
customize menu
Seamlessly handle all the
incoming orders
Manage and track all the
transactions
Easily schedule restaurant
operating hours
An ideal software that works perfectly for your business
The restaurant management software comes with the eater app, drivers app, a web panel for the restaurant owners, and an admin panel for the business owner. With a fresh and sleek look of the user interface, the software makes it pleasing for users to stay longer on the platform and collaborate together.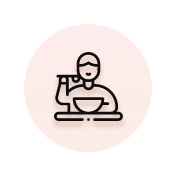 Eater App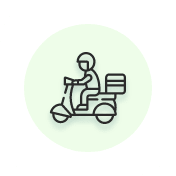 Driver App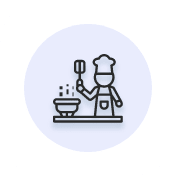 Restaurant Panel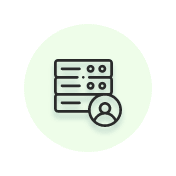 Admin Panel
Consult with our tech experts about our
food delivery software

Let's talk

Features built to run your business effectively
Empowering with top technologies
We combine our skills, creativity, and the right set of technologies to build robust reservation management software. We have used Flutter technology, a cross-platform application tool to create stunning mobile apps quickly. We powered up our APIs with GraphQL technology to speed up the performance of the software.
We integrated Google Maps and Flutter Location Plugin to know the customer's current location, routing, and live tracking. We have used the Socket.IO package to create a smooth connection between mobile devices. Also, we have used Firebase to handle push notifications, analytics, and crash reporting.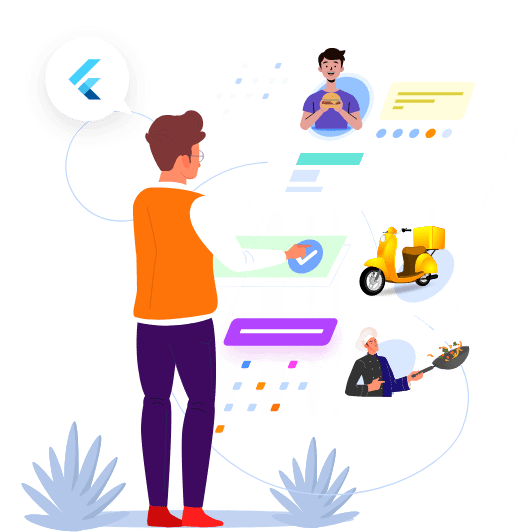 We're here to help you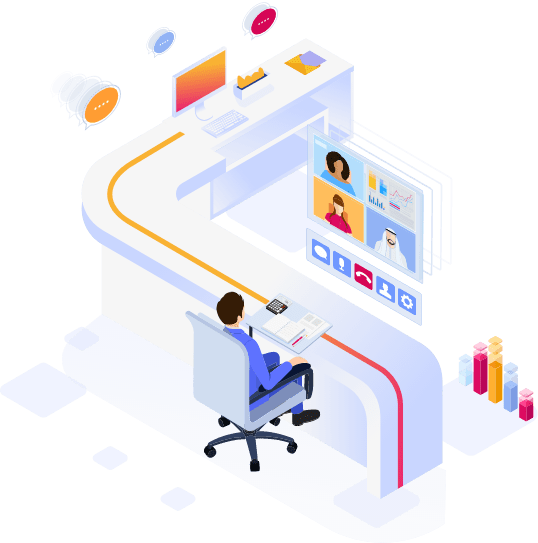 Free server installation
Choose the server provider, and we will deploy the complete source code free of cost.
Free app submission
We assist you in submitting your mobile app on the App Store and Play Store successfully.
Support after app rejection
We will immediately look into the problem and analyze the reason for app rejection. We will come up with a practical solution to give a successful relaunch on the App Store & Play Store.
Free white labeling
Opt for our free white labeling service to re-brand the food delivery software suiting your business.
The food delivery software is a readymade on-demand food delivery script that helps entrepreneurs to set up their business immediately. It also helps business owners who are in the restaurant business for a long time and want to upgrade or digitalize their business suiting to the current trends.
The restaurant management software is completely customizable. You can hire our development team to build the software suiting your needs.
The cost of development depends upon the business model and the complexity of the project. Get in touch with us at
[email protected]
to further discuss the pricing
Yes, you can customize WooberlyEats - a restaurant management software to suit your business needs.
We recommend DigitalOcean Droplet and AWS EC2 Instance for our customers.